Kimpton La Peer hotel review: a gateway to the best of LA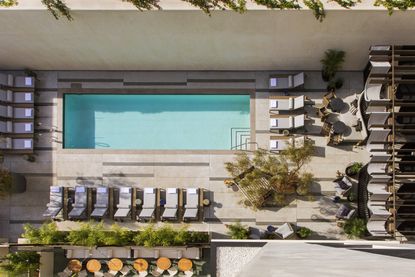 (Image credit: laure joliet)
Los Angeles is vast and sprawling, a concrete city interwoven with ten-lane highways and snaking traffic jams. No community, no soul, right? Or wrong?
In fact, the city of LA is as complicated and multiplicious as its original name: "El Pueblo de Nuestra Señora la Reina de los Ángeles del Río Porciúncula" ("the town of our Lady the Queen of Angels of the River Porciúncula").
As this name suggests, there are multiple layers within this massive metropolis, from the moneyed, celebrity-packed Hollywood Hills to the down-at-heel, alternative-lifestyle spirituality of Venice Beach.
Subscribe to The Week
Escape your echo chamber. Get the facts behind the news, plus analysis from multiple perspectives.
SUBSCRIBE & SAVE
Sign up for The Week's Free Newsletters
From our morning news briefing to a weekly Good News Newsletter, get the best of The Week delivered directly to your inbox.
From our morning news briefing to a weekly Good News Newsletter, get the best of The Week delivered directly to your inbox.
Eager to experience as much as possible of all that LA has to offer, The Week set a course for West Hollywood – a diverse city within the city, with the glorious boutique Kimpton La Peer Hotel at its heart.
Kimpton La Peer
Each Kimpton hotel is unique, in accordance with the vision of the group's founder, Bill Kimpton. Inspired by the distinctive personalities of Europe's boutique hotels, he set out to create a US chain in which every property reflects its location and local community.
Thus the recently opened Kimpton Fitzroy London occupies a grand Grade II listed landmark building on the eastern flank of the English capital's Russell Square, while downtown Boston's Kimpton Nine Zero feels like a hip W Hotel, with dim lighting and edgy artworks. Even La Peer's Los Angelino sister hotel, the Kimpton Everly, feels a million miles from the understated intimacy of its West Hollywood counterpart.
Kimpton La Peer houses only 105 rooms, but what the hotel lacks in scale, it more than makes up for in charm. Guests enter through a private off-street courtyard, allowing famous visitors to keep a low profile. Once inside, the hospitality immediately kicks in, with complimentary treats and drinks including homemade lemonade on offer at a counter in the main reception.
Despite the hotel's small scale, all the rooms and suites are generously proportioned, with large walk-in showers, free-standing baths and massive king-sized beds.
But if you want to splash out, the best room in the house is the top-floor Penthouse Suite, which has its very own entrance foyer, plus an enormous living room, dining room, powder room and master bedroom, as well as a spacious 1,000-sq-ft private terrace – perfect for sundowners, or a pre-party before heading out for the night.
Eating and drinking
Before heading out, though, guests really should take a look at La Peer's own bar and restaurant.
No prizes for guessing the type of cuisine you will encounter at Viale dei Romani, a proudly Italian restaurant with a menu featuring classics from across Italy with added southern French and northern African flavours.
We grab a table for a meal that begins with a selection of delights from the crudo e ostriche menu. The oysters are ultra-fresh and wonderfully tasty, as are the accompanying duo of fish: a king salmon tartare with pink peppercorns, and a delicious mackerel with burnt lemon and ginger. We also take a quick detour from Italy to the north of Spain with some wonderful Cinco Jotas jamon, cut wisp-thin and presented beautifully fanned out on a plate.
Next up is pasta, arguably the highlight of the restaurant's menu. I opt for the bucatini, thick spaghetti straws with shrimp in a rich, spicy tomato sauce. My companions go for a corn ravioli with scallops (which is wolfed down before I can even ask for a taste) and a bolognese that touts itself as the "best in the world". A bold claim, although having sampled this dish, I'm confident that it could definitely be a contender.
Already fairly sated by the US-size portions, we almost regret having ordered mains, but they arrive anyway, so we dutifully get stuck in. My flat iron steak with Jerusalem artichoke, horseradish and mustard seeds is excellently conceived and executed, while the lobster with seaweed butter draws equal admiration from across the table.
Full but content, we end our meal with a scoop each of creamy gelato, and shots of espresso to propel us on to the bar in the hotel's internal courtyard.
Some hotel bars feel as though they are strictly for guests, but the Kimpton La Peer's draws pleasure seekers from near and far, providing a night out on your very doorstep.
Between dinner and drinks, however, my friends and I nip down the road to poke our heads into Craig's, widely regarded as the best place in LA to spot celebrities, with regulars ranging from George Clooney to Kim Kardashian. Sadly, when we pop in there isn't even a lesser Kardashian in attendance.
Returning to our hotel, we reflect on why Craig's remains such a popular spot with A-listers. Kimpton La Peer's bar is spacious and open to the sky, while Craig's is, dare I say it, a dingy dive, though maybe that's the draw for world-weary celebs. Whatever their preferences, the next few hours and cocktails pass by in a flash for us, before bed eventually beckons.
Breakfast sees us back at Viale dei Romani, which is transformed by the morning sunlight from plush trattoria to LA brunch cafe. Again, the menu makes big claims, promising the "world's best avocado toast", and again, it's very good (though as an Australian, I find myself getting defensive about interlopers trying to muscle in on what is practically a national dish down under).
The soft scrambled eggs on toast with truffle is less controversial, but no less excellent, and the various eggs benedict are strong too. The perfect meal to set us up for our next mission...
A walk in LA
Los Angeles is notoriously not a place for walking. Indeed Steve Martin's 1991 cinematic love letter to the city, L.A. Story, featured the following exchange:
Harris (played by Martin): I was thinking of taking you on a cultural tour of LA.Sara (Victoria Tennant): That's the first 15 minutes, then what?Harris: All right, a cynic. First stop is six blocks from here.Sara: Why don't we walk?Harris (incredulous): Walk? A walk in LA?
And it is true, parts of Beverly Hills have absolutely no pavements, and some of the city's streets run for miles. Indeed, the longest street in Los Angeles County is Sepulveda Boulevard, which extends 42.8 miles between Mission Hills in the San Fernando Valley and Long Beach.
But West Hollywood is an unexpected exception to the rule - traversable entirely on foot, or if you prefer, by one of the free bicycles you can pick up from Kimpton La Peer's foyer.
Cycling can be a slightly hairy experience, of course, and LA drivers may look at you in wonderment as they roll past in their massive SUVs. One even stops completely as we sail down La Peer Drive to give us maximum room to manoeuvre.
But the best way to see West Hollywood is on foot, so you can linger in every fashion boutique, design emporium, cafe and bar that the area has to offer.
Strolling WeHo
West Hollywood, or WeHo as it is known to locals, is not a neighbourhood of LA at all, but rather its very own city. The small town incorporated in 1984 in a bid to focus services and protections for its residents, a mishmash of Russian immigrants, LGBTQ activists, renters and seniors.
At just 1.9 square miles (4.9 square kilometres), it is a tiny alcove of individuality tucked between Beverly Hills and the Hollywood district of LA.
As you set off on foot, focus your attention on the city's three districts: the Sunset Strip, Santa Monica Boulevard, and the West Hollywood design district.
Where to eat and drink
Start as you surely mean to continue with DIY mimosas at Pearl's Rooftop, overlooking the Sunset Strip. Here you can construct your own perfect mimosa with fresh squeezed OJ, juice mixers, flowers, berries and striped strawers.
For a very WeHo experience, vegan Mexican food and craft cocktails beckon at Gracias Madre. The restaurant's patio is perfect for lounging around on Sunday afternoons, while its airy indoor area is great for celeb spotting, while downing crisp tequila and mezcal cocktails.
Gracias Madre's 100% plant-based menu is filled with dishes that sound rather like their meaty cousins but are entirely sans animal. Think crab cakes with no crab (delicious), and chimichangas that feature the usual black beans, guacamole, etc, plus a curiously tasty artificial "chorizo" (I have no idea what it actually was). In summer, the bar also serves mezcal-infused popsicle cocktails. You could come for these alone.
Catch LA is the perfect spot to splash the cash with a bottle of Veuve Clicquot Yellow, Casamigos Anejo, or Louis XIII (at $400 a pop). The seafood restaurant also a great rooftop bar that is often, in true LA style, heaving with celebrities.
Tortilla Republic is a margarita bar first and foremost that serves brunch on the side. Do you like your margarita with spicy pomegranate or cucumber lavender – or simply "perfect"? With a long list of options, you should be able to find something that suits your tastes.
Hugo's Restaurant, a local institution, has been going strong since the early 1980s. This casual joint serves up "stealthy healthy" meals, with organic and vegan dishes that were on the menu long before veganism became fashionable.
For slightly more exclusive experiences, head to Andaz West Hollywood and Soho House. Reserved for hotel guests, the rooftop sundeck at the Andaz has stunning panoramic views of the Sunset Strip and Hollywood Hills, and offers a first-come-first-served scattering of chaises and daybeds – perfect for poolside drinks.
Soho House, meanwhile, is a members-only club, so if you want to get in here you will need to sign up or make friends with a local. The club's fairy tale-perfect rooftop garden features lanterns hanging from olive trees and a balcony built for stargazing – both the ones in the sky and those you might find sharing the balcony with you.
Where to shop
Alongside the cafes, bars and restaurants, West Hollywood has more than 200 art galleries, furniture designers, fashion boutiques, salons and spas.
So where to begin your designer stroll? Why, the Design District of course. Luxury products jostle with world-renowned fashion retailers including Christian Louboutin, Moschino and Stella McCartney, plus local favourites including H. Lorenzo, Jenni Kayne, The Elder Statesman and Maxfield.
For the pure spectacle, Restoration Hardware is a must. Visiting a home furnishings store while on holiday in the States may sound like a bonkers idea, but the shop is vast and full of interior decoration ideas that you can take back home. Or if you wish, you can purchase your favourite interior furnishings here and have everything delivered and installed back in your native land.
Work out while also lying down
After pounding the streets of West Hollywood, you may not feel up to any further exercise, but fortunately, LA has come up with the laziest form of exercise ever devised. Reportedly the workout of choice of Selena Gomez, Shape House is an "urban sweat lodge" where you simply lie on a bed for an hour watching your favourite shows and allegedly emerge both lighter and entirely detoxified.
Arriving to try out the therapy, I change into the chic grey pyjamas provided, before being zipped into a kind of hi-tech sleeping bag. The innocent-looking apparatus then bombards my body with infrared light, which works up a serious sweat. At this temperature sleep isn't really an option, but a screen offers all the entertainment I need for the next hour. After watching two Vice documentaries and a cooking programme (probably a poor choice while my internal organs are being cooked), I am all sweated out.
And do I emerge looking like Gomez? That may take another session or two.
After my hour of motionless exercise, I take one last short walk back to Kimpton La Peer, a hotel that by now feels like home in a city within a city that has changed the way I think of LA forever.
Double rooms at Kimpton La Peer start from $425. For more information and to book, visit lapeerhotel.com.
For more information on West Hollywood, LA's design district, head to visitwesthollywood.com.
Or for more on LA generally, visit discoverlosangeles.com.

Continue reading for free
We hope you're enjoying The Week's refreshingly open-minded journalism.
Subscribed to The Week? Register your account with the same email as your subscription.