Signs that suggest Amanda Knox is a psychopath
The narcissism and thenonchalance are bothindicators, says The FirstPost's psychoanalyst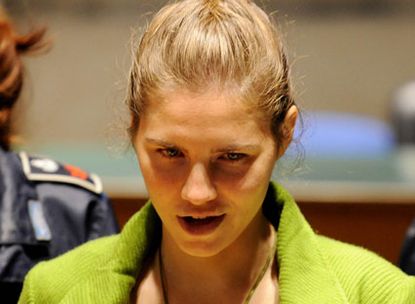 Sign up to our 10 Things You Need to Know Today newsletter
A free daily digest of the biggest news stories of the day - and the best features from our website
Thank you for signing up to TheWeek. You will receive a verification email shortly.
There was a problem. Please refresh the page and try again.
Through 11 months of court appearances in Perugia, Amanda Knox's behaviour ranged from composed to flamboyant. Only after Judge Giancarlo Massei read out the jury's decision late on Friday night, and sentenced her to 26 years in jail for murdering her housemate Meredith Kercher, did she show signs of distress, shouting out, "No, no, no!" as she was led to the prison van by her guards.
There is considerable dispute about the strength of the evidence presented against Knox and about the prosecution's insistence on highlighting Knox's sexual history. An entry from the American girl's diary listed seven sexual partners, three of whom she met after she had moved to Italy, excluding her co-defendant, Rafaelle Sollecito. She had had sex with one of the men on the train as she was travelling to Perugia.
After inviting Knox, a Jesuit-educated student, to live with her and two other English students in their cottage, Meredith Kercher soon began having reservations about Knox, particularly about her bringing "strange men" to the house.
Subscribe to The Week
Escape your echo chamber. Get the facts behind the news, plus analysis from multiple perspectives.
SUBSCRIBE & SAVE
Sign up for The Week's Free Newsletters
From our morning news briefing to a weekly Good News Newsletter, get the best of The Week delivered directly to your inbox.
From our morning news briefing to a weekly Good News Newsletter, get the best of The Week delivered directly to your inbox.
Knox's behaviour does not indicate that she was sexually dysfunctional
The prosecutor, Giuliano Mignini, claimed that it was Knox's sexual activities that provoked Kercher's criticism and inflamed Knox to the point of murder. According to the prosecutor's reconstruction, Knox returned home on the evening of November 1, 2007 accompanied by Sollecito and Rudy Guede - the Ivorian who has already been convicted of murder in a separate trial - and encountered Kercher.
Guede has admitted his attraction to Knox. The prosecution suggested that the two men were vying for her attention and, incited by Knox, began to attack Kercher sexually. The violence soon spiralled out of hand, ending in Kercher being fatally stabbed in the neck by Knox.
So, the prosecution's story implies that the murder was a result of a sexually perverse scenario that went tragically wrong. However, the facts of the case and Knox's behaviour following her arrest and during her trial do not indicate that she was suffering from a sexual perversion or was sexually dysfunctional.
Professor David Canter, director of the centre for investigative psychology at Liverpool University, has argued: "Most bizarre murders, particularly those with a lot of sexual activity and if there are drugs involved, come out of a lifestyle that's pretty dysfunctional in which there's some build-up. So it's unusual for apparently capable and functioning youngsters to get caught up in all this."
Knox comes from a stable family, she has lots of friends and is highly intelligent. During her remand in prison, she continued her language studies in Italian, German, Russian and Chinese, read books on philosophy and religion, took guitar lessons, and taught her fellow inmates yoga and English.
But do her unexpected responses in various situations belie what may be a more profound psychological disturbance?
Much has been made of the fact that Knox was caught giggling and seen performing a cartwheel during her first visit to the police station following the discovery of her housemate's brutal murder.
When she was arrested, her manner was described as cold and detached. During the police investigation, a friend expressed the hope that Kercher had not suffered. Knox exclaimed: "What do you think? They cut her throat... She fucking bled to death!"
During the next few days, Knox was seen to repeatedly press her hands to her temples, a gesture interpreted as trying to get rid of what was in her mind.
A short story, entitled, Baby Brother, written by Knox when she was at the University of Washington in Seattle, also prompted suspicion. In the story, Knox writes about a young woman, drugged and raped by another young woman, and describes the victim's pain in lurid detail.
However, it was Knox's behaviour in court that was most bizarre. At no point - until the verdict - did we see Knox protesting her innocence or fraught with anxiety. Instead she seemed disconcertedly dissociated from the gravity of what was going on. During the initial period of the trial, she appeared relaxed and cheerful, light-heartedly talking to her lawyers and guards while gesticulating, Italian-style, with her hands.
After her behaviour was unfavourably commented on in the press, she became more serious, nevertheless very conscious of the media attention she was receiving. She seemed to play up to it. This was most apparent when Knox appeared in court on St Valentine's day wearing a large T-shirt printed with the Beatles' lyric, 'All you need is love'.
Knox's narcissistic pleasure at catching the eye of the media and her apparent nonchalant attitude during most of the proceedings show the signs of a psychopathic personality. Her behaviour is hauntingly reminiscent of Eichmann's arrogance during his trial for war crimes in Jerusalem in 1961 and most recently of Karadzic's preening before the International Criminal Court at the Hague.
The psychopath is someone who has no concern or empathy for others, no awareness of right and wrong, and who takes extreme pleasure in having power over others. The psychopath has no moral conscience and therefore does not experience guilt or remorse.
Most psychopaths are highly skilled at fooling those around them that they are normal by imitating the emotions that are expected of them in different circumstances. They are consummate at charming people and convincing them they are in the right. It is only when they reveal a discrepancy in their emotional response that they let slip that something may be wrong with them.
The psychopath is the conman, or in the case of Amanda Knox, the con-woman par excellence. Her nickname 'Foxy Knoxy', given to her as a young girl for her skills at football, takes on a new meaning.
Whether or not Knox, who is appealing her verdict, is ultimately found guilty, her chilling performance remains an indictment against her. Her family's disbelief in the outcome of the trial can only be double-edged.
Continue reading for free
We hope you're enjoying The Week's refreshingly open-minded journalism.
Subscribed to The Week? Register your account with the same email as your subscription.
Sign up to our 10 Things You Need to Know Today newsletter
A free daily digest of the biggest news stories of the day - and the best features from our website
is a Jungian analyst in private practice in London. She is former Chair of the British Psychoanalytic Council and a Training Analyst of the Society of Analytical Psychology, of the British Association of Psychotherapists, and of the London Centre for Psychotherapy. She is co-editor with Barbara Wharton of Sabina Spielrein: Forgotten Pioneer of Psychoanalysis, published by Routledge in 2003 and co-editor with Paul Williams, Jean Arundale and Jean Knox of Terrorism and War: Unconscious Dynamics of Political Violence, published by Karnac in 2002.