Ebola and America's epic institutional fail
The government has been incompetent in the face of the Ebola threat. But our other institutions are dropping the ball, too.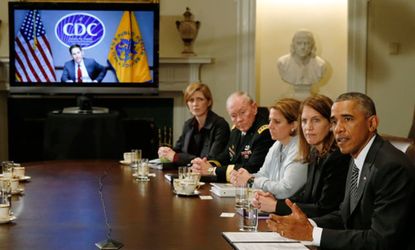 (Image credit: (REUTERS/Kevin Lamarque))
Sign up to our 10 Things You Need to Know Today newsletter
A free daily digest of the biggest news stories of the day - and the best features from our website
Thank you for signing up to TheWeek. You will receive a verification email shortly.
There was a problem. Please refresh the page and try again.
"The word that keeps coming to mind is 'disgrace.'"
That's how a Facebook friend responded to news that a second nurse at Texas Presbyterian Hospital in Dallas had been diagnosed with Ebola.
I think my friend speaks for a lot of Americans this week — and that doesn't bode well for our nation's health.
Subscribe to The Week
Escape your echo chamber. Get the facts behind the news, plus analysis from multiple perspectives.
SUBSCRIBE & SAVE
Sign up for The Week's Free Newsletters
From our morning news briefing to a weekly Good News Newsletter, get the best of The Week delivered directly to your inbox.
From our morning news briefing to a weekly Good News Newsletter, get the best of The Week delivered directly to your inbox.
I don't mean our physical health. Ebola remains far less contagious than measles, influenza, and tuberculosis. Unless you encounter the bodily fluids of a symptomatic Ebola patient, you're not going to catch the disease.
I'm talking about our civic health.
Liberal democratic government depends on trust in public institutions. That trust stands at record lows today, and it's been falling for years. This week's news shows why. The Centers for Disease Control and Prevention has an annual budget of more than $6 billion. It exists in large measure to help combat outbreaks precisely like this one. And yet here is its director, Thomas R. Frieden, at a Tuesday news conference, before the Ebola diagnosis of the second nurse, on the CDC's horribly flawed response to the situation in Dallas: "I think we could, in retrospect, with 20/20 hindsight, have sent a more robust hospital infection control team and been more hands-on with the hospital from day one about exactly how this should be managed."
Twenty/twenty hindsight? Was the director of the CDC somehow unaware that Ebola has been ravaging nations in Africa for months? Is there any possible explanation beyond rank incompetence for why Frieden's agency would respond with anything other than a "hands-on" control team to a case within the United States?
That really is a disgrace.
But it's not the only one. Which is why levels of trust have fallen for so long, and so far. Over the past 14 years, we've endured a series of stunning institutional failures. Going backwards in time, we have:
The Secret Service failure to stop a knife-wielding, fence-jumping intruder from making it into the White House before being subdued — or to keep an armed former convict from getting into an elevator with the president of the United States.
The badly botched ObamaCare rollout.
The failure of numerous regulatory bodies leading up to the financial crisis of 2008.
The Federal Emergency Management Agency's utterly inept response to Hurricane Katrina.
The ruinous occupation of Iraq — a blunder so catastrophic that it destabilized the entire region and led to well over 100,000 deaths (and counting).
The monumental intelligence failure that precipitated the 2003 invasion of Iraq in the first place.
And, of course, the equally monumental intelligence failure leading up to the Sept. 11 attacks.
I'm sure I've missed a few more dropped balls. But you get the point. Government is failing, over and over again, to accomplish the goals we set for it, regardless of which party is running the show.
And just in case that sounds like a set-up for a libertarian manifesto in favor of privatization, note that institutional failures haven't been limited to government. From the banks and other financial institutions that nearly wrecked the global economy in 2008, to the sex-abuse scandals that have been rocking the Catholic Church for over a decade, to General Motors' deadly ignition-switch cover-up, big organizations, whether private or public, have been behaving badly and ineptly.
That's troubling news, because the modern world needs big, bureaucratic institutions to function. Whereas pre-modern societies rely on personal, family, and tribal networks, modernity rationalizes and formalizes human interactions. That leads to a quantum leap in equality, fairness, and competence, and an accompanying decline in the petty corruption that plagues pre-modern social systems.
But it also generates new problems of its own. The enormous size and complexity of large bureaucracies — built to manage societies of enormous size and complexity — can make them sluggish, inefficient, and prone to stupidity, with one part of the organization unaware of what other parts are doing. This can also set up conditions for chronic blame-shifting when things go wrong. "Mistakes were made" is the kind of evasively passive construction that only a bureaucrat or a corporate tool could utter with a straight face.
Then there's the fact that, even at their best, large organizations can never be smarter than the people who work within them. And as Francis Fukuyama points out in his important new book (excerpted here), the nation's public sector bureaucracies have been in a state of steady deterioration for years, with budget cuts and embarrassing blunders recurring in an endless feedback loop. That makes it much harder for the institutions to staff themselves with smart and energetic people, which raises the likelihood of catastrophic failure still further.
Finally, there is the tendency of large organizations to engage in self-protective behavior, covering up errors and refusing to learn from mistakes. Catholics call it clericalism when it involves priests and bishops, but the same thing happens every day in the corporate and government sectors.
The disgraceful institutional incompetence of the present gloomy moment is the result — as is the perfectly reasonable but potentially ruinous decline in our trust in public institutions.
I have no idea where it will end. But it can't be anywhere good.
Continue reading for free
We hope you're enjoying The Week's refreshingly open-minded journalism.
Subscribed to The Week? Register your account with the same email as your subscription.
Sign up to our 10 Things You Need to Know Today newsletter
A free daily digest of the biggest news stories of the day - and the best features from our website
Damon Linker is a senior correspondent at TheWeek.com. He is also a former contributing editor at The New Republic and the author of The Theocons and The Religious Test.