What political elites don't understand about Scotland's push for independence
The mandarins of the European Union see the nation-state as an anachronism. They couldn't be more wrong.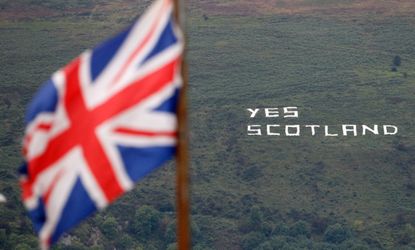 (Image credit: (AP Photo/Peter Morrison))
When it comes to Scotland's impending vote for independence, it is important to keep this in mind: After religion, the phenomenon of nationhood might be the most understudied and underappreciated by the kind of people who run the planet.
Here is the Whiggish history they tend to tell themselves: Once upon a time, men were a bunch of tribal barbarians. And tribalism is bad, because tribalism means you don't like the fellows from the other tribe, and so you go to war with them. Tribalism begat nationalism, which begat fascism, which begat the world's worst atrocities. As a matter of practicality, nation-states can be useful tools for improving the rule of law, but sooner or later, we must transcend them so that we can move past our tribalism and be one happy human family. This is the 21st century: The world is interconnected, flat, monolingual, globalized — although there are some tribal holdouts who fail to recognize this fact, more and more people are doing so, and as this happens, the nation-state is bound to be evolve to higher forms of political organization.
Ground zero for this momentous change, the story continues, must be Europe. Europe is, after all, where nationalism caused the most pain, and therefore where the most people are ready for something new. Europeans must accept, volens nolens, a supranational European state so that they can shed their brutish tribalism. The less culture this state has, the better, which is why it would be best if it included Turkey — a country whose history, culture, language, and religion have nothing to do with the rest of Europe — to proclaim once and for all that the European superstate is not at all a tribalism-squared but rather an anti-tribalism.
Subscribe to The Week
Escape your echo chamber. Get the facts behind the news, plus analysis from multiple perspectives.
SUBSCRIBE & SAVE
Sign up for The Week's Free Newsletters
From our morning news briefing to a weekly Good News Newsletter, get the best of The Week delivered directly to your inbox.
From our morning news briefing to a weekly Good News Newsletter, get the best of The Week delivered directly to your inbox.
European elites are the most gung-ho about the destruction of the nation-state, but American elites are not immune to its charms, for slightly different reasons. As I explored in a previous column, because the United States of America was ostensibly founded on Enlightenment ideals, America's self-definition doesn't relate to land, ethnicity, or culture but simply an abstract set of laws. The idea is that as long as your country has the right set of laws, everyone should be happy.
The problem is that the realities of history are quite stubborn. We humans really are a tribal lot. And the nation-state, especially in its liberal-democratic form, far from being the most dangerous form of tribalism, is, to the contrary, the best way we have come up with to channel this tribalism to productive, and ultimately peaceful, ends. (Much in the way that capitalism works because it doesn't deny human greed, like communism, but rather harnesses it to the benefit of the many.)
Once freed from the Soviet yoke that suppressed their nationhood, the Eastern European nations were particularly skeptical regarding yet another ideology that sought to end it. Hence they are on board with the European project when it comes to economics but not when it comes to destroying what they struggled for generations to protect.
The Yugoslavians were similarly unseduced. As soon as they could, they agitated for national representation and polities organized along national lines.
And the euro crisis has finally exposed the vacuity of it all. It turns out that the Germans, who are the loudest cheerleaders for European integration, don't feel European enough to bail out the reckless Greeks after all, even though they felt quite German enough to be willing to bail out the East Germans in the 1990s.
At the end of the Soviet era, we thought the nation was a thing of the past. From Kurdistan and South Sudan to the former Yugoslavia and many other places, we can see that the opposite is true: The nation is the future.
It is in this world-historical context that Scotland's referendum on independence from Great Britain, set to take place this Thursday, takes on its mighty importance. It is criminally undercovered in Europe outside Britain, because it is no less than a referendum on the concept of the nation-state itself.
What does nationhood mean? What does it mean to be a people? Is it merely a self-interested bargain between parties, or does it mean something more?
The Yes campaign in Scotland (for independence) has strong answers to these questions. For the Yes campaign, it means something to be a Scot. Scotland has a history and a patrimony worth cherishing, and this means that the Scots should — finally — have their own say on their future.
Meanwhile, the No campaign has been very clear on these questions: Nope; there's no such thing as a nation. The only reason the Scots should be part of Great Britain is because it's a good deal for them. The No campaign has been overwhelmingly an affair of carrots and sticks: It has alternated between offering Scots goodies (more money for schools and hospitals!) and scaremongering about the drastic consequences of a split. The No campaign has articulated absolutely no vision of what it means to be British.
Which is sort of astonishing, when you think about it. There are few countries with a more glorious history than Great Britain. A country with its own storied national church. A country with an astonishing cultural patrimony. A country that used to rule the seas, boasting an empire on which the sun never set. A country where the nobility of giving your life "for king and country" was taken for granted.
But political correctness has made reminding Britons of this utterly impossible. In many places, particularly in Europe, being proud of your nation and your heritage is considered at least gauche, but mostly fascistic, even racist.
The problem with that — other than the fact that all thought policing is odious — is that it really is good that we have nation-states, because they are the most civilized form of political organization we have come up with. Belonging to a nation is an important part of human flourishing. When nation-states strive to undermine the popular appeal on which they are built and work hard to destroy their own foundation, it is no surprise that we should see them stumble.
Let's hope Scotland votes Yes and gives the rest of Europe — and the world — a wake-up call about what we have to lose if we forget the preciousness of nationhood.

Continue reading for free
We hope you're enjoying The Week's refreshingly open-minded journalism.
Subscribed to The Week? Register your account with the same email as your subscription.