The GOP's latest spin about campaign finance is laughable nonsense
Democrats want to repeal the First Amendment? C'mon.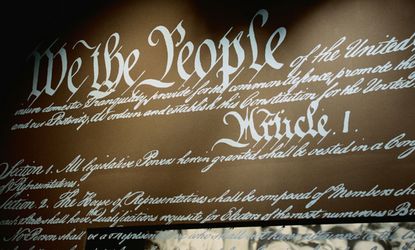 (Image credit: (Charles Smith/Corbis))
On Monday, a curious thing happened: The Senate overwhelmingly voted for a measure that one party unanimously opposes. By a 79-18 vote — the lopsided margin reserved for things like naming post offices these days — senators agreed to open debate on a constitutional amendment proposed by Sen. Tom Udall (D-N.M.) to overturn recent Supreme Court rulings striking down campaign spending laws.
Here's why that's odd: According to polls, a broad majority of the electorate supports the Democratic position on campaign spending. Why would Republicans want a pre-election fight on an issue where the public disagrees with them? It turns out, Republicans and simpatico media outlets had their talking point ready: Democrats want to "repeal the First Amendment."
It's a potent message, but a silly argument. Democrats want Congress to be able to limit the amount of money individuals and organizations can spend on elections, on the theory that money corrupts politics. Republicans in Congress agree with the five conservative justices on the Supreme Court that Congress doesn't have that right, because spending money on elections is constitutionally protected free speech.
Subscribe to The Week
Escape your echo chamber. Get the facts behind the news, plus analysis from multiple perspectives.
SUBSCRIBE & SAVE
Sign up for The Week's Free Newsletters
From our morning news briefing to a weekly Good News Newsletter, get the best of The Week delivered directly to your inbox.
From our morning news briefing to a weekly Good News Newsletter, get the best of The Week delivered directly to your inbox.
The proposed amendment — which has almost no chance of being ratified — seeks to take that authority back by explicitly giving Congress and state legislatures "the power to regulate the raising and spending of money and in-kind equivalents with respect" to federal and state elections. You can read the amendment yourself — it isn't very long. The Supreme Court has the duty to interpret the Constitution but can't amend it.
Now, since the Supreme Court has twice ruled that campaign spending is "free speech" protected under the First Amendment, Republicans could make a strong stand on that argument. But that's not the point they are making. Instead, Senate Minority Leader Mitch McConnell (R-Ky.) took to the floor of the Senate to accuse his Democratic colleagues of seeking to "take an eraser to the First Amendment." He continued:
Sen. Ted Cruz (R-Texas) took the fight to Democratic turf, arguing that under the measure, lawmakers could silence Saturday Night Live. "Congress would have the power to make it a criminal offense, Lorne Michaels could be put in jail under this amendment for making fun of any politician," he added, citing Tina Fey's "wickedly funny" and "profoundly powerful" impersonation of his friend Sarah Palin. "NBC, which airs Saturday Night Live, is a corporation," he noted.
National Review Online kicked up the rhetoric a notch further in an editorial accusing Senate Democrats of "voting to repeal the First Amendment" and "nullify the first item on the Bill of Rights" in "an attack on basic human rights, the Constitution, and democracy itself." The editorial writers do tiptoe up to the issue at hand, that "the Supreme Court in recent years has twice struck down Democratic efforts to legally suppress inconvenient speech," but they fail to note that by "speech" the court meant "money to political campaigns," a new and novel interpretation of the First Amendment.
The most charitable way of looking at the Republican argument is that if the constitutional amendment passed with two-thirds of the House and Senate, then was ratified by three-quarters of states, a future Congress could try to pass unconstitutional laws banning actual speech. In other words, it's a slippery slope.
But the amendment they're attacking specifically deals with "spending of money and in-kind equivalents," often donated TV air time, for or against candidates. And it specifically states: "Nothing in this article shall be construed to grant Congress the power to abridge the freedom of the press."
This fight is largely about politics — Democrats want to make themselves look good and make Republicans appear bought-and-sold, and now Republicans have a clever riposte — but the amendment is about money. If Republicans want to argue that candidate donations from very wealthy people (the only ones who would run afoul of spending limits) and deep-pocketed groups are equivalent to writing the Federalist Papers or making fun of President Obama on a satirical TV show, they should make the connection explicit.
Here's why they probably won't: The polling on campaign finance has been pretty consistent over the past five years, since before the Supreme Court took its first stab at campaign finance laws in 2010's Citizens United. The most recent major national poll on the topic was conducted in May by CBS News. Here's what the poll found:
75 percent of respondents, including 63 percent of Republicans, said that the wealthy have more of a chance of influencing the electoral process.
71 percent of respondents, including 65 percent of Republicans, said that campaign contributions by individuals should be limited.
76 percent of respondents, including 65 percent of Republicans, said that spending on ads by unaffiliated groups should be limited.
As McConnell said: "Let's have a full and proper debate. Let's make the country see what this is really all about. Let's expose this extremist effort to the light of public scrutiny." Let's just be clear who's espousing the extremist position.

Continue reading for free
We hope you're enjoying The Week's refreshingly open-minded journalism.
Subscribed to The Week? Register your account with the same email as your subscription.