Yes, Republicans can impeach President Obama
But it would be a boneheaded move for numerous reasons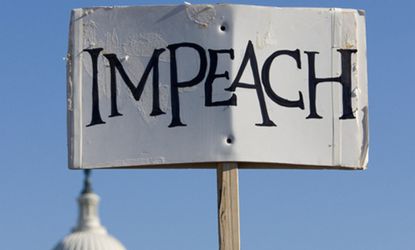 (Image credit: (James Leynse/Corbis))
When Congress heads off on its upcoming five-week recess, some Republicans, at town halls with constituents, will bring up the "I" word: impeachment. Barack Obama, they'll say, needs to be removed from office. The reasons, in their view, are many: Benghazi. The IRS. An inability to control the Mexican border, to name but three. The constitutional standard for removal from office — in Article II, Section 4 — is "Treason, Bribery, or other high Crimes and Misdemeanors," and to the far right, Obama more than qualifies.
Talking tough about impeachment is what constituents in gerrymandered Republican districts want to hear. It's good red-meat politics. But back here on planet Earth, the reality is this: There's about as much chance of Obama being removed from office as there is of Nancy Pelosi throwing the winning touchdown in the Super Bowl. It's just not going to happen. The probability is literally zero.
Here are some numbers: A CNN poll last week said one third of Americans want Obama impeached. Just a liberal media poll, you say? Well, a Fox News survey last week said the same thing. And that one third just happens to coincide more or less with the percentage of Americans who identify themselves as Republicans. Fact is, vast majorities of independent voters and Democrats oppose removing the president from office.
Subscribe to The Week
Escape your echo chamber. Get the facts behind the news, plus analysis from multiple perspectives.
SUBSCRIBE & SAVE
Sign up for The Week's Free Newsletters
From our morning news briefing to a weekly Good News Newsletter, get the best of The Week delivered directly to your inbox.
From our morning news briefing to a weekly Good News Newsletter, get the best of The Week delivered directly to your inbox.
This suggests that House Republicans would have to ignore the will of the American people to impeach Obama. But since when has the will of the people mattered to them? Majorities of Americans favor more infrastructure spending, a tax on carbon emissions, and expanded background checks on guns, only to be dissed by the House on each of these — and many other — issues. So the House may well indeed try to impeach — and since they only need a simple majority, they may be able to do it.
But the fantasy comes to a screeching halt right there. The Senate would then have to convict the president — by a two thirds majority, 67 votes. Republicans have 45 seats now. They're projected to pick up between four and eight this November, so even by the most optimistic projections will have 53 seats. Far short of 67.
So the Republican dream of Obama being forced from office — making Joe Biden the 45th president — simply isn't going to happen.
Here's the other thing. If history is any guide (it usually is), any Republican effort to take down Obama will be seen by the public as petty and vindictive. When news first broke of Bill Clinton's affair with Monica Lewinsky, his approval was 60 percent. It never went below 58 percent, and during impeachment hearings and his subsequent Senate trial, his approval jumped to 64 percent. And in the November election, Republicans lost five House seats (the Senate was a draw). It was the first time since 1822 that the party not in control of the White House failed to gain seats in the midterm of a president's second term.
Republicans controlled both the House and Senate that year and the president they loved to hate had the last laugh.
History and math suggest that Republicans should give it a rest, just as Democrats did when all the "impeach George W. Bush" talk heated up back in 2006. Some Democrats back then were serious about moving against the president. Michigan's John Conyers — who would soon become chairman of the House Judiciary Committee, in which impeachment proceedings would originate — proposed going after Bush for his administration's "intent to go to war before congressional authorization, manipulation of prewar intelligence, encouraging and countenancing torture, (and) retaliating against critics."
To her credit, Pelosi — then poised to become speaker of the House — said no.
In the wake of the Democratic sweep that November, which Bush himself described as a "thumping," she reaffirmed her position: Impeachment wasn't going to happen.
"Impeachment is off the table," she declared. "Democrats pledge civility and bipartisanship in the conduct of the work here, and we pledge partnerships with Congress and the Republicans in Congress, and the president — not partisanship."
Perhaps Republicans today could act in a similarly mature and civil fashion — but I wouldn't count on it.

Continue reading for free
We hope you're enjoying The Week's refreshingly open-minded journalism.
Subscribed to The Week? Register your account with the same email as your subscription.