Race, reparations, and the lie of American patriotism
Ta-Nehisi Coates wants us to more fully acknowledge our troubled history of white supremacy. But any such reckoning would have to contend with powerful patriotic urges.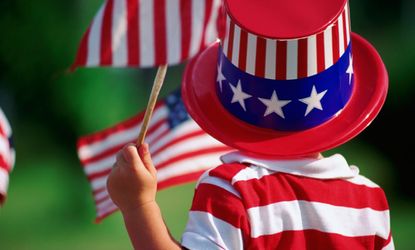 (Image credit: (Alison Shaw/Corbis))
Sign up to our 10 Things You Need to Know Today newsletter
A free daily digest of the biggest news stories of the day - and the best features from our website
Thank you for signing up to TheWeek. You will receive a verification email shortly.
There was a problem. Please refresh the page and try again.
No contemporary writer has done more to shape and transform my thinking about race in America than Ta-Nehisi Coates. That's why I felt a mixture of excitement and irritation when I heard that he was working on a long essay for The Atlantic in which he would make the case for reparations. I was excited because I knew it would be a fruitful provocation, like almost everything Coates writes. But I was irritated because a call for reparations seems like such an obvious dead end.
For many reasons. Historian Allen Guelzo enumerated some of them in a 2002 essay for First Things that highlighted the way that calls for reparations encourage the perpetuation of essentialist thinking about race. Whites of today simply aren't the oppressors that their white ancestors were, just as blacks today aren't as uniformly victimized as were those of previous eras. Why, then, should present-day whites as a group be made to pay present-day blacks as a group? More specifically, why should a struggling white working-class family have to contribute to reparations that would presumably go to all African-Americans, including successful, upper-middle-class blacks like, well, Ta-Nehisi Coates?
Now that I've actually read Coates' nearly 16,000-word essay, I see that I foolishly made the mistake of underestimating him.
Subscribe to The Week
Escape your echo chamber. Get the facts behind the news, plus analysis from multiple perspectives.
SUBSCRIBE & SAVE
Sign up for The Week's Free Newsletters
From our morning news briefing to a weekly Good News Newsletter, get the best of The Week delivered directly to your inbox.
From our morning news briefing to a weekly Good News Newsletter, get the best of The Week delivered directly to your inbox.
He presents the most compelling and exhaustive case for reparations that I have ever encountered — one deeply rooted in history, fleshed out with powerful reporting that brings the story right down to the present day, and fired by the potent mixture of intelligence and passion that animates all of Coates' writing. But he also gives his argument added depth by treating monetary restitution for African-Americans as both a moral end in itself and as a means to the even loftier national goal of forcing white Americans to fully accept "our collective biography and its consequences."
Twice in his essay, Coates claims that a form of national pride that fails to take full account of slavery and its contemporary legacy — one that "proudly claim[s] the veteran and disown[s] the slaveholder," and that celebrates "freedom and democracy while forgetting America's origins in a slavery economy" — is "patriotism à la carte."
This is what Coates wants to combat above all else: White America's seemingly boundless capacity to think well of itself despite the horrific extent of its moral offenses against African-Americans. As he writes, "To ignore the fact that one of the oldest republics in the world was erected on a foundation of white supremacy... is to cover the sin of national plunder with the sin of national lying."
Coates has written his essay to help dispel this great American lie.
It's extremely unlikely that he will succeed — but it's important that we understand precisely why.
The persistence of racism is, of course, one reason why some white Americans will resist modulating their patriotism in the way that Coates would like them to. But there's also something deeper and more morally and psychologically complicated at work.
At its most basic level, patriotism can be defined as love of one's own — an outgrowth of the love I naturally feel for myself. I love my children not primarily because they are uniquely lovable, but simply because they are mine. The same holds for my love of my hometown. And my state. And my country. The word "patriotism" derives from the ancient Greek word for fatherland (patris), which, like the terms motherland and homeland, shows up in many of the world's languages to express an emotional attachment to collectivities that mirrors our attachment to our closest family members. Each feels like an extension of me.
But we also know very well that love of one's own can distort our judgment. Most parents realize that their own kids aren't really the cutest, smartest, most talented children in the world, but it sure can feel that way sometimes — namely, when the intensity of those feelings convinces us that our children actually deserve the intense love we naturally feel for them. That is, we half-convince ourselves that we love our kids not primarily because they're ours but rather because they are uniquely, intrinsically, objectively good. The patently absurd implication of this view, when taken to extremes, is that everyone in the world should recognize this goodness, too, and love our children just as much as we do.
The same thing can happen with patriotism. When it does, love for our political community becomes something more ideological than mere love of one's own.
France has its own version of ideological patriotism rooted in the French Revolution and the republican political tradition, which it sees as a gift to humanity everywhere. Great Britain views the common-law legal tradition and the nation's long history of parliamentary self-government in much the same way. If Thucydides' reconstruction of Pericles' Funeral Oration is to be believed, ancient Athens displayed signs of ideological patriotism at the time of the Peloponnesian War as well.
The form of national self-love that publicly prevails in the United States — often aptly described as American exceptionalism — is a particularly potent form of ideological patriotism. The American longing to believe in the intrinsic (and also, thanks to Jefferson and Paine, the self-evident and commonsensical) goodness of the country — its ideals, its economic system, its military power, its global example — is so strong that it easily and often warps our understanding of the nation's history, leading many white Americans to diminish, ignore, and even outright forget the very significant evils that the country has committed down through the centuries.
The worst and most enduring evil is almost certainly the one concisely summarized on the cover of the issue of The Atlantic containing Coates' essay: "250 years of slavery, 90 years of Jim Crow, 60 years of separate but equal, 35 years of state-sanctioned redlining." Though if we are honest, we must recognize that the systematic genocide of the continent's Native-American population undeniably rivals it.
That's two moral atrocities of world-historical scope in the 400 years since Jamestown was settled. Which isn't to deny that the United States has done and stood for many noble, wonderful things during those same centuries. But it is to say, with Coates, that it would be a very good thing for Americans to do the hard and truthful work of reconciling "our self-image as the great democratizer with the facts of our history."
But that, I'm afraid, is exceedingly unlikely to happen, precisely because (as Coates also notes) it would require that America become nothing less than "a new country" with a radically different form of patriotism — one much more like the national culture that has developed in Germany in the decades since its total defeat in World War II. That is a culture self-consciously devoted to collective self-examination and atonement for the sins of the country's past.
Coates is surely right that the development of a more complicated, ambivalent form of national self-love "would represent America's maturation out of the childhood myth of its innocence into a wisdom worthy of its founders." But I, for one, see little evidence in the American past or present to indicate a widespread willingness to leave behind childhood myths, to grow into maturity, and to accept that the United States is somewhat less unambiguously good than we would prefer to believe.
I certainly won't be holding my breath. And I doubt, quite frankly, that Coates will be either.
Continue reading for free
We hope you're enjoying The Week's refreshingly open-minded journalism.
Subscribed to The Week? Register your account with the same email as your subscription.