Why conservatives should support a higher minimum wage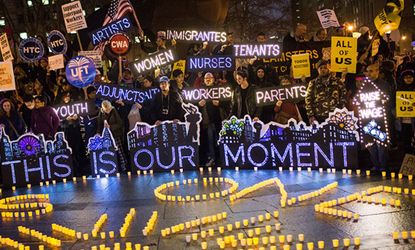 (Image credit: (Andrew Burton/Getty Images))
Income inequality is at the root of most of America's major socioeconomic problems, truly the radioactive element that causes the body politic to decay. It's the motive force that kicks the president's agenda forward, and an issue around which the Democratic Party can unite.
Here, there are two forces acting against each other. One is shareholder capitalism, where immense political power is concentrated in the board rooms of the few; the other, right now, for lack of a better umbrella term, is President Obama's agenda.
What we're debating, essentially, is how much of a redistribution of wealth his policies really require to stabilize the lives of the lower middle class and working poor.
Subscribe to The Week
Escape your echo chamber. Get the facts behind the news, plus analysis from multiple perspectives.
SUBSCRIBE & SAVE
Sign up for The Week's Free Newsletters
From our morning news briefing to a weekly Good News Newsletter, get the best of The Week delivered directly to your inbox.
From our morning news briefing to a weekly Good News Newsletter, get the best of The Week delivered directly to your inbox.
Fixing income inequality conjures up a Great Society-like government apparatus that would redistribute wealth on a broad scale, and a welfare state that leeches resources and punishes the wealthy for simply being wealthy. As John Dickerson notes at Slate, that's an exaggeration at best. At worst, Republican hypersensitivity to the the very notion that there can be too much income inequality leads them to candidates that will lose general elections. Americans know better.
Republicans are not wrong to notice that the welfare state perpetuates itself, that a huge chunk of government revenue goes directly into the pockets of poor people, and because poverty persists so stubbornly, draw a correlation between the two. The welfare state includes Medicare and Medicaid, and Social Security insurance, and food stamps, and direct transfers to people, and a host of other programs. This social safety net isn't small.
As a society, we ought to tolerate, and even encourage, for the sake of growth and innovation, a wealth gap. What we cannot tolerate, and what we should try to reduce, are the chronic sources of social, financial, and personal stresses that rich people, by definition, never experience, and poorer people, because of this uneven distribution of resources, must endure. At a certain point, the wealth gap becomes so extreme that its effects redound to the peril of the poor. At that point, inequality becomes a driver of poverty. In real terms, if, at a level of economic growth, the upward pressure begins at the floor of the wealthiest ten percent of Americans, it means that the system is rigged against the poor. The poor are getting poorer at a more rapid clip than the rich are getting richer.
A higher minimum wage would not reduce actual income inequality very much at all. What it would do is reduce, by a not insignificant amount, the real effects of income inequality. That's why it's essential. What's bad, really, is that people are hurting, through no fault of their own, in an organized, responsible society flush with resources. Corporations will face correspondingly less political and regulatory pressure in the long run if fewer people are left behind.
Gutting the most sensitive, most stimulative parts of the safety net, itself still of modest size when compared to most functional democracies, provides short-term political satisfaction to Americans who misunderstand the problem. The lion's share of productivity gains over the past 30 years have accrued to the richest ten percent of Americans; their profit margins depend more and more on a cheap supply of labor and maximizing their efficiency. More money to the owners, so they can invest; more money to the shareholders, so they can keep the market liquid. This is kind of the only capitalism we've come to know. It's the obsession of the cable news financial channels. But shareholder capitalism is not the only variant of capitalism, as Steven Pearlstein notes in the American Prospect, or even, indeed, capitalism's original form.
Now it certainly is the dominant form, so dominant that the companies who practice it well have become too big to fail, and thus, even in a period of heightened awareness of the perils of their size, more self-satisfied with the inevitability of their own growth. More than other forms, shareholder capitalism is blind to the reality that accidents of birth determine where you start on the ladder of economic opportunity and how likely you are to rise to the next rung. Left unchecked, it produces wealth, but by its very design, the type of wealth it produces and encourages is, you might say, the least selfish type of wealth.
After a long period — maybe 20 odd years or so — of this reigning shareholder capitalism, the "and then" part just isn't happening. The middle class is getting squeezed. The working poor are shellacked. If you're prepared to argue that government policies have constrained or skewered capitalism's natural capacity to reward the whole of society, as George Will does, you're arguing that these policies have contributed to the growth of income inequality. That is: businesses are sitting on money and investing it to generate higher returns instead of spending it to build their businesses because confiscatory tax policies and government regulation chase wealth and capital away. Businesses won't spend the money they receive.
Here's why conservatives might want to embrace a higher minimum wage:
-Virtually every dollar earned as part of a national increase in the minimum wage would go right back into the economy, increasing economic growth.
-The money goes directly from employers to people, not employers to government to people. (Yay!)
-The money is transferred in direct proportion to the amount one works.
-Americans broadly support it.
-It's not expensive when compared to other potential interventions.
-It could help reduce crushing household and student debt accrued by younger families.

Continue reading for free
We hope you're enjoying The Week's refreshingly open-minded journalism.
Subscribed to The Week? Register your account with the same email as your subscription.