Politicians' 11 dumbest tweets of 2013
Twitter is one of the few places where the public can get an unadulterated dose of a politician's true personality. That's not always a good thing.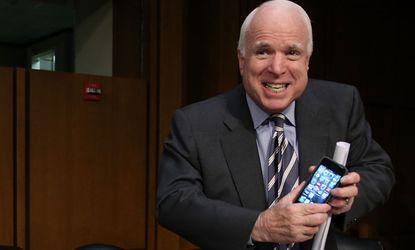 (Image credit: (Mark Wilson/Getty Images))
Sign up to our 10 Things You Need to Know Today newsletter
A free daily digest of the biggest news stories of the day - and the best features from our website
Thank you for signing up to TheWeek. You will receive a verification email shortly.
There was a problem. Please refresh the page and try again.
In a political world where elected officials' every statement seems scripted and predictable, it's almost inexplicable that PR staff and political consultants allow their bosses to run around with cell phones that can immediately blast their innermost musings to the world via social media. But they do. And we're oh so glad.
These days, Twitter is one of the few places where the public can get an unadulterated dose of a politician's true personality. And they consistently deliver — often with tweets that stand as towering monuments to their own poor judgment.
Herewith, we present, Politicians' Dumbest Tweets of 2013.
Subscribe to The Week
Escape your echo chamber. Get the facts behind the news, plus analysis from multiple perspectives.
SUBSCRIBE & SAVE
Sign up for The Week's Free Newsletters
From our morning news briefing to a weekly Good News Newsletter, get the best of The Week delivered directly to your inbox.
From our morning news briefing to a weekly Good News Newsletter, get the best of The Week delivered directly to your inbox.
(Disclaimer: The reservoir of stupid political musings on Twitter by elected officials is broad and deep, so by necessity, this list has been limited to pols doing business in Washington, D.C.)
1. Rep. Raul R. Labrador (R-Idaho)
Moments after a worldwide television audience watched the two stars of the CBS sitcom 2 Broke Girls tear off their waitress uniforms and gyrate on a stripper pole during a Superbowl ad, Rep. Raul Labrador's Twitter followers were treated to this observation:
"Me likey Broke Girls."
In Labrador's defense, it was later reported that the tweet was mistakenly posted by an aide who thought he was posting it to his personal account. Still, if you're handing over your Twitter account to someone who watches 2 Broke Girls, that's a bad sign in the first place.
2. Rep. Bruce Braley (D-Iowa)
When the Ohio State Buckeyes bounced the Iowa State Cyclones from the NCAA basketball tournament last March, Rep. Bruce Braley quickly jumped onto his Twitter account to vent his frustration. A bit too quickly, as it turns out.
"It's official. Ohio State is the luckiest team in the tournament. #TrailOfTears"
The actual Trail of Tears, of course, refers to the forced relocation of tens of thousands of American Indians from their homeland — a shameful episode in American history that left thousands of innocents dead of exposure. Braley would later delete the tweet and say in an apology that he was referring to the "tears of Cyclone fans."
3. Rep. Steve Stockman (R-Texas)
So, what's the best thing about planet Earth? The best the firebrand conservative from Texas could come up with when considering the blessing of the planet last March was this:
"The best thing about the earth is if you poke holes in it oil and gas come out."
To be honest, Stockman's Twitter feed is a veritable goldmine of unfiltered musings about whatever happens to be crossing his mind at the moment. This one isn't too hard to explain, given that his official House website brags that Stockman's district "contains the highest number per capita of oil and gas refineries and downstream petrochemical plants in the world."
4. Rep. Yvette D. Clarke (D-N.Y.)
Abraham Lincoln was born on April 12, 1809. And April 12 of this year, Rep. Clarke must have been racking her brain for something to tweet about. Well, how about something simple and factual about one of our nation's most beloved former presidents? Can't go wrong there, right?
"Abraham #Lincoln was the 14th President of the United States."
Okay, Rep. Clarke. First of all, nobody is interested in reading the answers to your fourth grader's history test in their Twitter feed. Add a little value, okay? Second, if you are going to post simple statements of historical fact to Twitter — get the facts right. Lincoln was the 16th president.
5. Sen. John Cornyn (R-Texas)
This fall, Secretary of State John Kerry, following a set of marathon meetings that pulled in major figures from some of the most powerful nations on the planet, announced that a preliminary deal had been reached to rein in Iran's enrichment of uranium. Cornyn, who had frequently spoken out about the dangers of a nuclear-armed Iran, had this to say in a November 23 tweet:
"Amazing what the WH will do to distract attention from O-care."
Okay, we've long ago given up on the idea that politics stops at the water's edge. But really? Do we need U.S. senators implying that some of our closest allies were hoodwinked into a major deal with Iran in order to provide cover for a botched health care rollout?
6. Valerie Jarrett (D)
Technically, White House advisor Valerie Jarrett was right when she posted the following in October:
"FACT: Nothing in #Obamacare forces people out of their health plans. No change is required unless insurance companies change existing plans."
But here's a hint: If defending the accuracy of your statements requires a sentence that begins with the word "Technically," you're already in trouble. Jarrett neglected to mention that ObamaCare effectively made many existing health care plans illegal, which meant the insurers didn't have much choice about changing plans. In the middle of a fight over whether the president had been honest with Americans when he told them "if you like your health plan, you can keep it," disingenuous tweeting probably isn't helpful.
7. Sen. John McCain (R-Ariz.)
The man who thought it would be great if Sarah Palin were one heartbeat away from the presidency should probably have had his cell phone taken away years ago. But McCain apparently still has his, and on February 4, when he heard that Iran's then-president Mahmoud Ahmadinejad jokingly said he wanted to be the first Iranian in space, the senator got busy tweeting.
"So Ahmadinejad wants to be the first Iranian in space – wasn't he just there last week?"
Seems pretty harmless, if a bit random, until you see that McCain linked the tweet to a news article headlined "Iran Launches Monkey into Space." Did we mention that McCain is a member of the Senate Foreign Relations Committee?
8. Republican National Committee
On December 1, 1955, Rosa Parks took a seat on a bus, and then refused to give it up when another woman told her to. Parks was black and the woman who wanted the seat was white, and the rest of the story is civil rights history. This year, the Republican National Committee honored the anniversary of Parks' refusal on its Twitter feed with a picture of Parks and a quoted her saying, "You must never be fearful about what you are doing when it is right." The RNC added:
"Today we remember Rosa Parks' bold stand and her role in ending racism."
The news that racism had ended came as a shock to the Twitter community. But rather than responding with joy and celebration, the Twitterverse heaped ridicule on the RNC in thousands of posts to the ironic hashtag #racismendedwhen.
9. Rep. Juan Vargas (D-Calif.)
Everybody makes a typo sometimes, but what Rep. Vargas posted to his Twitter feed about an event he attended last fall was so cringe-inducingly awful it must have made him consider hiring a full-time copyeditor:
"Providing the open remarks at my briefing that brought awareness of the sexual exploration of our children"
The kicker here is that the tweet remained live on the congressman's feed for eight weeks before someone decided it might be a good idea to erase it.
10. Rep. Steve King (R-Iowa)
The tweet coming out of the office of Iowan Steve King on June 13 sounded like a call for help:
"20 brazen self-professed illegal aliens have just invaded my DC office. Obama's lawless order gives them de facto immunity from U.S. law."
Anyone who rushed to King's office to try to rescue the endangered congressman would have been justly puzzled on arrival to find that rather than a violent mob, his office was filled with high school students — many proudly wearing their graduation robes — who were seeking to speak with King about his stand on the immigration bill.
11. Rep. Steve Stockman (R-Texas)
Yes, Stockman again. You really can't go to the well too often with an account as prolific as his. This one came out early this year, from his reelection account, and touted the wording of his new campaign bumper sticker:
"Our campaign bumper sticker: If babies had guns, they wouldn't be aborted."
Set aside the fact that doctors have been shot and killed for performing legal abortions for a moment and marvel at the sheer weirdness of the image Stockman is creating here. Is this really a dumb tweet, or is Stockman some sort of undercover performance artist, gleefully trolling the Twitterverse? It remains to be seen, but he'll surely provide more material to judge by in 2014.
More from The Fiscal Times...
Continue reading for free
We hope you're enjoying The Week's refreshingly open-minded journalism.
Subscribed to The Week? Register your account with the same email as your subscription.
Sign up to our 10 Things You Need to Know Today newsletter
A free daily digest of the biggest news stories of the day - and the best features from our website