The Iran nuclear deal: The long road ahead for President Obama
The six-month pact aimed at turning Iran away from nukes is just the first step toward a distant goal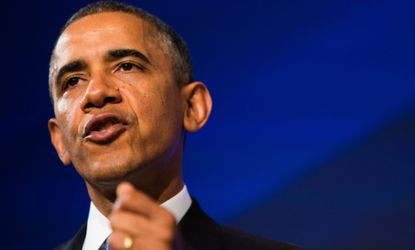 (Image credit: (Drew Angerer-Pool/Getty Images))
After almost a full year of delicate behind-the-scenes negotiations, the United States and a handful of world powers over the weekend announced a short-term deal with Iran to curb its controversial nuclear program.
Securing a long-term deal to ensure that Iran does not obtain a nuclear weapon, however, will be an even harder challenge for President Obama, who must placate critics at home and abroad as he tries to thaw three-plus decades of icy relations between the U.S. and Iran.
The six-month agreement would curtail Iran's ability to enrich uranium that could be used in a nuclear weapon, in exchange for the easing of some economic sanctions. The deal would also add some international oversight to Iran's nuclear program, but would not halt nuclear activity altogether. Iran says it is developing nuclear technology for peaceful purposes, but the rest of the world has long suspected it of desiring an atomic bomb.
Subscribe to The Week
Escape your echo chamber. Get the facts behind the news, plus analysis from multiple perspectives.
SUBSCRIBE & SAVE
Sign up for The Week's Free Newsletters
From our morning news briefing to a weekly Good News Newsletter, get the best of The Week delivered directly to your inbox.
From our morning news briefing to a weekly Good News Newsletter, get the best of The Week delivered directly to your inbox.
Obama called the agreement a "first step" that had "opened up a new path toward a world that is more secure." And he acknowledged that "huge challenges remain ahead" on the road to a longer deal.
Among those next steps, Obama will need to adequately convince Israel, the U.S.'s staunchest ally in the Middle East, that its security won't get thrown under the bus. Israel remains deeply skeptical of giving Iran any leeway — Israeli Prime Minister Benjamin Netanyahu called the Geneva agreement a "historic mistake" — for fear it will ultimately strengthen Iran and destabilize the region.
And Israel has reserved the right to unilaterally strike Iran if it feels threatened — something it has done before in Syria — which would undermine the administration's efforts. Or worse, trigger a full-scale war.
To that end, Obama called Netanyahu Sunday to reassure him the U.S. was "completely committed to closely consulting with Israel through this process" and that the two countries shared the same goal: Ensuring Iran never gets a nuke.
At home, Obama will also have to convince Congress to give him the freedom to negotiate a broader pact over the coming months. Lawmakers from both parties were already discussing harsher sanctions on Iran, which could scuttle the modest progress the White House has made thus far.
The Senate's third-ranking Democrat, New York's Chuck Schumer, predicted the deal would actually spur such tougher sanctions. And Sen. Bob Menendez (D-N.J.), chairman of the Senate Foreign Relations Committee and a leading Democratic Iran hawk, likewise said the upper chamber should still move ahead with sanctions.
Menendez wrote in an op-ed earlier this month that sanctions brought Iran to the negotiating table in the first place, and advocated harsher punishment as a means of "letting the Iranians know what awaits if it continues its to-date unabated pursuit of a nuclear weapons capability."
Menendez said that new sanctions would probably come with a six-month delay to give the deal time to run its course, a position shared by Sen. Mark Kirk (R-Ill.) and other pro-sanction lawmakers.
Obama warned lawmakers against any saber-rattling lest it upend the ongoing negotiations. Moving ahead with new sanctions now would threaten to "derail this promising first step," he said, and quite possibly "alienate us from our allies and risk unraveling the coalition that enabled our sanctions to be enforced in the first place."
The legislative maneuvering could all be moot, though, if Majority Leader Harry Reid (D-Nev.) punts on a bill. On Monday, Reid said the Senate would consider sanction legislation, but not until the chamber spent considerable time looking into the issue after the Thanksgiving recess.
The administration has essentially given itself a six-month window to make serious progress toward a long-term deal with Iran. Whether it can rally support behind the effort — and whether Iran holds up its end of the bargain — will determine whether Obama can ultimately secure a defining foreign policy achievement and chart a new course for U.S.-Iranian relations going forward.

Continue reading for free
We hope you're enjoying The Week's refreshingly open-minded journalism.
Subscribed to The Week? Register your account with the same email as your subscription.