The conservative dilemma in a nutshell
The movement's biggest stars are more concerned with their own empires than the Republican Party's fortunes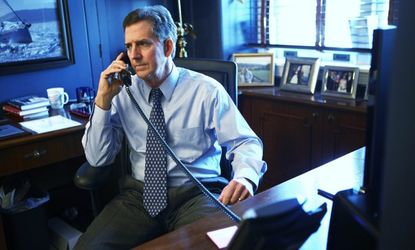 (Image credit: Alex Wong/Getty Images)
Jim DeMint, the former firebrand senator from South Carolina who now heads The Heritage Foundation, has been on the speaking junket of late calling for the replacement of any Republican who has the good sense to oppose a purely symbolic and unwinnable vote on repealing ObamaCare. DeMint is an absolutist, and is revealing a sad truth about too many spokespeople for conservative causes these days: They play to an audience that does not understand (or does not care about) the demographic realities of electoral politics, and offer a message designed to line their own pockets rather than improve the party. This has to change if our party is to rise again.
Take DeMint. GOPers who are against the symbolic move to replace ObamaCare "should be replaced," he says. DeMint also says he's "not as interested in the political futures of folks who think they might lose a showdown with the president." These remarks highlight two of the most fundamental obstacles to the GOP's return to viability as a ruling party in this country.
Large swaths of the conservative base have come to believe that all conservatives in all states should be fire breathers like DeMint. But even if it would be good or desirable to run candidates likeDeMint as the nominee in every race in America, the demographics of modern America make such a policy politically suicidal. Democratic elections mean that people tend to elect leaders that hold views that approximately resemble their own. The very qualities that make a DeMint clone wildly desirable in a dark red southern state like South Carolina make the identical person totally and completely unelectable in Connecticut, Delaware, or Nevada. And if you think my choice of those last three states was a coincidence, it was not, since the GOP has thrown away two slam-dunk Senate wins and one potential Senate win in recent cycles in those states by nominating a fire breather rather than a more "moderate" candidate in the general election.
Subscribe to The Week
Escape your echo chamber. Get the facts behind the news, plus analysis from multiple perspectives.
SUBSCRIBE & SAVE
Sign up for The Week's Free Newsletters
From our morning news briefing to a weekly Good News Newsletter, get the best of The Week delivered directly to your inbox.
From our morning news briefing to a weekly Good News Newsletter, get the best of The Week delivered directly to your inbox.
This is basic politics. Almost any objective observer can look at the numbers and demographic realities and recognize the problem. That raises this question: Jim DeMint may hold some pretty extreme political views, but he's no idiot, so why does he continue to spout this nonsense? The answer, as with so many things, becomes quickly apparent when we think about who he works for and what he is trying to do.
DeMint does not work for the Republican Party. He does not have the best interests of the GOP in mind when he goes on tour. Instead, DeMint is paid something close to $1 million a year to run the Heritage Foundation. The reason that Heritage is paying the former senator so much cash is because they expect him to raise a lot of it, as think tanks rarely generate revenue and therefore must raise money to survive. So make no mistake, in his present position, DeMint is concerned foremost not with the betterment of the GOP's national position or the good of America, but the bottom line of the Heritage Foundation.
This leads us to a final question: What kind of person is apt to give money to a partisan think tank like Heritage? Your answer: Hyper-enthusiastic rich conservatives. And what these donors like to hear is their own beliefs echoed on television. They are less concerned with, you know, reality… or whether the GOP takes a Senate seat in Connecticut.
This last incentives problem is one that pervades the GOP. Right now, too many people are making too much money by being conservatives. Rush Limbaugh is a bright enough guy and he is an exceptional entertainer, but he knows that his core audience is hyper conservative and he plays to that audience exceptionally well. Same with Fox News: Their core viewers are über-conservative, Fox is in business to make money, and that means catering to the audience's beliefs.
Sadly, the two problems play off of one another. Perhaps if DeMint and Limbaugh were not so busy looking our for #1 (and the organizations they represent), they might talk to their fans about what is and isn't possible. In all likelihood, many of the true believers would embrace a compromise if it meant more conservatives rather than less. But to do so, Limbaugh and DeMint and Fox News would have to risk alienating some of their biggest fans, customers, or donors for the betterment of the party and, as we are so often reminded, they just don't work for the party.

Continue reading for free
We hope you're enjoying The Week's refreshingly open-minded journalism.
Subscribed to The Week? Register your account with the same email as your subscription.