Inside the world of Kim Jong Un: North Korea's strange hermit king
North Korea's young leader is alarming the world with threats of nuclear war. What makes him tick?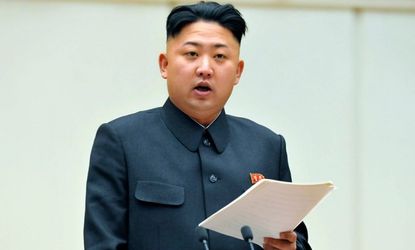 (Image credit: REUTERS)
What do we know about Kim?
He's the third and youngest son of former North Korean dictator Kim Jong Il, the "Dear Leader" who died in 2011. Because of the secretive nature of the regime, no one outside of Pyongyang's ruling elite knows the young Kim's precise birth date — experts think he is 29 or 30 years old — or his mother's true identity. Some reports suggest she was Ko Yong Hui, a former dancer and mistress of Kim Jong Il who served as the country's First Lady until her death in 2004. It is known that as a teenager, Kim was sent to study at Switzerland's $25,000-a-year International School of Berne. While in Switzerland, his official biography claims, he was a superior student who mastered "English, French, German, and Italian, as well as Chinese, Japanese, and Russian." His school records tell a different story.
What kind of student was he really?
Subscribe to The Week
Escape your echo chamber. Get the facts behind the news, plus analysis from multiple perspectives.
SUBSCRIBE & SAVE
Sign up for The Week's Free Newsletters
From our morning news briefing to a weekly Good News Newsletter, get the best of The Week delivered directly to your inbox.
From our morning news briefing to a weekly Good News Newsletter, get the best of The Week delivered directly to your inbox.
Kim flunked science and only narrowly passed English, German, and math. At age 15, he was transferred from the elite institution to a nearby state-run Swiss high school. One fellow student remembers Kim as a "nice guy" who was "much more interested in soccer and basketball than in lessons." He idolized American basketball players like Chicago Bulls star Michael Jordan, and often shot hoops with Swiss friends. Former classmate Marco Imhof said the 5-foot-9 Korean was a skillful player for his size who "hated to lose." Kim returned to Pyongyang in 2000 and attended a military academy.
Was Kim always expected to rule?
No. His older brother Kim Jong Nam was originally supposed to inherit the dictatorship. But he embarrassed his father in 2001 when he was caught sneaking into Japan on a forged passport, apparently bound for Tokyo Disneyland. The middle son, Kim Jong Chul, was viewed as a "little girl" by his father and too weak to lead, according to a memoir by the family's Japanese former chef. That left only one choice. Kim debuted as heir apparent alongside his father at a massive military parade in 2010, when many regime-watchers noted how the once-athletic youth looked and moved exactly like his pudgy grandfather Kim Il Sung, the nation's beloved founder. "The regime wants its people to see Kim Jong Un as Great Leader Kim Il Sung reincarnated," said Kim Kwang-in, head of the North Korea Strategy Center in Seoul. "They fattened him up and gave him a thorough training — and plastic surgery, too, some even say."
Is his authority secure?
His recent actions would suggest it is not. When Kim succeeded his father and took on the title "Supreme Leader" two years ago, many intelligence analysts thought he was just a figurehead, and that real power lay with the country's network of much older generals. But last year Kim conducted a brutal purge of senior military officials he viewed as insufficiently loyal. Dozens of officers were executed by firing squad, and Deputy Defense Minister Kim Chol was reportedly ordered to stand in a deserted spot on a North Korean army range and then "obliterated" by targeted mortar fire. Many analysts believe that Kim's recent barrage of provocations, including threats to wage war on South Korea and to nuke the U.S., are intended to further secure his domestic power base.
Why would a crisis strengthen him?
Using manufactured external threats is one of the oldest tricks in the tyrant playbook. "By creating the impression that a U.S. attack is imminent," said Jean Lee, the Associated Press' bureau chief in Pyongyang, "the regime can foster a sense of national unity and encourage the people to rally around their new leader." If Kim can convince the citizens and the 1.2-million-man army of the Hermit Kingdom that North Korea faces a major threat from a hostile outside world, the generals would not dare challenge the young dictator's authority. Kim also learned from his father that playing crazy is an effective way to manipulate foreign powers. During his 17-year rule, Kim Jong Il repeatedly threatened to turn Seoul into a "sea of flames." Unsure whether the Dear Leader was mad enough to follow through, the South agreed to supply food and fuel aid to the impoverished North and to create cash-generating investment zones. The younger Kim has tweaked his father's "crazy-guy-in-the-neighborhood" strategy by expanding his war threats to include the U.S. as well as Seoul, even though he has no missiles that can go that far.
What does Kim want from the U.S.?
He wants it to roll back tough U.N. sanctions, implemented earlier this year, that ban the export to North Korea of luxury items such as gems, yachts, and sports cars. Kim needs these goodies to buy the loyalty of high-ranking officials. Some analysts worry that Kim lacks his father's strategic cunning, and could go overboard in attempting to prove his toughness. "Although he practiced brinkmanship all the time, there was a record of Kim Jong Il stepping back from the brink," said Alexandre Mansourov, a North Korea expert at Johns Hopkins University. "With his son, we don't have a track record yet. We don't know what his limits are, how far we can push him, or whether he has any brakes or not."
The Kims' sibling rivalry
The late Kim Jong Il's oldest son, Kim Jong Nam, is still bitter over his little brother's success. Jong Nam has repeatedly lobbed insults at Jong Un since his accession, telling one Japanese newspaper that his regime was "a joke" and doomed to collapse. He's paid a price for his name-calling. Russian weekly Arguments and Facts last year reported that Jong Nam was tossed out of a five-star hotel in the Chinese gambling hub of Macau following the sudden cancelation of his regime-funded Visa Gold card. Soon after, South Korean officials claimed to have captured a North Korean agent who'd been ordered to kill Jong Nam by staging a car accident in China. Jong Nam fled Macau, and is now thought to be in hiding in Singapore.

Continue reading for free
We hope you're enjoying The Week's refreshingly open-minded journalism.
Subscribed to The Week? Register your account with the same email as your subscription.