The second presidential debate: Will the Benghazi whiff hurt Mitt Romney?
Even Romney's supporters say he flubbed a key moment in his second match-up with President Obama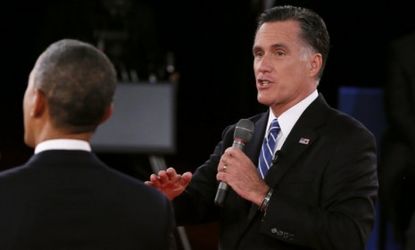 (Image credit: Getty Images)
The most memorable, controversial, and, arguably, momentum-changing moment of Tuesday night's debate between President Obama and Mitt Romney was on the issue of the deadly Sept. 11 attack on the U.S. Consulate in Benghazi, Libya. In the exchange (watch below), Obama had just solemnly taken responsibility for any U.S. missteps that allowed the attack, accused Romney of politicizing national security, and claimed he'd immediately vowed to avenge the "act of terror" in his Sept. 12 Rose Garden speech. Romney pounced, incredulously challenging Obama's assertion that he'd called it an "act of terror" so early. Then moderator Candy Crowley of CNN stepped in, noting that Obama had, in fact, used the phrase in his speech, even if Romney's broader point was right about the Obama administration's early emphasis on nonexistent pre-attack protests against an anti-Islam film. But the damage was done — this "was Romney's Gerald Ford moment," says Taegan Goddard at Political Wire. Romney had been holding his own, but at this moment "Obama acted like a president in the exchange while Romney was much less." Did this pivotal point in the debate inflict lasting damage on Romney?
Romney flunked a key test: The Benghazi exchange was "a clear defeat for Romney" — that's my take and "the widely shared view of observers from across the spectrum," says Daniel Larison at The American Conservative. And that's crazy. Libya was an easy win for Romney, but he "flubbed his criticisms so badly that he turned it into an advantage for his opponent." This will cause real damage: Now that voters have seen "Romney's bad judgment and his lack of preparation" on foreign policy, "it has probably become clear to a much wider audience that Romney lacks important qualifications for the presidency."
"Romney somehow manages to bungle his... attack on foreign policy"
Subscribe to The Week
Escape your echo chamber. Get the facts behind the news, plus analysis from multiple perspectives.
SUBSCRIBE & SAVE
Sign up for The Week's Free Newsletters
From our morning news briefing to a weekly Good News Newsletter, get the best of The Week delivered directly to your inbox.
From our morning news briefing to a weekly Good News Newsletter, get the best of The Week delivered directly to your inbox.
This will backfire on Obama: Romney was clearly "unprepared for the pushback from Obama and his pal Candy on what he said about 'acts of terror' in the Rose Garden," says Allahpundit at Hot Air. But as even Crowley admits, in the larger picture, Romney was correct about Team Obama's shifting story. "The good news? Mitt gets another crack at the Libya attack in the next debate, which will focus exclusively on foreign policy. He'll be very well prepared, rest assured." And even before that, the post-debate coverage of the exchange — and Romney's larger point — will ultimately be harmful to Obama. "I can live with that."
Romney flubbed, but it won't matter much: The big takeaway is that "Romney was hoisted with his own petard by Crowley in what will be the single most memorable (and replayed) interaction of the debate," says Chris Cillizza at The Washington Post. Yes, there is considerable controversy about whether Crowley "was right/accurate" in her fact-check, but remember, the average viewer is "going to watch the debate and think: 'Obama looked strong there, Romney looked like he didn't have his facts straight.'" That said, people care about the economy, not Benghazi, and "its hard to imagine the debate changing any minds."
"Winners and losers from the second presidential debate"
Read more political coverage at The Week's 2012 Election Center.

Continue reading for free
We hope you're enjoying The Week's refreshingly open-minded journalism.
Subscribed to The Week? Register your account with the same email as your subscription.