Mitt Romney's 'hilarious' strategy: Claim Newt is a flip-flopper?
Team Romney reportedly plans to brand a top GOP rival as a "serial flip-flopper" — a label Romney himself has tried to shake for years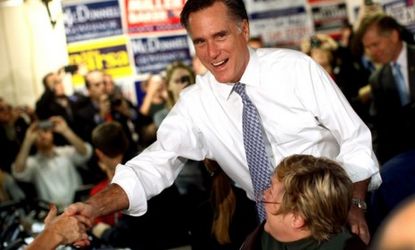 (Image credit: Win McNamee/Getty Images)
Publicly, Mitt Romney's campaign is unconcerned about Newt Gingrich's surge in the polls, calling it merely the latest anti-Mitt bubble. But behind the scenes, "they know the latest alarm isn't a drill," says Reid J. Epstein at Politico. To try and knock Gingrich out, Team Romney is preparing "a robust, sustained attack that tags the former House speaker as a Washington insider and serial flip-flopper." Newt has indeed changed many of his positions, famously on climate change, an individual mandate to buy health insurance, and the war in Libya. But considering that Romney is also famous for his own flip-flops (on abortion, auto bailouts, and health care, among others), is this really a smart strategy?
Talk about the pot calling the kettle black! If Romney actually follows through with this plan, "it will be hilarious," says Jed Lewison at Daily Kos. Sure, Gingrich is "every bit as flip-floppy" as Romney, but using that flaw to attack him has "such an obvious response" — look in the mirror — that Romney must be getting desperate.
"Romney planning to attack Newt Gingrich as a flip-flopping..."
Subscribe to The Week
Escape your echo chamber. Get the facts behind the news, plus analysis from multiple perspectives.
SUBSCRIBE & SAVE
Sign up for The Week's Free Newsletters
From our morning news briefing to a weekly Good News Newsletter, get the best of The Week delivered directly to your inbox.
From our morning news briefing to a weekly Good News Newsletter, get the best of The Week delivered directly to your inbox.
Still, this attack could be effective: The only Romney attack we've seen so far — calling Gingrich a career politician — is "lame," says Carter Eskew at The Washington Post. But Newt's long history of flip-flops is a big reason he "presents what consultants call a 'target-rich' opportunity." If Romney can find the right way to attack that weakness, it will "do double-duty: Hurt Newt and help Mitt by making him look tougher."
"Why Mitt Romney should attack Newt Gingrich"
Newt is vulnerable, but not on flip-flopping: It doesn't really matter that Gingrich's history of flip-flops is "even more extensive than Romney's," says Charles Krauthammer at The Washington Post. Thanks to Newt's "historic conservative triumph" — the GOP's 1994 capture of the House — Republicans see Gingrich's flip-flops as mere "deviations from his conservative core." Romney's, on the other hand, are viewed as proof of his inherent lack of principles.
Romney and Gingrich are both playing with fire: Romney's "reputation as an inconsistent conservative — a flip-flopper" — is his "most vulnerable spot," and Newt's already poking it, says Doyle McManus in the Los Angeles Times. But Romney would probably be better off responding by attacking Gingrich's mercurial temperament. Regardless, both rivals should tread carefully. The winner of "a bitter battle... over their respective consistency, reliability, and honesty" would probably be President Obama.
"Slugging it out with Gingrich"

Continue reading for free
We hope you're enjoying The Week's refreshingly open-minded journalism.
Subscribed to The Week? Register your account with the same email as your subscription.