Mike Huckabee, and the death of the populist president
Blame the big money–men and flacks that dominate the modern campaign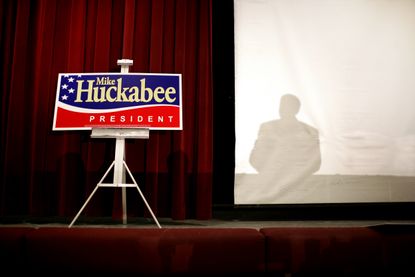 (Image credit: (Brooks Kraft/Corbis))
Reporters took joy in the first Mike Huckabee campaign in 2008. Here was a former governor from Arkansas, accompanied by Chuck Norris and only Chuck Norris, kicking ass. Mitt Romney was bussing in clean-cut college Republicans to CPAC and dropping bills everywhere, and Huckabee — the guy who had to iron his own suit — was thrashing him. There were no surly and cynical 29-year-old press handlers. There were no rotund money-raisers. It was real populism. A man and his voters.
This time around, when Huckabee announced that he was considering another run for president, Washington's journalists collectively began to educate him. You're going to need real money-men this time, Huck. You need so many of them that they can be divided into silly groups based on how much moolah they bring in. You're going to need a real PAC, and media professionals. Get some white-paper people, too.
You need to build a real campaign. You're trying to be president. It can't just be you and Chuck Norris.
Subscribe to The Week
Escape your echo chamber. Get the facts behind the news, plus analysis from multiple perspectives.
SUBSCRIBE & SAVE
Sign up for The Week's Free Newsletters
From our morning news briefing to a weekly Good News Newsletter, get the best of The Week delivered directly to your inbox.
From our morning news briefing to a weekly Good News Newsletter, get the best of The Week delivered directly to your inbox.
In other words, grow up and surround yourself with the political class and get on board with the technocracy. The modern presidency is for professionals, not populists or patricians. Your last run was a proof of concept. A "Huckabee" is something a lot of people like; now we have to tear it down and re-engineer it so that this product scales for the party and for the nation at large, and still functions at the White House.
Some commentators think that running a successful presidential campaign is in itself the organizational and psychological training that a candidate needs to become a successful president. It is a physically grueling process, offering plenty of humiliations. It offers candidates the chance to manage a chaotic, sprawling national organization that seeks, in turn, to manage them.
But this isn't just a managerial and mental test. For populists like Mike Huckabee, building a huge campaign will be a process of socialization. Huckabee may have gone to Bible college, but this campaign will be a crash course in lobbying, think-fluence, money-raising, and technocratic will. He will face a small army of opportunists: the do-gooders who take the opportunity to do well, and the done-wellers who now want to do good. Now all he has to do is command it!
These just happen to be the same people who can run a presidential administration. Andrew Jackson, the ur-populist, may have killed the National Bank by force of will, but most populists these days would need people to explain how to navigate the millions-strong behemoth that is the federal government. Every administration has friends and enemies within the bureaucracy already. How would you even begin to sort them out without hired expertise?
So long as the modern presidential campaign remains what it is, we will never have a truly populist or patrician president again. George Washington essentially took office by acclamation. But no one would dare run a front-porch campaign now. No matter how popular, the man who tried it would seem unsporting.
The expectation that a presidential aspirant will mount a hugely staffed, professionally executed campaign is a subtle way of forbidding a major shakeup in Washington. The public wants to see a candidate surrounded by hacks and flacks; without that phalanx we suspect a candidate would be quickly overmatched and outwitted. There is no way to beat the system, so Ed Rollins is absolutely correct that Huckabee, like Barack Obama before him, must come to terms with it and join it.
Candidates can't run against the whole culture of lobbyists, insiders, and big money. We demand that they run with them.

Continue reading for free
We hope you're enjoying The Week's refreshingly open-minded journalism.
Subscribed to The Week? Register your account with the same email as your subscription.