How liberals missed the true threat of ISIS
In the rush to self-criticize, liberals have missed the forest for the trees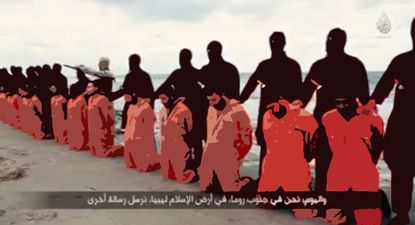 (Image credit: (Illustrated by Lauren Hansen | Image courtesy Xinhua/ZUMA Press/Corbis))
Sign up to our 10 Things You Need to Know Today newsletter
A free daily digest of the biggest news stories of the day - and the best features from our website
Thank you for signing up to TheWeek. You will receive a verification email shortly.
There was a problem. Please refresh the page and try again.
Few things satisfy a liberal more than exposing a double standard on the liberal side of a debate or dispute.
This is what Barack Obama was doing in his controversial Prayer Breakfast comments: pointing out that although we're quick to condemn ISIS for its religiously inspired atrocities, Christians have used religion to justify violence, too — in the Crusades, in the Inquisition, in the Jim Crow South.
We saw it again in comments about the shooting death of three Muslim students in North Carolina last week and the jihadist attacks in Copenhagen this past weekend: Why is it that we seem to get so much less worked up about a white man killing Muslims than we do about someone shooting up a café or synagogue in the name of Islam?
Subscribe to The Week
Escape your echo chamber. Get the facts behind the news, plus analysis from multiple perspectives.
SUBSCRIBE & SAVE
Sign up for The Week's Free Newsletters
From our morning news briefing to a weekly Good News Newsletter, get the best of The Week delivered directly to your inbox.
From our morning news briefing to a weekly Good News Newsletter, get the best of The Week delivered directly to your inbox.
And let's certainly not whitewash the reality of Christian terrorism.
There is something admirable about this liberal habit of self-criticism. It builds off of Jesus' admonitions to refrain from casting stones, to hold off from judging the righteousness of others, and to avoid hypocrisy by removing the plank from one's own eye before pointing to a speck in the eye of another. Whether or not such humility makes us more like God, it undoubtedly humanizes us, allowing us to see our own faults and the commonalities we share with others, even our enemies.
But this instinct can also blind liberals to real and important differences, and discourage the making of relevant, even essential judgments, as the embrace of humility and call to refrain from judging others becomes, paradoxically, its own source of pride. ("If only these judgmental simpletons could be as impressively humble and sophisticated in evaluating the world as I am…")
Today this dynamic can be seen most clearly — and most dangerously — in the tendency of certain liberals to scour history and the internet for evidence to corroborate the suspicion that we in the modern West are really not all that much different than or morally superior to the Islamists currently rampaging across Mesopotamia, Libya, and central Africa. Sure, they do bad things — but we do, too! Who are we to judge?
As Graeme Wood's superb cover story on the Islamic State in the March issue of The Atlantic makes indisputably clear, ISIS and many of those who support and long to fight and die for it really do exist in a different moral and theological universe than just about every American living today — and liberals who deny the reality of that chasm do so at their peril.
Consider the North Carolina shooting again. It's still not clear what motivated Craig Hicks to kill the Muslim students. If it was a random act or a dispute about a parking spot, then it was just the latest example of America's hyperviolent gun culture in action. On the other hand, if anti-Muslim (or more general anti-religious) motives were involved, then the shooting may well have been a hate crime and perhaps even (by some definitions) an act of terrorism, which would be awful and deserve to be denounced unconditionally.
But really: Is this even remotely controversial? Of course not. Virtually every single American believes that killing is wrong, and that killing someone over religious differences is indefensible, beyond the pale of civilization, an act of madness, insanity, and the purest barbarism. There are no protests supporting Hicks. No organizations forming to encourage others to gun down Muslims.
Now let's think about ISIS.
The Islamic State is an organization devoted to instituting the most literalistic, draconian form of Muslim fundamentalism imaginable. It not only permits but positively insists on imposing severe punishments for a long list of moral and theological crimes; the punishments include slavery, lashes for drunkenness and fornication, stoning for adultery, and amputation for theft. It considers crucifixion a fitting punishment for those deemed enemies of Islam. Homosexuals are regularly hurled to their deaths from the roofs of buildings, with the executions filmed and promoted online. As the world knows all too well, the group also delights in beheading, on video, any infidel or apostate who fails to show adequate level of "submission" to the Islamic State. (This would include the 21 Egyptian Coptic Christians who were beheaded on a Libyan beach this past weekend.)
As Wood explains, all of this grows out of ISIS's goal of establishing a caliphate modeled on the military conquests of Islam's founding 1,400 years ago. It is a vision of politics as a brutal theocracy in a state of constant war. It even denies the legitimacy of fixed borders — and views both its victories and defeats, including a forthcoming bloody battle between the caliphate and the "army of Rome," as hastening the end of the world.
ISIS, in sum, is an apocalyptic death cult — "the realization of a dystopian alternative reality," as Wood aptly puts it, "in which David Koresh or Jim Jones survived to wield absolute power over not just a few hundred people, but some 8 million."
That's pretty chilling. But here's something even worse:
Think about that: tens of thousands living in countries spread across the globe, many of them in free societies, have heard about this group, its aims, and its actions — and they have responded not with horror but with an enthusiasm so intense that it has motivated them to leave their homes to join the battle.
In the context of America today — where most people (even those who consider themselves religious) devote their lives to the preeminently liberal goals of making money, winning social approval, entertaining themselves with technological toys, and avoiding death at all costs — such behavior sounds an awful lot like mass psychosis.
But is it?
On the contrary, it is the behavior of people who are eager to devote their lives to a very different set of profoundly illiberal ideals. Ideals like honor. Like fighting and dying for a noble cause. Like severely punishing and killing those who offend the One True God (Allah) and his Prophet (Mohammed). Like submitting oneself to a divinely sanctioned way of life. Like playing a leading role in the sacred drama of the Last Days.
Obama was right: this is not entirely unlike the motives behind the Crusades (which of course were known in their day as Christian Holy Wars).
But of course the First Crusade was launched over 900 years ago. The European Wars of Religion came to an end over 350 years ago. The intervening centuries have seen real if halting progress in the effort to create a less savage, less cruel, more civilized, more peaceful, more humane world.
Which isn't to say there haven't been setbacks and rearguard actions to revive older, harsher ways of life and synthesize them with the modern state. Fascism, especially in its German (National Socialist) variant, may have been the most potent. Wood is wise to conclude his article by quoting Orwell on its appeal:
Nor should we deny the yawning moral gap that separates such an outlook from the way the vast run of contemporary Americans view themselves and the meaning of their lives. Recognizing that gap doesn't have to become cause for the self-congratulation of which Americans are so inordinately fond and which the president and many liberals seem so eager to short-circuit, with their keen focus on exposing double standards and highlighting the dangers of rendering harsh judgments.
It merely requires that we acknowledge the truth about ourselves — and the profoundly different character of our Islamist enemies.
Continue reading for free
We hope you're enjoying The Week's refreshingly open-minded journalism.
Subscribed to The Week? Register your account with the same email as your subscription.
Sign up to our 10 Things You Need to Know Today newsletter
A free daily digest of the biggest news stories of the day - and the best features from our website
Damon Linker is a senior correspondent at TheWeek.com. He is also a former contributing editor at The New Republic and the author of The Theocons and The Religious Test.