Our bad media: How political reporters are missing the most important factor in the 2016 race
The intense focus on the candidates' personalities misses the forest for the trees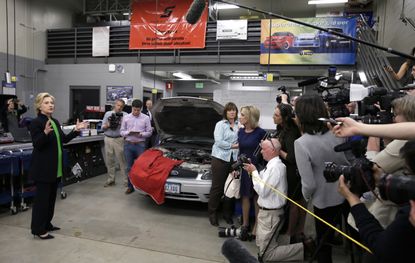 (Image credit: (AP Photo/Charlie Neibergall))
The absurd carnival of our political press was on bald display last week, at Hillary Clinton's first campaign event in Iowa. Attempting to avoid a press scrum, her entourage drove around to the back of a building, which prompted a footrace from the assembled media to get ahead of her. A quietly amused Alex Seitz-Wald narrated the proceedings on MSNBC:
However funny (or existentially disturbing), this manic focus on individuals is characteristic of how political reporting is typically conducted. Party platforms and various issues do get covered, but not with the same crazed intensity that is directed at high-profile political personalities. Nobody ever sparked off a press stampede with an infrastructure bill.
Such a focus has always been misleading. But there are reasons to think that it has become dramatically more so. American politics has evolved such that personalities matter much less than they once did — perhaps less than ever before.
Subscribe to The Week
Escape your echo chamber. Get the facts behind the news, plus analysis from multiple perspectives.
SUBSCRIBE & SAVE
Sign up for The Week's Free Newsletters
From our morning news briefing to a weekly Good News Newsletter, get the best of The Week delivered directly to your inbox.
From our morning news briefing to a weekly Good News Newsletter, get the best of The Week delivered directly to your inbox.
Back in the mid-20th century, the personalities and idiosyncrasies of individual politicians were often quite important. Both parties had conservative and liberal wings, and so where a politician stood on the spectrum was an indicator of the coalitions he or she could build. Politicians also often had close relationships with their constituencies, which were determined by character and background. Therefore, close reporting on the actions and statements of individuals was an important media function.
But things have changed. The two parties have been thoroughly ideologically polarized, and party affiliation is by far the most important part of a candidate's identity.
Jonathan Chait outlines some new research on this trend in an excellent post. Alan Abramowitz and Steven Webster, two political scientists from Emory University, have examined the correlation between voting for president and voting for Congress. In the 1970s, split-ticket voting was common, as party membership was not very meaningful in electoral terms. Today, not so much:
They explain this as partly a function of "negative partisanship," or sheer mutual hatred between America's political tribes. That reality is increasingly undeniable, no matter what the president would have you believe.
For the voting public, this is actually something of a blessing. There is no longer much need to litigate political histories to discern which way an individual candidate will lean. Instead, simply judge the party as a whole, and pick the one which most closely represents your own beliefs and preferences. Hillary Clinton, as a Democrat, would almost certainly do mainstream Democratic Party stuff as president: moderate tax increases on the rich, education reform, patching up ObamaCare, and so on.
That is not to say that personality makes no difference whatsoever, just that the parties are exerting an increasingly strong gravitational effect on their candidates. As Greg Sargent reports, we already see this happening to Clinton on gay marriage and immigration.
Whether the mainstream political press will internalize this fact will be an interesting question for 2016. Traditional campaign reporting for the last couple generations has hinged mainly on personal characteristics, partly due to an inability to adapt, partly because it's more entertaining in a reality television show kind of way, and partly because of policy illiteracy among the press.
But a political press that doesn't communicate the primacy of parties will be missing the single most important fact about the presidential race.

Continue reading for free
We hope you're enjoying The Week's refreshingly open-minded journalism.
Subscribed to The Week? Register your account with the same email as your subscription.