Why Hillary Clinton should ditch the Trans-Pacific Partnership
It's a minor deal — with major side effects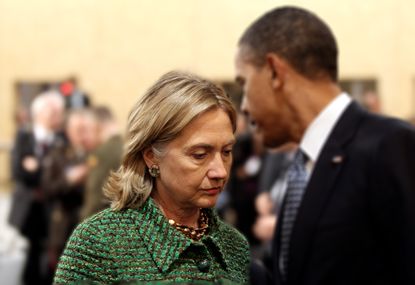 (Image credit: (Illustrated | Image courtesy Miguel Villagran/Getty Images))
Over the last few days, frenzied backdoor negotiations over the Trans-Pacific Partnership — a pending trade deal between the U.S. and 11 other countries — have burst into the open.
President Obama is attempting to get "fast track" authority, which would allow him to present the deal to Congress for an up-or-down vote — with no chance to make changes. Sen. Elizabeth Warren criticized the fast-track idea, then Obama criticized Warren, then Warren hit back. Now two potential presidential candidates, Sen. Bernie Sanders of Vermont and former Maryland Gov. Martin O'Malley, have come out against fast-track, clearly angling for advantage against Hillary Clinton, previously a strong supporter as secretary of state.
The TPP is a huge piece of negotiation, years in the making. Yet the actual macroeconomic effects will likely be barely noticeable. Meanwhile, the deal contains many objectionable and even anti-free trade policies. Though it would be a huge flip-flop for Clinton, she might as well just ditch the TPP.
Subscribe to The Week
Escape your echo chamber. Get the facts behind the news, plus analysis from multiple perspectives.
SUBSCRIBE & SAVE
Sign up for The Week's Free Newsletters
From our morning news briefing to a weekly Good News Newsletter, get the best of The Week delivered directly to your inbox.
From our morning news briefing to a weekly Good News Newsletter, get the best of The Week delivered directly to your inbox.
As Matt Yglesias explains, none of the stated rationales for the TPP make much sense. Trade barriers are already quite low. As detailed in a new study by the Center for Economic and Policy Research, in a best-case scenario the overall economic benefits from the TPP will be miniscule — something like 43 cents per person per month in the U.S.
That has led others to argue that this is really a foreign policy negotiation in the guise of an economic one, a dynamic that we've seen in the euro crisis. The U.S. is trying to keep China from boxing it out of the Pacific Rim by boxing the Chinese out first.
The problem with that argument is that our negotiators aren't behaving this way. Instead, the U.S. is trying to stuff a bunch of goodies for multinational corporations into the deal, using access to U.S. markets as a stick to beat its negotiating partners, rather than enticing them into an anti-China union. According to leaked draft chapters from the deal, the U.S. is trying to massively strengthen intellectual property protections for big pharma and the entertainment industry, and impose a process by which corporations can sue governments for violating the deal.
So what gives?
The Obama administration clearly sees the TPP as a major foreign policy objective, in no small part because of a strain of Democratic Party neoliberalism that sees each and every piece of paper labeled "free trade" as good by definition, represented today by the The Washington Post op-ed page. But that presents a problem: How to get the deal through Congress? Republicans, though they are generally pro-free trade, might well blow a gasket and decide that the deal contains Agenda 21, while Democrats are likely to balk due to opposition from unions and other constituencies.
That's where the corporate oligarchs come in. Those people have the money and lobbying muscle needed to get something through our jalopy legislature. So the administration slanted the deal heavily towards some key sectors, even allowing some corporate representatives access to the documents that were denied to members of Congress. And now the thing has built up so much momentum that Obama is invested in passing it if only so he doesn't look like he lost something big.
But all these corporate goodies undercut the justifications for this deal. This is when the distinction between the American people and corporations headquartered here comes into sharp focus. Is it worth tying a bunch of already fairly pro-American nations into a trade pact if it comes at the expense of drug prices? And if many or most multinational corporate employees work outside America, is it even meaningful to think of such corporations as being "American" in the first place? Just whose national security is being protected here?
Right now, Clinton is attempting to skate on this question, saying that the TPP needs to protect American workers, while not criticizing it or Obama directly. But even if it works as advertised, it will be a minor accomplishment, while the side effects are likely to be large. She might as well co-opt O'Malley's message and come out against the deal.

Continue reading for free
We hope you're enjoying The Week's refreshingly open-minded journalism.
Subscribed to The Week? Register your account with the same email as your subscription.