Why Donald Trump's populist attitude toward the rich is a mortal threat to the GOP
Trump's tax-hiking message may expose a huge rift between the party elite and its base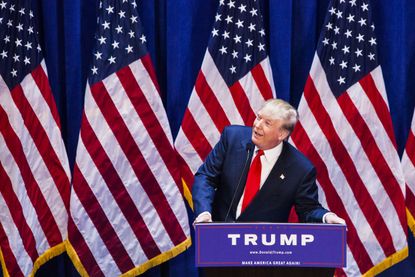 (Image credit: Christopher Gregory/Getty Images)
Donald Trump's rhetoric on immigration has sparked his surge in the polls. But it is his economic critique of the GOP, and his attack on the financial corruption of the Republican donor class and leadership, that is a mortal threat to the party.
Over the weekend, Byron York reported on Donald Trump's efforts to form a "comprehensive" plan on tax reform. He has signaled an interest in raising taxes on the richest Americans, and he has set his targets on the carried-interest loophole favored by hedge fund managers. He has said repeatedly that hedge funds pay too little in taxes, and that he himself is willing to pay a larger share to "make America great again." Trump has essentially said that his preference is for middle-class tax cuts.
Although it may not be included in his plan in 2016, Trump has also flirted with truly radical tax ideas, such as a one-time tax on assets. Are you a multimillionaire with a big boat? Perhaps you should start putting aside some ready cash.
Subscribe to The Week
Escape your echo chamber. Get the facts behind the news, plus analysis from multiple perspectives.
SUBSCRIBE & SAVE
Sign up for The Week's Free Newsletters
From our morning news briefing to a weekly Good News Newsletter, get the best of The Week delivered directly to your inbox.
From our morning news briefing to a weekly Good News Newsletter, get the best of The Week delivered directly to your inbox.
Because he is running in the Republican field, and because he is phenomenally wealthy himself, Trump has a kind of credibility in being a tax-hiker. He can be accused of demagoguery, but the normal class-warfare charges will bounce off him.
All of this underscores that the Republican Party's voters and its elites are at loggerheads. The elites of the party pine for regularized mass immigration, tax cuts for "wealth creators," and a severe drop in the rate of corporate taxation. For them, lower taxes and access to more loopholes are privately thought to be the kinds of rewards that encourage productive striving among the nation's entrepreneurs.
There is one group of elite Republicans that has found itself on Trump's side: the media wing. Talk radio hosts like Sean Hannity, Rush Limbaugh, and Laura Ingraham would flay a Democrat floating some of Trump's proposals; needless to say, they have been much kinder to Trump. Some, like Hannity, may be enthralled by celebrity and the ratings it creates. (Hannity was a big supporter of Arnold Schwarzenegger's campaign for governor, despite conservative alternatives.) But unlike the intellectuals at conservative think tanks and policy magazines, the talk-radio crowd has a command of conservative demographics. Their livelihoods depend on it.
The party's base is older white voters who rely on Social Security and Medicare. Many of these people are not in the wealth-creating phase of their lives. According to the elite Republican consensus, they are part of the "47 percent" that Mitt Romney so cavalierly dismissed as takers. But these voters say a cut to their "earned" benefits is an insult to their honor, and their willingness to work hard and play by the rules. We are a long way from the time that George W. Bush claimed a mandate to create privatized Social Security accounts.
Other members of the base include younger red-state evangelicals, some of whom have trouble finding the resources to support their families in a gig economy, and are stuck in part-time work. For these voters, the GOP's catechism about free trade and free markets is abstract and of dubious value. This is why some of Trump's best applause lines — on trade and other financial issues — are those in which he promises to fight and negotiate tenaciously in the interest of Americans.
It is a personal knowledge of these voters that leads Ingraham to say, "I don't think most GOP voters will cry a river over hedge funders paying same rates as everyone else." She's right.
Jeb Bush has taken the opportunity to bash Trump for insufficient conservatism. Democrats should be pleased that potential nominees like Bush are tying themselves rhetorically to the tax-cutting, benefit-slashing right wing.
If Trump's poll numbers ride high into Iowa, New Hampshire, and South Carolina, he may prove that perhaps one-third or more of the party's primary voters are no friends of conservative economic views. He may knock out several of the non-Bush conservatives this way. His duel will show that there are alternative routes to the nomination for men of means. And the aggrieved reaction of party elites to the insult given them by Trump and his voters will also prove toxic in a general election and beyond.
Even now, moderate voices on taxation are urging party elites to learn their lesson from the Trump phenomenon. The lesson is this: Republicans have been failing to represent the economic interests of their older voters and heartland conservatives. If they persist in this error, their voters will offer a stiff correction.

Continue reading for free
We hope you're enjoying The Week's refreshingly open-minded journalism.
Subscribed to The Week? Register your account with the same email as your subscription.