Who is A.J. Jenkins? The mystery behind one of today's most popular children's songwriters.
His videos rack up hundreds of millions of YouTube views — and nobody knows anything about him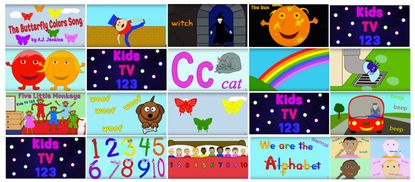 (Image credit: Illustrated by Lauren Hansen | Images courtesy YouTube)
No disrespect to Raffi, or to Peter, Paul, and Mary — or Dan Zanes, or They Might Be Giants, or any of the other great artists who have developed children's music into an art form over the past 50 years. You're all wonderful. But none of you are A.J. Jenkins.
If you're not familiar with A.J. Jenkins, at least by name, you're not alone. He's much more famous for his work, issued under the nondescript, forgettable moniker KidsTV123. If Jenkins has a greatest hit, it's probably this, viewed 22 million times on YouTube:
And that's actually pretty middling, metrics-wise. His "Phonics Song 2" has been viewed 317.5 million times. "The Animal Sounds Song" — a sort of mellow precursor to surprise pre-K hit "The Fox (What Does the Fox Say?)" — has 192.5 million hits. The songs are often just guitar and voice, sometimes with keyboards and light percussion. If I had to guess, I'd say most songs are recorded by Jenkins, solo, on his digital audio workstation. The songs are accompanied by videos with simple animation, featuring recurring, primitively rendered characters.
Subscribe to The Week
Escape your echo chamber. Get the facts behind the news, plus analysis from multiple perspectives.
SUBSCRIBE & SAVE
Sign up for The Week's Free Newsletters
From our morning news briefing to a weekly Good News Newsletter, get the best of The Week delivered directly to your inbox.
From our morning news briefing to a weekly Good News Newsletter, get the best of The Week delivered directly to your inbox.
"For really young kids, I think his work might have the appeal of a great Eric Carle book, like Brown Bear, Brown Bear," says Eric Messinger, editor of New York Family, who acknowledged in 2012 that he, "the parenting editor," had learned about Jenkins at dinner with "a friend who is new to parenting."
"For older young kids, his songs probably stir up a sense of learning together and having fun," he says.
For parents, if you get some of his songs stuck in your head, join the crowd. This song, for example, is maddeningly repetitive, and the faces of the anthropomorphized rocky planets are a bit grotesque — but the melody is pop song catchy, while the lyrics provide an educational snapshot of the Solar System.
So who is A.J. Jenkins? Nobody seems to know.
Recently, he has come of out his mysterious children's songwriting cave, if just to write more grown-up songs under the handle Othersongs. (Some of them are pretty good, too.) Wondering if his new project meant that he was ready to reveal himself a bit, I emailed the only address I could find. The purported administrator of KidsTV123.com replied, saying I could submit some questions and he or she would pass them on to "AJ." I did, and my mysterious, nameless correspondent replied that it was "highly unlikely" Jenkins would respond. He didn't.
There are a few tantalizing crumbs about Jenkins strewn across the internet — one says he's French, another that he lives in Japan — but they're far from conclusive. A Wikipedia page once existed, but it was deleted over inadequate sourcing and a failure to "establish notability." "Seriously, he has over a billion views on YouTube, and he's not notable enough for you, Wikipedia?" asks Jon Grantham, a dad blogger who did some digging on Jenkins.
That's probably the way Jenkins would like it, though.
"People would kill for that many hits and most would cash in," notes Young Lee, a DJ in London and stay-at-home dad. "I've gotta take my hat off to him. Respect is due, sir."
It is impressive. Jenkins has written, recorded, and animated more than 170 songs in six years — and 28 songs a year is a lot for any musician. He does sell a few songs and videos on his site, KidsTV123.com, and some CDs on Amazon, but he mostly gives away the store on YouTube. He obviously doesn't crave fame, but if he's in it for the money, it's a novel business plan.
Messinger, the New York Family editor, is also impressed at Jenkins' anonymity. "I think he's British, but there's nary a trace of him on the web, so I think we can assume, at the least, that he wants to keep the focus on the music," he says. "Fine with me."
That's actually fine with me, too. I like to think of Jenkins as the blue bird in one of his 2013 videos, singing what I like to consider his manifesto.
If A.J. Jenkins — or whatever his real name is — wants to be known only for his music, that's his business.

Continue reading for free
We hope you're enjoying The Week's refreshingly open-minded journalism.
Subscribed to The Week? Register your account with the same email as your subscription.