How Donald Trump tapped into America's Daddy complex
This is the emotionally manipulative secret to Trump's popularity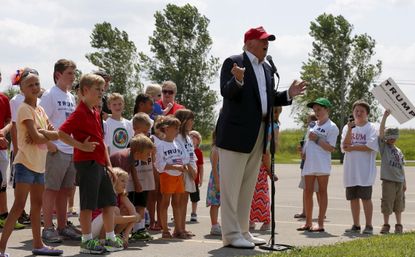 (Image credit: REUTERS/Jim Young)
Donald Trump likes to talk about himself in the third-person. "Nobody would be tougher on ISIS than Donald Trump," the mogul boasted when he announced his candidacy for president back in June. I've noticed that I also talk in the third person — when I'm speaking to my toddler.
This is Trump's emotionally manipulative secret.
I suspect he knows that parents instinctively talk to their young kids this way to comfort and reassure them. We moms and dads may not promise to make America great again, but we'll happily tell a child what they want to hear: "Mommy will fly to the moon with you later, darling."
Subscribe to The Week
Escape your echo chamber. Get the facts behind the news, plus analysis from multiple perspectives.
SUBSCRIBE & SAVE
Sign up for The Week's Free Newsletters
From our morning news briefing to a weekly Good News Newsletter, get the best of The Week delivered directly to your inbox.
From our morning news briefing to a weekly Good News Newsletter, get the best of The Week delivered directly to your inbox.
By imitating this speech style, Trump plays to the idea that America wants a father figure in the White House. We want one person who can sit in the Oval Office and single-handedly solve all our nation's problems while we play in the yard. Trump promises to be that president — America's ultimate dad.
It's not just his use of the third person either. His blanket pledge to fix stuff — from crumbling bridges and airports to immigration — while not bothering to trouble us with grownup details, like policy or budget, is oddly comforting to a huge number of people. Of course, Trump's content-free pronouncements — and the fact that so many people seem impressed by them — make a significant number of us roll our eyes like angsty teenagers. But, alas, this isn't putting much of a smudge on his luster.
So, what other trumped up paternal promises has Big Daddy made?
How is he going to handle all those dangerous Mexicans — aka monsters under the bed — who he claims keep flooding over our border? That's easy: Dad'll get his tools and build a big wall. The fact that the real Donald Trump is almost certainly incapable of mending so much as a blocked sink is, sadly, irrelevant. Kids worship their father regardless of his skill set.
And what about those bullies over at ISIS? "I would knock the hell out of them... and I'd take the oil for our country," he told the hosts of MSNBC's Morning Joe. This is an ultimate Dad move. That playground bully is bothering you? Daddy is going to punch him in the face and give you his lunch money.
Meanwhile, the mogul's disingenuous pledge to increase taxation for the rich is reminiscent of the type of never-kept promise a frustrated parent tells a difficult child: "Daddy will get you a new toy at the weekend. Now eat your broccoli." And just so we know that he's genuine, Trump's also promised to raise his own taxes: "Look, daddy's eating his broccoli too!"
And, like the majority of hard-line Republicans, Trump has written off global warming as a "total hoax." I have no way of knowing whether he actually believes this, but it certainly seems like something a parent would spout to reassure a petrified kid that they're not, in fact, doomed. "Don't worry, kiddo: Lots of people never die."
With his pater patter, Trump has enough of us captivated to pose a real threat to the other Republican candidates — and maybe even the Mother of All Democrats, Hillary Clinton.
So here's some parting advice for the left's frontrunner: Start talking in the third person.

Continue reading for free
We hope you're enjoying The Week's refreshingly open-minded journalism.
Subscribed to The Week? Register your account with the same email as your subscription.