What Marco Rubio gets disastrously wrong about the 'sharing economy'
To keep it from becoming a predator, Uber must be regulated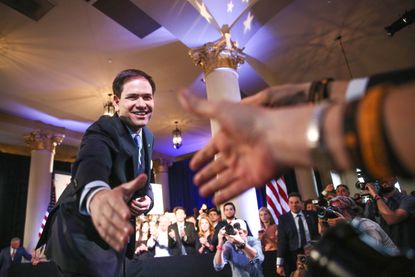 (Image credit: Joe Raedle/Getty Images)
Sign up to our 10 Things You Need to Know Today newsletter
A free daily digest of the biggest news stories of the day - and the best features from our website
Thank you for signing up to TheWeek. You will receive a verification email shortly.
There was a problem. Please refresh the page and try again.
With Scott Walker out of the 2016 race and Jeb Bush flailing around like an ether-drunk bison, Marco Rubio has been positioning himself as the Republican establishment candidate who can win. He's smart-sounding, not particularly gaffe-prone, not named Bush, psychotically belligerent on foreign policy, and wants to shovel uncountable sums into the capacious maw of the 1 percent.
Sounds great! But he still sounds uncomfortably like George W. Bush (on account of having all the same policies), so he's been casting around for some signature issues he can use to build his brand. One of these is apparently the "sharing economy" sector, meaning businesses like Uber and Airbnb, the subject of a recent Rubio address. He all but promised to hand the federal bureaucracy over to Silicon Valley innovators and their glorious spirit of innovation, calling the sector a "miracle."
Rubio is talking out of his hat. Uber and similar services are an important economic development, but they aren't going to revolutionize the whole economy, and are going to need sensible regulation if they aren't simply going to pillage the nation.
Subscribe to The Week
Escape your echo chamber. Get the facts behind the news, plus analysis from multiple perspectives.
SUBSCRIBE & SAVE
Sign up for The Week's Free Newsletters
From our morning news briefing to a weekly Good News Newsletter, get the best of The Week delivered directly to your inbox.
From our morning news briefing to a weekly Good News Newsletter, get the best of The Week delivered directly to your inbox.
First of all, let's dispense with the slogan of the "sharing economy." Uber and similar services are engaged in something I'll call "business" wherein they exchange goods and services for money. Couchsurfing.com this ain't.
Now, one should admit that in many cases, including Uber, on-demand services often represent a significant upgrade in service quality from the status quo. Extant regulations on housing and taxis are often backward if not seriously corrupt.
But that's a very different thing from arguing, as Rubio does, that essentially all regulations are a zip-tie around the throat of the economy. "I believe the more America regulates," he said, "the more we create an opening for other countries to deregulate and draw jobs away from our shores."
For example, Rubio touts the fact that Uber is supposedly worth about $51 billion. (The company is still private, so this means that if you take how much private investors paid for a particular ownership stake and do the algebra, it works out to a $51 billion theoretical valuation.) What he doesn't tell you is that revenue for the entire taxi and limousine industry across the country in 2014 was only $11 billion. The only way that valuation makes a lick of sense is if you figure Uber will create a taxi quasi-monopoly across much of the globe (and that still requires some heroic assumptions).
Monopolies, needless to say, are not known for their prompt and efficient service — which was the root of anti-trust legislation back in the 19th century.
Or take the fact that on-demand businesses often own very little capital (Uber owns no cabs itself, just as Airbnb owns no buildings), which Rubio hails as a grand innovation. What he doesn't mention is that much of this is blatant cost-shifting from the corporation to the individual worker. After all, somebody has to own the taxi or the house, as well as pay for its maintenance, upkeep, and insurance, not to mention taxes and fees. That eats into take-home pay — sometimes pushing it below minimum wage.
Indeed, such practices may make for less efficiency and productivity overall, as large companies will be able to streamline their capital purchasing, maintenance, and paperwork far better than thousands of disconnected individuals.
The only positive suggestion Rubio offered, which he didn't even explicitly endorse, was to create a new class of pseudo-employee in between full W-2 workers and 1099 independent contractors. So-called "dependent contractors" could work and receive some benefits without triggering all the pesky labor regulations around overtime and so forth that full employees do. It's a halfway interesting idea — but it misunderstands the value of a 1099 workforce for companies, which is keeping labor costs as low as possible. Companies had to be forced into accepting labor law; simply presenting them with another option will be ignored.
In the end, Rubio's not wrong to point to on-demand services as representing a potential net benefit to working people and the economy as a whole. But the simple truth is that absent strong, sensible regulations pushing them into it, the profit motive will push Uber and the rest into predatory behavior, with bargain basement services and poverty wages.
As George W. Bush once discovered with Enron, simply setting private greed loose on society is no recipe for success.
Continue reading for free
We hope you're enjoying The Week's refreshingly open-minded journalism.
Subscribed to The Week? Register your account with the same email as your subscription.
Sign up to our 10 Things You Need to Know Today newsletter
A free daily digest of the biggest news stories of the day - and the best features from our website
Ryan Cooper is a national correspondent at TheWeek.com. His work has appeared in the Washington Monthly, The New Republic, and the Washington Post.