The grotesque moral atrocity of blaming the poor for being poor
Behind disastrous conservative and Clintonesque policies is a toxic premise: That the poor are bad, irresponsible people who have made stupid, disgusting choices that put them in the place they are today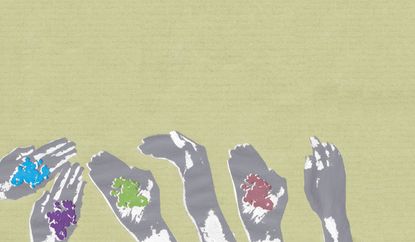 (Image credit: Illustration by Jackie Friedman | Image courtesy Katie Edwards/Ikon Images/Corbis)
The Republican Party has long struggled with how to package its blatantly pro-rich policy portfolio of top-heavy tax cuts and deregulation. Such things are deeply unpopular — even self-identified Republicans are divided on whether the rich pay their fair share of taxes — but the GOP's wealthy donor class demands them.
Thus far in the 2016 presidential race, candidates have basically landed on the George W. Bush formula: Sweeten your handouts to the wealthy with far smaller ones for the rest of Americans, and sell it with utterly preposterous promises of 50 zillion percent growth. Jeb Bush promises a growth rate not achieved since FDR started his term at the very bottom of the Great Depression and ended it at the peak of World War II mega-spending. Donald Trump promises half again as much as that.
Marco Rubio has one small change from the usual formula. Sure, he's got the typical titanic handouts for the rich — incredibly, including the total abolishment of the capital gains tax. But he's also got new welfare spending for middle-class families. However, in a sad demonstration of the conservative mindset, the poor are deliberately excluded from Rubio's plan.
Subscribe to The Week
Escape your echo chamber. Get the facts behind the news, plus analysis from multiple perspectives.
SUBSCRIBE & SAVE
Sign up for The Week's Free Newsletters
From our morning news briefing to a weekly Good News Newsletter, get the best of The Week delivered directly to your inbox.
From our morning news briefing to a weekly Good News Newsletter, get the best of The Week delivered directly to your inbox.
Here's how Rubio's new welfare benefit works: It's a non-refundable tax credit of up to $2,500 for people with children — meaning unlike the Earned Income Tax Credit, it gives nothing to people who already have no federal tax liability. This means that the average lower-middle-class family — as Matt Bruenig calculates, ironically including households like the one Rubio grew up in — would receive nothing whatsoever from the credit.
Cutting out the poor is surely intentional, and the reason is obvious: Many conservatives basically think the poor are bad and irresponsible people who have made stupid, disgusting choices — particularly having kids outside of marriage — that put them in the place they are today. Hence, giving the poor welfare will merely short-circuit the process of bourgeois norm-formation at the root of their actual problems. Government handouts will just turn the poor into shiftless parasites.
If you spend much time in conservative comment sections, or among the #tcot crowd, then this idea will be extremely familiar. But even high-minded policy elites will own up to it on occasion. Robert Stein, the original creator of Rubio's tax credit, told me it is "not designed to encourage fertility in the poor over and above what we already do." W. Bradford Wilcox, another conservative thinker, wrote that he made a similar tax credit proposal non-refundable to "reduce the possibility that an expanded [child tax credit] might encourage single-parenthood." Charles Murray has written several books wholly premised on poor-blaming, the most influential of which was probably 1984's Losing Ground, which argued for abolishing welfare, Medicaid, food stamps, unemployment insurance, workers' compensation, housing subsidies, and disability insurance (a tiny fraction of which might be replaced).
Indeed, until fairly recently, poor-blaming was mainstream Democratic Party thinking, too. Murray's book was hugely influential on the right, but Democrats embraced it as well. In 1993, President Bill Clinton said in an interview that Murray's analysis was "essentially correct," recounting how a classroom of children once agreed with the idea that welfare would increase single parenthood. (I should note that while he pummeled the very poor, to his credit President Clinton also passed a sizable expansion of the EITC, which boosted benefits for poor people a bit higher on the income ladder.) Until the early 2000s, Hillary Clinton would routinely say similar things, boasting about how after welfare reform, recipients were "no longer deadbeats," or that they had transitioned "from dependency to dignity," as Buzzfeed News reports.
Now to be fair, Bill Clinton noted that while he agreed with Murray's prediction about policy mechanics, whether it would be morally correct to starve people out of single motherhood was the more important question. But it turns out Murray was wrong about both points, as he was about just about everything else in his book. Welfare reform did nothing to halt the long decline of marriage, which has been steadily eroding for decades, nor did it decrease the rate of single motherhood. On the contrary, as is seen in many other developed nations, a big fraction of children are now born to cohabiting couples who are neither married nor poor.
Welfare reform, in fact, didn't do much but snatch money from very poor families with children, increasing the fraction of people living in extreme poverty by 150 percent.
Many conservatives and '90s-vintage Clintonites imagine that most poor people are an unchanging core of working-age adults who are too busy having constant unprotected sex to go out and get jobs, but in reality, over 80 percent of them are either children, disabled, students, or involuntarily unemployed, constantly churning in and out of poverty. These people are poor because they generally can't work. In a purely capitalist economic system, such people will always fall through the cracks. Neither work requirements for cash benefits nor Paul Ryan's goofy "life plan" paternalism will conjure up jobs for 5-year-olds or the seriously mentally ill.
It's also important to note that traditional welfare was a small program targeted at the very poor — the rest of the welfare state, notably Social Security (by far the largest anti-poverty program), Medicare, and Medicaid, has survived largely intact. So while welfare reform was a grotesque moral atrocity, it didn't much affect the ongoing war on poverty, which has been a big, if incomplete, success.
But welfare reform does make a good test case. We can predict what will happen if Rubio gets to fulfill his desire to "reform" the rest of the welfare state along Clintonesque lines: The number of people in poverty will explode. And after that, conservative policy hacks will construct convoluted theories about how a decline in traditional marriage norms or something is to blame. The point, always, is to justify and deepen the existing social hierarchy.

Continue reading for free
We hope you're enjoying The Week's refreshingly open-minded journalism.
Subscribed to The Week? Register your account with the same email as your subscription.