Is Ben Carson's campaign one big con?
Follow the money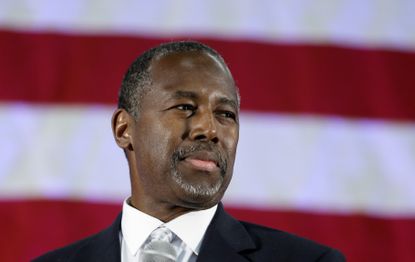 (Image credit: AP Photo/Carlos Osorio)
Sign up to our 10 Things You Need to Know Today newsletter
A free daily digest of the biggest news stories of the day - and the best features from our website
Thank you for signing up to TheWeek. You will receive a verification email shortly.
There was a problem. Please refresh the page and try again.
Ben Carson's presidential campaign is many things. A curiosity, an oddity, a fascinating yet disturbing commentary on today's Republican Party? Absolutely. But there's also some reason to believe that it's a giant confidence game.
That isn't to say that Carson isn't genuinely trying to become president. He has even moved into the lead in a couple of recent national polls. But the inner workings of his campaign will look awfully familiar to those who understand how one right-wing movement has been bilking gullible conservatives over the last half-century.
Like many outsider candidates, Carson is relying on small donors to raise money — lots of it. He took in over $20 million in the third quarter, more than any other Republican (though less than Hillary Clinton and Bernie Sanders). But he has also spent much of it already. As of the end of the third quarter, he had raised $31 million but spent $20 million, almost two-thirds of the haul, an unusually high "burn rate."
Subscribe to The Week
Escape your echo chamber. Get the facts behind the news, plus analysis from multiple perspectives.
SUBSCRIBE & SAVE
Sign up for The Week's Free Newsletters
From our morning news briefing to a weekly Good News Newsletter, get the best of The Week delivered directly to your inbox.
From our morning news briefing to a weekly Good News Newsletter, get the best of The Week delivered directly to your inbox.
Spending lots of money early in an election isn't necessarily bad, if you're investing it in things that will be valuable for you later. If you have a big staff in Iowa, for instance, presumably they'll be organizing activists, persuading voters, and putting in place the infrastructure you'll need to get your supporters to the caucuses.
But that's not where Ben Carson's money is going. Much of it is going to the fundraising itself, mostly through direct mail. And money spent to raise money is just gone. Yes, you can go back to those people who contributed and ask for more, but that might or might not pay off. The Carson campaign is also delivering phone spam to untold numbers of people all over the country. I know lifelong Democrats who have gotten these calls and can't figure out what list would include them as potential Carson supporters, suggesting a telemarketing firm is billing the candidate for oodles of useless calls.
It sure looks like Carson's campaign is a self-perpetuating machine in which money is raised to pay mostly for more money being raised — and the people doing the direct mail and phone calls are making out quite nicely. As conservative radio host Erick Erickson says, "Carson's actual expenditure list reads like a wealthy Republican getting played by consultants."
So why does this sound familiar? As Rick Perlstein has documented, out of Barry Goldwater's 1964 presidential campaign grew an entire industry in which conservatives would receive an endless stream of solicitations for both right-wing causes and various brands of snake oil, offered by people they trusted and with the assurance that they were remaking the country in their own image. Lists were the primary currency, the leads that were bought, sold, and traded between the industry's participants, providing an endless stream of profits in mountains of small checks and bills. "The strategic alliance of snake-oil vendors and conservative true believers," Perlstein wrote, "points up evidence of another successful long march, of tactics designed to corral fleeceable multitudes all in one place — and the formation of a cast of mind that makes it hard for either them or us to discern where the ideological con ended and the money con began."
And that was before the internet and super PACs came along. Now it's even easier, with conservative publications and organizations using the new versions of those lists to solicit more and more cash. Go to Newsmax or WorldNetDaily or Human Events and sign up for updates, and just watch the solicitations roll in. "Give to our super PAC and take down Obama!" they'll say, and people do — though the money only goes to pay the fundraisers, who in a weird coincidence share an address with the super PAC. Meanwhile, Mike Huckabee hawks miracle Biblical cancer cures to the gullible fans on his email list, profiting off their misery with talk as smooth as any confidence trickster.
No candidate was better positioned to take advantage of these same marks, who had been conned so many times before, than Ben Carson. While most Americans only heard of Carson when he started running for president, he's been a prominent figure in certain socially conservative circles for years. With his mix of fervent religious belief and faith in unseen conspiracy theories, Carson's story and personality has been admired by those same people who get so many other solicitations from those in the movement — or who seem like they're part of the movement, but who are really only there to make money.
It may be that Ben Carson is really running a professional, forward-thinking campaign where nobody's getting rich and all the money being spent is only on wise investment that will pay off when the actual voting starts. But it sure doesn't look that way so far.
Continue reading for free
We hope you're enjoying The Week's refreshingly open-minded journalism.
Subscribed to The Week? Register your account with the same email as your subscription.
Sign up to our 10 Things You Need to Know Today newsletter
A free daily digest of the biggest news stories of the day - and the best features from our website
Paul Waldman is a senior writer with The American Prospect magazine and a blogger for The Washington Post. His writing has appeared in dozens of newspapers, magazines, and web sites, and he is the author or co-author of four books on media and politics.