The great forgetting of the West's cultural heritage
Our material wealth and technological success has made us so arrogant that we believe we don't have anything to learn from the past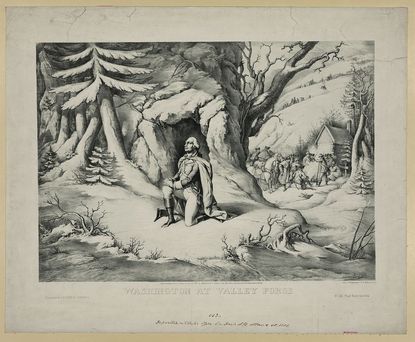 (Image credit: Library of Congress)
Sign up to our 10 Things You Need to Know Today newsletter
A free daily digest of the biggest news stories of the day - and the best features from our website
Thank you for signing up to TheWeek. You will receive a verification email shortly.
There was a problem. Please refresh the page and try again.
Did you know that American politicians sometimes use Biblical references for political gain? In defending the proposition that America should accept more immigrants, Barack Obama mentioned that "we were strangers once, too," a phrase from the Book of Exodus.
Recently, Ted Cruz called for "the Body of Christ" to "rise" and propel him to victory. As The Federalist's Mollie Hemingway points out, Kathleen Parker, a Pulitzer Prize-winning syndicated columnist, put her foot in her mouth by interpreting Cruz's comments as meaning that he expected Jesus to rise from the dead (which, Christians believe, he's already done) and "serve Ted Cruz," adding "I know so many people who were offended by that comment." The reality is that "the Body of Christ" is a very well-known Biblical phrase used to refer to the Christian community. Cruz was simply calling on Christians to vote for him. This is slightly icky, as all mixing of religion and politics is, but is in no way out of bounds of political discourse. And, as one of the most prominent newspaper columnists in the country, Parker ought to have known better.
To say that our elites have become secularized is an understatement. We are now more than a generation into this shift, which means that now it is not simply that people have left behind the faith of their forefathers; many grew up without even being exposed to it directly. Whatever else it might mean, an increasing number of Americans are illiterate with regard to the single most important cultural phenomenon to shape the history of Western civilization. Most of Western culture, thought, and ideas, was produced by people who either were Christians, or lived in a milieu where Christian ideas were simply part of the ether, and therefore juggled and lived with Christian assumptions, ideas, and terms.
Subscribe to The Week
Escape your echo chamber. Get the facts behind the news, plus analysis from multiple perspectives.
SUBSCRIBE & SAVE
Sign up for The Week's Free Newsletters
From our morning news briefing to a weekly Good News Newsletter, get the best of The Week delivered directly to your inbox.
From our morning news briefing to a weekly Good News Newsletter, get the best of The Week delivered directly to your inbox.
The striking thing about this is that the great forgetting isn't limited to religious ideas. Two years ago several prominent political journalists treated the concept of the state's "monopoly on the use of force," as used by one politician, as a bizarre and troubling aberration. The phrase comes from Max Weber, one of the most important political theorists in our history, and one whose ideas — especially the idea of the state having a monopoly on the use of force — were key in helping shape the modern state. When you have elite political journalists who are illiterate when it comes to the political theory that shaped and describes the world they're supposed to report and comment on, we have a problem.
The problem also extends to philosophy. As Arthur Melzner points out in the book Philosophy Between the Lines, ably reviewed here by my colleague Damon Linker, the style of writing and reading employed by virtually all philosophers until the early 19th century, which used dialectics and allusion to lead the reader to one's true philosophical teaching between the lines of the apparent one, was forgotten. And not forgotten in the sense that we've become bad at it. Forgotten in the sense that we've forgotten it's even existed. This means that most people who read Plato, Aristotle, Descartes, and others, don't really understand what they're reading at all.
I'm not writing all of this for the stubborn pleasure of being a curmudgeon and yelling at the kids. A civilization, a culture, is a very complex machinery made up of ideas. Our life is sustained and shaped by institutions, such as liberal democracy, the welfare state, capitalism, the common law, human rights, and the scientific method. These institutions are a piece of technology, whose raw material is concepts and ideas. Like any other technology, it becomes harder and harder to use, and eventually breaks down, if we can't use it. We are in danger of becoming like the people on the planet in Star Trek whose every need is met by a super-smart computer their ancestors built, but who have become lazy and forgetful over the generations, so that once it breaks down they are completely powerless to fix it, much less live in any functional way. And if we expect these institutions to keep delivering the bounties they have delivered us even if we don't understand how they work and how to work them, we are engaging in little more than a cargo cult.
Contemporary culture, strangely, tells us that every era and culture was so shaped by its own culture and history that it had terrible blinders and could not understand things. Our material wealth and technological success has made us so arrogant that we believe we don't have anything to learn from people who didn't have iPads or universal suffrage, even though the reality is that the only way we have these things is because our ancestors learned from their ancestors to bequeath to us the institutions — that is, the ideas-in-action — that make all these things possible and worthwhile.
So, this is, like, actually a big deal, man. Maybe people should, like, start reading, like, books or something. Just a thought.
Continue reading for free
We hope you're enjoying The Week's refreshingly open-minded journalism.
Subscribed to The Week? Register your account with the same email as your subscription.