How President Trump would rule America
Should you be ready to flee overseas? Yes.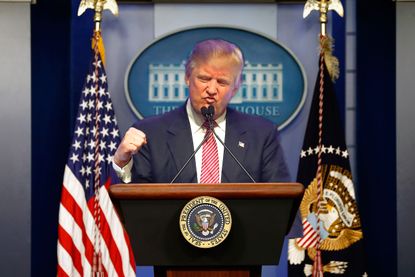 (Image credit: Illustrated | (Images courtesy Getty Images, AP Photo/Paul Sancya))
On Saturday night, Donald Trump cruised to a decisive victory in South Carolina's primary, beating the runner-up by 10 points and taking most (and possibly all) of the delegates. He is leading in Nevada, which is up next, and in virtually every other upcoming primary state. Trump is winning, folks.
Now, if this primary season has taught us anything, it ought to be instinctive disbelief of any offhand electoral prediction. Nevertheless, I take it as axiomatic that any major party candidate has at least some chance of winning. It's time to start thinking seriously about what to do if Donald Trump becomes president.
One thing that makes a Trump presidency so hard to imagine is his platform is so thin. His positions page on his website contains only five sections: U.S.-China trade, the Veterans Administration, immigration, gun rights, and tax reform. His tax plan is flatly ludicrous, and he barely mentions what he'd do with specific domestic programs anyway.
Subscribe to The Week
Escape your echo chamber. Get the facts behind the news, plus analysis from multiple perspectives.
SUBSCRIBE & SAVE
Sign up for The Week's Free Newsletters
From our morning news briefing to a weekly Good News Newsletter, get the best of The Week delivered directly to your inbox.
From our morning news briefing to a weekly Good News Newsletter, get the best of The Week delivered directly to your inbox.
About the only areas where he is really consistent is favoring trade protectionism and fanatically hating immigrants. Dylan Matthews took a close look at what Trump could do in these areas even without Congress, and the answer is "a lot." First thing he would do is rescind President Obama's partial deportation protection for DREAMers. He probably couldn't deport all 11.3 million unauthorized immigrants due to simple budgetary and logistical constraints, but he could probably best the previous deportations record set by President Obama and send away about half a million per year.
Trump could also make it dramatically harder for legal immigrants to enter the U.S., by ordering the Department of Homeland Security to slow-walk the visa approval process. Congress could interfere with that, but any Republican majority elected on Trump's coattails seems highly unlikely to do it — indeed, they would likely grant him additional money for border enforcement, allowing him to jack up deportations even higher.
On trade, the president has tons of discretionary authority. If individual businesses came to him with some sort of grievance, under current law he can create endless carve-outs and special "retaliatory" duties, both personally and by pressuring the Commerce Department. The result could be a full-blown trade war with China and other nations.
He also promises to bring back war crimes like torture.
So, that's horrible. But perhaps the most alarming thing about the prospect of President Trump is the way his erratic personality combines with his total disrespect for political norms. He's running the most racist presidential campaign since George Wallace. He swears all the time. He gets in fights with the Pope. He makes excuses when his followers beat people up. He bears a rather eerie similarity, in affect, political orientation, and in personal appearance, to Benito Mussolini.
Jonathan Chait argues that what Trump really craves is personal attention, and so Arnold Schwarzenegger's governorship of California is an instructive comparison. He initially governed as a right-wing partisan, but once the political bill for bad policy came due, he veered to the center and governed as a relative moderate, making a bunch of compromises with Democrats. Hence, liberals shouldn't fear a Trump administration that much.
This is a real possibility. Trump really does seem to crave the limelight and bootlicking respect above all, and doesn't seem to care that much about the supply-side tax dogma contained in House Speaker Paul Ryan's budget. But one thing he has which Schwarzenegger lacked is deeply authoritarian instincts.
Turning to the center and making deals to expand Social Security or cut taxes on the poor is one way of gaining respect. But another might be siccing federal law enforcement on critics, like Woodrow Wilson and A. Mitchell Palmer did. Left-wing critics, organizations, and publications — or perhaps even conservative critics, like those at National Review — might find their tax and legal history gone over with a fine-toothed comb, and slammed with trumped-up lawsuits or blackmail. If real praise can't be found, a silence born of fear is a reasonable second-best.
I genuinely think this is a real possibility. Trump is petty and vindictive enough to want to do it, and contemptuous enough of legal norms to try and get away with it. Such a possibility becomes doubly alarming when one considers the NSA panopticon constructed under the Bush and Obama administrations. Near-total surveillance of electronic communication is a pretty scary tool in the hands of a normal president, let alone a paranoid bully with a messianic complex. Rather unfortunate that Congress didn't reorganize the security apparatus when I told them to.
So should Trump get the nomination, I'll be putting together a little kitty just in case I have to leg it for Mexico. If I were you, I'd consider doing the same.

Continue reading for free
We hope you're enjoying The Week's refreshingly open-minded journalism.
Subscribed to The Week? Register your account with the same email as your subscription.