How to beat Donald Trump
It's not that hard. Here's the plan.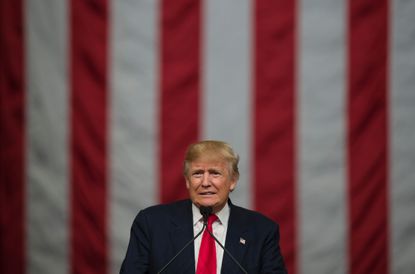 (Image credit: Jim Watson/Getty Images)
A month ago, Donald Trump was the impossible nominee, and now he's the inevitable nominee. Funny how the conventional wisdom has flipped like a pancake.
The case for Trump is simple: He just won the Nevada caucuses by more than 20 points, he triumphed decisively in two other crucial early states (New Hampshire and South Carolina), he is ahead by far in the polls, both in the coming contests and nationally, and he has now proven that despite his untraditional campaign, he can translate poll numbers into actual votes. And the other candidates just aren't polling that well. If it was any other cycle, and Candidate X had just won New Hampshire, South Carolina, and Nevada and was leading in the polls by more than 10 points going into Super Tuesday, nobody would think he wouldn't be the nominee.
But there's also a case against Trump: A lot of people hate him, a lot of people won't vote for him, and the anti-Trump vote just might solidify for one candidate. But the question is: How do you beat Trump? Here's the plan.
Subscribe to The Week
Escape your echo chamber. Get the facts behind the news, plus analysis from multiple perspectives.
SUBSCRIBE & SAVE
Sign up for The Week's Free Newsletters
From our morning news briefing to a weekly Good News Newsletter, get the best of The Week delivered directly to your inbox.
From our morning news briefing to a weekly Good News Newsletter, get the best of The Week delivered directly to your inbox.
1. Attack him
Crazy idea, right? If you want to beat a candidate, it might not be a bad idea to attack him. Especially a candidate so ripe for attack as Trump.
This is actually a real point. Trump gets attacked a lot in the media and somewhat on the debate stage, but a very small minority of the attack ads run by candidates and their super PACs have been against Trump. And right now, Cruz and Rubio are busier fighting over who will be the non-Trump candidate than attacking Trump.
Actually attacking Trump might be a good idea.
The second part of this is to do it right. Most of the attack ads against Trump have actually been ads for Trump, since they basically reinforce his appeal. "Trump's not a movement conservative!" Yes, and the white working class that makes up a huge bulk of the GOP is tired of movement conservatives who are more concerned with cutting taxes for top earners than with fixing their problems. "Trump is a jerk!" Yeah, and his voters want a jerk — a jerk for America.
All of the attacks serve to reinforce this message: "Trump's not one of us." By "us," what is meant is either a member of the traditional conservative movement or a member of the politically correct media and political elite. And guess what? The reason why Trump is winning is because he's not one of us.
Instead, the message the ads should be sending is "Trump is against you." Trump is the greatest salesman in the world — he's the greatest con artist in the world.
Which is why the ads against him should focus on everything he's done against the little guy. The point of the clips showing him saying he's pro-choice or hanging out with Hillary Clinton isn't that he's not a die-hard right-winger, it's that he'll do and say anything to profit himself. That old woman he tried to kick out of her home so he could build a limousine parking lot. His online university that drove people into debt in exchange for nothing. All the people he laid off. His alleged mob ties.
One hopeful bit of news in all of the Trump numbers has been the slight discrepancy between his final vote numbers and his final polls. It seems that there's a significant chunk of late-deciding voters who actually have doubts about voting for Trump.
It's time for a billionaire with a heart of gold to put $50 million on the table and air all those ads between now and Super Tuesday.
2. Speak to his voters
The other reason why so many people want to vote for Trump is because they don't feel listened to, and they feel exploited by a political and media elite class that drinks champagne and cares more about global capitalism and progressive causes célèbres than them. And they're right.
It's not hard to figure out what Trump voters want. They want illegal immigration under control. They want to bring back jobs from China. And they want to Make America Great Again.
All the other GOP candidates want to bring immigration under control and talk a good game about it. That's good.
All the other GOP candidates talk a good game about American patriotism and nationalism. That's also good.
And then there's the final bit. How do we bring jobs back from China?
Well, maybe you think that cutting corporate taxes and deregulating the economy would help. I think it would! I also think that the chance of Trump's voters actually buying that line, after being fed it for 30 years and not seeing results, is zero.
There's one candidate who actually has a policy proposal that could help Trump voters and actually bring jobs back from China. His name is Marco Rubio and the policy is wage subsidies.
As the name suggests, this would be a tax cut or credit that would fatten working people's paychecks, even as it would lower the cost of hiring them. That would actually bring a lot of jobs back from China.
Will a wonky policy like this actually appeal to Trump voters? Or do they just want to hear empty sloganeering? Here's the thing: I actually believe voters — yes, even voters without college degrees — are smart and can understand things when properly explained to them.
"Here's what I don't understand. In this country, we have a tax on jobs. Every employer has to pay 15 percent on top of what he pays you to the government, just to hire you. It's literally a tax on jobs. I don't want to tax jobs, I want to encourage jobs by saying instead of taxing jobs, we're going to help hard-working Americans." That's not hard to understand. And it says, "I don't just pretend to care about you, I have a plan."
Will this make all Trump voters swoon? No, of course not. Will it get at least some of them to think that not only is there someone besides Trump who cares about them, but that person actually has a plan and it might actually be halfway plausible? Quite possibly. Is it better than "Cut corporate tax rates"? Absolutely no question.
Let's get started.

Continue reading for free
We hope you're enjoying The Week's refreshingly open-minded journalism.
Subscribed to The Week? Register your account with the same email as your subscription.