Marco Rubio is the biggest loser of 2016
He won Minnesota on Super Tuesday? Yawn.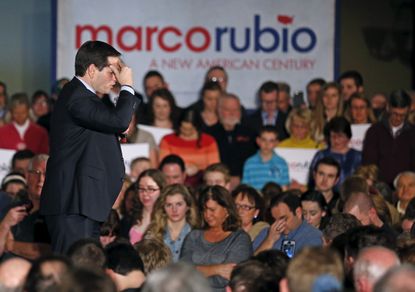 (Image credit: REUTERS/Eric Miller)
We can debate many things about the outcome of Super Tuesday, but one thing should be indisputable: Marco Rubio is hands down the biggest loser of 2016.
Don't let the "he's no longer winless!" line convince you otherwise. After 17 contests, the one-time pundit-appointed frontrunner has eked out just one win, in Minnesota. That might be one more than John Kasich and Ben Carson. But you can't be a loser if no one ever seriously considered you a possible winner.
Rubio's hapless campaign, fueled on high-octane hot air, once spoke of a game plan to take the field, building from narrow losses in Iowa and New Hampshire to a first victory in South Carolina. Then Nevada became his firewall. Then there was Virginia. And now? Thirteen states voted on Tuesday, and Rubio is only one caucus-voting state's first choice to serve as the GOP's standard-bearer — and the third choice behind Donald Trump and Ted Cruz just about every place else.
Subscribe to The Week
Escape your echo chamber. Get the facts behind the news, plus analysis from multiple perspectives.
SUBSCRIBE & SAVE
Sign up for The Week's Free Newsletters
From our morning news briefing to a weekly Good News Newsletter, get the best of The Week delivered directly to your inbox.
From our morning news briefing to a weekly Good News Newsletter, get the best of The Week delivered directly to your inbox.
But wait — there's still a plan! As the voting was taking place on Tuesday afternoon, Rubio campaign manager Terry Sullivan told The New York Times that he'd spoken to donors that morning to reassure them that Rubio was in it for the long haul and sure to win his home state of Florida on March 15.
So that's what we're left with? Rubio carrying his home state?
Well, I certainly hope so! Every serious presidential aspirant, no matter how horribly they fare in other parts of the country, prevails at home. This is such an iron-clad rule that the very rare exceptions — Al Gore losing Tennessee in 2000; George McGovern failing in South Dakota in 1972 — stand out as abject lessons in political malfeasance.
Oh, I'm sorry — what did you say? Rubio is unlikely to win even in Florida?
That's right, my friends. Every poll for months has shown Rubio trailing Donald Trump by an enormous margin in the Sunshine State. It's not even remotely close. And keep in mind that in this most unpredictable political year, the polls have actually been remarkably accurate and stable, especially when it comes to gauging Trump's lead. Sure, sometimes the final count works out to be a little higher or lower than predicted. But in no case has a candidate overcome a double-digit deficit to prevail over the man predicted to win.
To place the magnitude of Rubio's dreadfulness in perspective, recall the outcome of recent non-incumbent Republican primary contests.
Although Mitt Romney prevailed in 2012, Rick Santorum managed to win 11 states. Four years before that, when John McCain carried 31 states to become his party's nominee, 11 states voted for Mitt Romney while eight went for Mike Huckabee.
Rubio isn't remotely in the same league with any of these candidates. Not even Rick Santorum.
What makes Rubio such a nearly perfect loser? The fact that he only appeals to one small segment of his party: members of the conservative intellectual establishment. Don't believe me? Look at Virginia, where Rubio did (for him) fairly well today. What region went for him the strongest? Why the DC suburbs, of course, and especially the areas that lie inside the beltway — where the conservative intellectual establishment commutes home after toiling away on Capitol Hill and at the District's countless think tanks, policy shops, media outlets, and lobbying firms.
This is Rubio's constituency: people who vote on the basis of ideas and ideology — and who remain enthralled by the ideas and ideology that have governed the conservative movement for the past three decades. That would be: ever-deeper tax cuts for the rich, ever-more ambitious plans to project American military power around the globe, and stop-your-pitiful-whining-and-pull-yourself-up-by-your-bootstraps self-reliance for everyone else.
The rest of the party might have warmed to a candidate who put those ideas and that ideology at the core of his campaign if nothing had changed in the country and the world since 2002.
But alas, quite a lot has changed — and this year the GOP really isn't in the mood to embrace a New and Improved George W. Bush.
Which is why Marco Rubio is and will remain 2016's biggest loser.
Editor's note: A previous version of this article misidentified George McGovern's home state. It has since been corrected. We regret the error.

Continue reading for free
We hope you're enjoying The Week's refreshingly open-minded journalism.
Subscribed to The Week? Register your account with the same email as your subscription.