Is Hillary Clinton just a regional candidate?
An analysis of her disastrous, stunning loss in Michigan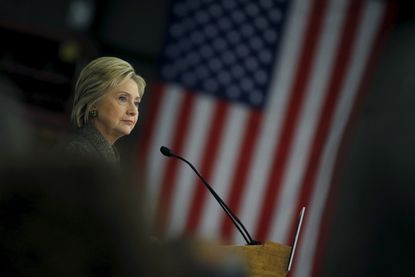 (Image credit: REUTERS/Carlos Barria)
Bernie Sanders won Michigan's Democratic presidential primary on Tuesday, in a huge upset over Hillary Clinton. Suddenly, the Democrats have a presidential contest again.
Clinton was ahead in every poll going into Tuesday's primary, leading Sanders by as much as 20 percentage points. But now, with nearly all the votes counted, Sanders won 50 percent to 48 percent. Clinton crushed Sanders in the other March 8 Democratic primary, beating him 83 percent to 17 percent in Mississippi, but Clinton has beaten Sanders in every other state in the Deep South, so her victory in the Magnolia State was expected.
In fact, it was so expected that Sanders' campaign manager, Jeff Weaver, has taken to calling Clinton a "regional candidate."
Subscribe to The Week
Escape your echo chamber. Get the facts behind the news, plus analysis from multiple perspectives.
SUBSCRIBE & SAVE
Sign up for The Week's Free Newsletters
From our morning news briefing to a weekly Good News Newsletter, get the best of The Week delivered directly to your inbox.
From our morning news briefing to a weekly Good News Newsletter, get the best of The Week delivered directly to your inbox.
As far as taunts go, that's pretty mild compared with what the Republican candidates are throwing at each other. But Sanders' win in Michigan lends credence to the idea that he's facing a regional rival. Now, Clinton hasn't only won in the South — she narrowly beat Sanders in Iowa, Nevada, and Massachusetts, states he had fought hard for and hoped to win. But if you look at the electoral map, Clinton has painted a pretty solid band south of the Mason-Dixon Line, while Sanders has sprinkled his wins through the Midwest, Northeast, and Great Plains.
The charge that Clinton is a regional candidate, especially one who only (or mostly) wins in the South, tries to suggest that her appeal isn't broad enough to win a general election, and that her towering victories from South Carolina to Texas are worth less because they are in areas Democrats probably won't win in November anyway. It's a good political hit, but you could also frame it the opposite way: If Democrats are going to face an extreme, unpopular candidate like Donald Trump, Clinton's success with more temperate Southern Democrats sets her up as a viable alternative for moderate voters who just can't pull the lever for Trump. In this view, Clinton could greatly expand Democrats' electoral map. You could make the same argument for the big Sanders wins in Oklahoma, Kansas, and Nebraska.
But that's a stretch. Indeed, regional voting patterns in the primaries don't seem particularly useful as a tool to measure prospective success in November. The primary electorate is just far too different from the bigger, broader November electorate. Still, Clinton's loss in Michigan might tell us something about whether she or Sanders makes it to the general election.
The first test of whether Michigan was a novelty win or a harbinger of trouble for Clinton comes next Tuesday, when Michigan's delegate-rich neighbors Illinois and Ohio vote in their Democratic primaries. "The FiveThirtyEight polling average in Illinois gives Clinton a 37 percentage point lead, while the average in Ohio gives her a 20 percentage point lead," says Harry Enten at FiveThirtyEight. "If Michigan was just a fluke (which is possible), then tonight will be forgotten soon enough. If, however, pollsters are missing something more fundamental about the electorate, then the Ohio and Illinois primaries could be a lot closer than expected."
Pennsylvania and Wisconsin would also presumably be tighter, plus other states where manufacturing jobs are disappearing, a loss Sanders and many blue-collar workers blame on free trade deals like NAFTA, enacted by Clinton's husband, former President Bill Clinton. At The Wall Street Journal, Gerald Seib calls this the revenge of "the angry white male," the voting bloc that helped push both Sanders and Trump to victory in Michigan. The two populist candidates "are collapsing what had become, in the 1990s, something of a bipartisan consensus in favor of free trade," Seib says. "And angry white males, many of whom feel trade has marginalized their jobs and prospects, are leading the way."
The angry white men may propel Trump to victory in the GOP race, "but they probably aren't enough to carry Mr. Sanders to the Democratic nomination," Seib says, and that will set up a "fascinating battle" between Trump and Clinton in the fall. Trump leads Clinton among white men in a hypothetical matchup, he added, but "could he hold on to such an advantage, and build up elsewhere? Or would she eat into and undermine his clearest pillar of strength? On such questions may November's outcome be decided." (Paul Waldman disagrees.)
For what it's worth, either Sanders or Clinton could be "regional" at this point — no states on the West Coast have voted, for example, nor in the Mid-Atlantic region between New England and Virginia. All we know so far is that Clinton has dominated Sanders in the South, an area where she lived for many years when Bill Clinton was Arkansas governor, and Sanders has a lock on his home turf: Vermont, New Hampshire, and Maine. Clinton's sweep of the South has helped her build up a delegate lead, and that's the regional focus Team Clinton and Team Sanders will really pay attention to: Florida (246 delegates), Ohio (159 delegates), and Illinois (182 delegates) on March 15; New York (291 delegates) on April 19; Pennsylvania (210 delegates) on April 26; and California (546 delegates) on June 7.
And that leads to a final point of the night: Sanders staged one of the biggest upsets in primary history against Clinton, but Clinton walked away with more delegates from Tuesday's primaries, thanks to her blowout in Mississippi. "That may not be as sexy as the tremendous upset in Michigan," Harry Enten notes, "but math is rarely sexy." It is, of course, how you win elections.

Continue reading for free
We hope you're enjoying The Week's refreshingly open-minded journalism.
Subscribed to The Week? Register your account with the same email as your subscription.