How Angela Merkel solved one European crisis by promising another
The EU's deal with Turkey is a disaster-in-waiting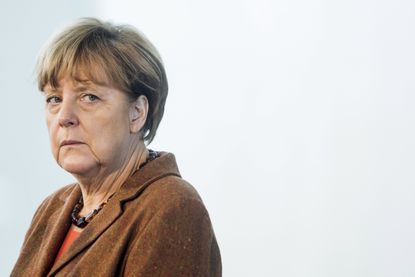 (Image credit: Zick,Jochen-Pool/Getty Images)
Sign up to our 10 Things You Need to Know Today newsletter
A free daily digest of the biggest news stories of the day - and the best features from our website
Thank you for signing up to TheWeek. You will receive a verification email shortly.
There was a problem. Please refresh the page and try again.
Angela Merkel is once again taking charge of the refugee crisis. And once again, it's to disastrous effect.
Last year, after a summer of stories about refugees dying in the Mediterranean or abused by smugglers, the German chancellor stepped up and said her country would welcome one million refugees. They got them. Since then, terrorists have used the migratory flow as cover to move about Europe and kill well over a hundred people in Paris. Cologne and other capitals have had high-profile, mob-like incidents of mass sexual assault in public. And the reign of Merkel — popularly called "Mutti" or Mother — has come under challenge from both left and right in Germany.
Whenever the European Union has faced a crisis caused by the rickety, undemocratic structure of the European Union itself, the political class offers one solution: "More Europe." More integration, more coordination, more diplomacy, more consensus. Now Merkel, in trying to save herself and her party, perhaps even the Schengen arrangements of Europe, has made a deal with Turkey. She will solve one short-term crisis of mass Muslim migration into Europe by promising a similar crisis later.
Subscribe to The Week
Escape your echo chamber. Get the facts behind the news, plus analysis from multiple perspectives.
SUBSCRIBE & SAVE
Sign up for The Week's Free Newsletters
From our morning news briefing to a weekly Good News Newsletter, get the best of The Week delivered directly to your inbox.
From our morning news briefing to a weekly Good News Newsletter, get the best of The Week delivered directly to your inbox.
The deal provides a mechanism for returning smuggled refugees that have arrived in Greece to Turkey. EU countries will take in 72,000 Syrian refugees from Turkey this year, a steep descent from the more than one million Angela Merkel invited into Germany alone in the past year. The EU will also help Greece staff and process refugees who have landed there by boat. The agreement also includes a massive €6 billion payout to the Turkish government, which will go to provide for Syrian refugees staying in Turkey.
On the surface, the deal aims to improve the life of refugees that have arrived in Greece. But it would also begin to close the migratory trail that leads from Greece to Germany, and confine most future refugees to Turkey. Human rights activists consider the €6 billion a kind of blood money. And the deal includes "re-energized" talks on an envisioned entrance of Turkey into the European Union.
Turkish President Recep Tayyip Erdogan has played the refugee crisis for all it is worth in his dealings with Europe. "Erdogan keeps locking and unlocking the door as it pleases him," said Marta Dassu, a foreign Italian deputy foreign minister. Finally, Europe squealed and desperately revived the idea of membership. Imagine that, a Europe that includes cities like Gaizentep, less than 100 kilometers from Aleppo, before it includes Montenegro. It may be temporarily salable in Germany, where there is much angst about Syrians, but where their own experience with Turkish migration as near permanent "guest workers" is widely considered a happy one. But of course the idea of membership for the guest workers is considered ridiculous.
Turkish membership in Europe seemed like a fanciful and faddish idea that had long since died. Now it receives a second life out of desperation to keep refugees at the periphery of Europe, presumably where Merkel thinks the governments and people are already unhappy enough, rather than at the heart of Europe where an illusion of stability can still be maintained.
At a time when Western European leaders talk ceaselessly about their displeasure with the populist and nationalist governments that have come to power in Hungary and Poland, this new deal strengthens the Erdogan government of Turkey, whose ideological distance to the Brussels-Frankfurt consensus far exceeds theirs. The Turkish government raids and sacks newspapers that are critical of the government. Erdogan arguably worsened the situation in Syria, when Turkey called for the overthrow of Assad.
Turkey in the EU would suddenly thrust the EU deep into the Middle East, saddling it with a conflict with Kurdish separatists. At a time when increased Muslim migration in Europe is the proximate cause for the rise of Eurosceptic and fascist parties, this deal holds forth the promise of allowing any of the over 75 million Turks to move and work in Europe.
Oh, and then there's the matter of the Turkish economy. Does Europe expect it to be more sound than that of Portugal or Spain?
Turkey's membership threatens a worse repeat of every crisis that has rocked Europe over the last decade. And many more dangers besides.
And of course this deal may not even give Merkel the short-term gains she wishes to see. Refugees and migrants are still arriving in Greece. Human smugglers may shift their routes to Malta instead, or Turkey may simply find itself wishing to keep the pressure up on Merkel.
Rather than working with her European partners to create the kind of orderly and aggressively-enforced immigration controls that nations like Australia already employ with their coastal guards, Merkel is outsourcing the dirty work of enforcement to a strongman on Europe's border. She is compromising the very European values she claims to protect and holding out a promise to Turkey that can do every bit as much damage to the European project as the status quo.
Continue reading for free
We hope you're enjoying The Week's refreshingly open-minded journalism.
Subscribed to The Week? Register your account with the same email as your subscription.
Sign up to our 10 Things You Need to Know Today newsletter
A free daily digest of the biggest news stories of the day - and the best features from our website
Michael Brendan Dougherty is senior correspondent at TheWeek.com. He is the founder and editor of The Slurve, a newsletter about baseball. His work has appeared in The New York Times Magazine, ESPN Magazine, Slate and The American Conservative.