The hilarious and frightening fantasy of Donald Trump's foreign policy
On Wednesday, Trump gave a foreign policy speech. It was about as stirring as an eighth-grade history presentation.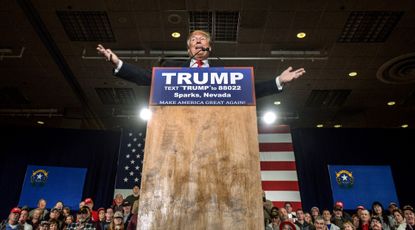 (Image credit: REUTERS/James Glover II )
In foreign policy, people who subscribe to "realism" are those who supposedly eschew ideologically motivated actions and think of themselves as hard-headed pragmatists without illusions about the nature of power. But if Donald Trump becomes president, we may need a new term for the motivating theory behind his foreign policy. We might want to call it "fantasism," because it exists in a fantasy world of Trump's imagining, where facts are silly things we need not concern ourselves with.
On Wednesday, Trump gave a foreign policy speech, one that was actually written down in advance (though he strayed from the text here and there). One might imagine that since he must have had the input of other people in preparing it, the speech would be tethered more to reality than Trump's usual stream-of-consciousness musings. Alas, one would be mistaken.
A month ago, Trump told The New York Times that his foreign policy could be summed up as "America First," perhaps unaware of the phrase's history as the slogan of anti-Semitic isolationists before America's entry into World War II. But rather than abandon it, Trump continues to tout "America First" as his foreign policy philosophy, and that was the central organizing theme of his address.
Subscribe to The Week
Escape your echo chamber. Get the facts behind the news, plus analysis from multiple perspectives.
SUBSCRIBE & SAVE
Sign up for The Week's Free Newsletters
From our morning news briefing to a weekly Good News Newsletter, get the best of The Week delivered directly to your inbox.
From our morning news briefing to a weekly Good News Newsletter, get the best of The Week delivered directly to your inbox.
In his speech, he laid out a bunch of ideas, some bizarre, some banal, and some standard-issue Republican, all offered with rhetoric about as stirring as what you'd hear in an eighth-grade history class debate. Trump will send troops to fight, he said, "only if we have a plan for victory with a capital V." Not for him any lower-case victories!
But as you know if you listen to Trump, today's America is a place where no winning takes place, at least outside the confines of Trump Tower. The whole world laughs at us, and our armed forces are but a tiny, pathetic squad of Keystone Kops feared by no one — it certainly isn't the largest military in the world. And President Obama has "weakened our military by weakening our economy."
Trump may not be aware, but the American economy is doing quite a bit better today than it was when Barack Obama took office in the midst of the Great Recession. Unemployment is at 5 percent, inflation is almost non-existent, and since the recession ended Obama has overseen the creation of about two million jobs per year, which is pretty darn good. That doesn't mean there aren't long-term economic problems that need solving, but the idea that Obama has "weakened" the economy is just factually absurd. And yes, even if we're not spending as much on the military as we were during the height of the Iraq War, our spending still dwarfs that of every other nation on earth. For some reason, no other country has invaded the U.S. since Obama took office.
But security will return once Trump is in the White House, he promised. "Their days are numbered," he said about ISIS. "I won't tell them where and I won't tell them how." So get ready, ISIS, because you might think that when Trump comes after you it'll be in the areas you control in Syria and Iraq. No such luck — he might defeat you in Caracas or Calgary or Changzhou, and when you least expect it, boom! You got Trumped! "ISIS will be gone if I'm elected president. And they'll be gone quickly. They will be gone very, very quickly." Done.
This was in keeping with something else Trump said: "We have to be unpredictable starting now." If you have a sense of history, that might evoke Richard Nixon's "madman theory," under which he wanted to convince the North Vietnamese that he was such a lunatic that he just might drop nuclear bombs on them at any moment, and therefore they would be eager to surrender. You might also recall how that worked out. But Trump thinks that mobilizing the United States military is like sneaking around a corner. "We are totally predictable. We tell everything. We're sending troops. We tell them. We're sending something else. We have a news conference. We have to be unpredictable."
I daresay that quite a few foreign leaders may already be convinced that Trump is plenty unpredictable already, and he may be a genuine madman, or at the very least a halfwit. But rest assured, he's got every problem under control. "In this time of mounting debt, right now we have so much debt that nobody even knows how to address the problem. But I do," he said. He's not actually going to tell us what his solution is, but that's a common theme for Trump: I'm the only one who knows how to do this, just give me the keys and it's taken care of. Don't ask me how, just go take in a movie or something and when you get back the problem will be solved.
That, of course, is the premise underlying Trump's entire campaign, and for some people at least, it's seductive. All we need is to bring in a strong leader, and even if he doesn't appear to have the faintest idea what he's talking about on any subject, through the power of his will he can solve all our problems and turn our country into a paradise.
So congratulations to the Republican Party, where serious and sober foreign policy hands felt at home for so long. This is the man you've chosen to lead you into the future.

Continue reading for free
We hope you're enjoying The Week's refreshingly open-minded journalism.
Subscribed to The Week? Register your account with the same email as your subscription.