Why Hillary Clinton got trounced in coal country
This goes beyond the "gaffe"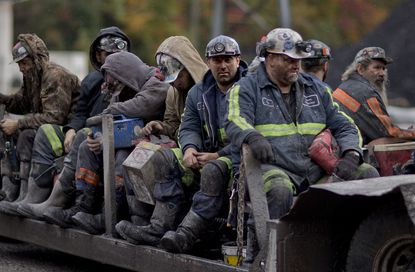 (Image credit: AP Photo/David Goldman, File)
Sign up to our 10 Things You Need to Know Today newsletter
A free daily digest of the biggest news stories of the day - and the best features from our website
Thank you for signing up to TheWeek. You will receive a verification email shortly.
There was a problem. Please refresh the page and try again.
Hillary Clinton appears to have eked out a win in last night's Kentucky primary. It's an improvement over her loss to Bernie Sanders in West Virginia last week, 51 to 36 percent. But it's hardly a resounding victory.
Recent years have not been kind to the Democrats' relationship with the Appalachian region. After serving as a Democratic bastion for decades, West Virginia has rushed into the GOP's embrace in the last 10 years, Donald Trump is expected to walk away with the state's electoral vote. Kentucky turned red well before that.
There's a lot going on here, but a big piece of the story can be summed up in a single word: coal.
Subscribe to The Week
Escape your echo chamber. Get the facts behind the news, plus analysis from multiple perspectives.
SUBSCRIBE & SAVE
Sign up for The Week's Free Newsletters
From our morning news briefing to a weekly Good News Newsletter, get the best of The Week delivered directly to your inbox.
From our morning news briefing to a weekly Good News Newsletter, get the best of The Week delivered directly to your inbox.
Coal mining remains a mainstay of local economic life in Appalachia. The industry's prominent cultural position is more a matter of oral tradition and hype than reality — it employed only 0.6 percent of Kentucky's workforce, and 4.6 percent of West Virginia's in 2014 — but the political potency of the decline of coal is no less real. Many voters in the region are extremely hostile to the Obama administration — and, by extension, Clinton — over what they see as the punitive regulatory costs of the White House's efforts to curb greenhouse gas emissions.
Clinton certainly isn't ignorant of all this. In November, she proposed a $31 billion aid package to help the region transition off the coal industry through infrastructure investment, job retraining, research grants, repurposing old mine sites, and more. Nonetheless, West Virginia shot her down. And Sanders thumped her in Kentucky's coal counties.
That's led some liberals and Democrats to wonder if coal country is simply too reactionary and anti-climate action for the modern Democratic party. But I think the fact that it's Sanders specifically that's given Clinton a serious run for her money there should complicate that view.
Clinton certainly got raked over the coals for a gaffe: "We're going to put a lot of coal miners and coal companies out of business," she told an Ohio town hall. But it was taken out of context from a longer and nuanced answer that was basically acknowledging reality for what it is. More to the point, Sanders is even more ardent than Clinton on the need to eliminate coal from the U.S. energy mix, and his rhetoric regularly reflects this.
To some extent, Clinton was the victim of capricious circumstance. The chances are scant that most regular voters in coal country pay overly detailed attention to the candidate's statements and platforms. Many of the votes for Sanders may have been protest votes against the candidate associated with the White House.
But I think a big part of why Clinton couldn't win coal country is because of her larger messaging problem.
Philosopher Isaiah Berlin once wrote a — by his own lights, rather frivolous — essay on how there a basically two kinds of people in the world: foxes and hedgehogs. The idea is that foxes know many things, but the hedgehog knows one big thing. This pretty much nails the split between Sanders and Clinton.
Sanders has his own aid package to help the region transition off coal, and it's $41 billion compared to Clinton's $30 billion. Both packages are respectable, though not enormous. But the real key is that Sanders weds that aid package to a proposal to dump $500 billion in spending on new green energy investment. And his overall proposed infrastructure packages for the nation is about $1 trillion compared to Clinton's $275 billion.
Offering people job retraining and better transportation and lots of other little fixes just doesn't sound up to the challenge. Appalachia has been hit hard by the aftermath of the Great Recession, and beyond that by the general rot that's set in to the national economy since the early 1980s. West Virginia, in particular, has an unemployment rate of 7 percent, only 49.5 percent of its residents are working, and its median per capita income was $36,644 in 2014. Kentucky's unemployment rate is much closer to the national average of 5 percent. But even there labor force participation is not stellar, as only 53.3 percent of Kentuckians have a job.
Point being, coal country have been battered by a host of economic forces. Obsessing over coal specifically may sound irrational, but it's a synecdoche of economic decline. If Clinton wants to win the region, she needs to offer funding that's commensurate with the region's problems. But precisely because most voters aren't paying super close attention to the details of rhetoric and policy packages, she also needs to propose something new and concrete for them to hang on to.
Sanders' proposals aren't just big in dollar terms, they're the kind that can fit on a bumper sticker: Single-payer health care, fight inequality, break up the big banks, etc. So Clinton might be well served by a similar strategy. Unapologetic industrial policy seems like one possible route: Investing big in solar and nuclear power would have particular resonance, given their value as green alternatives to coal.
No nation or region can chalk up its problems to a single thing. So I understand why policy experts would praise Clinton's coal country aid package as "multi-faceted." To govern, one must inevitably be a fox.
But to sell yourself to them, it might be better to take a cue from the hedgehog: Keep it big and keep it simple.
Continue reading for free
We hope you're enjoying The Week's refreshingly open-minded journalism.
Subscribed to The Week? Register your account with the same email as your subscription.
Sign up to our 10 Things You Need to Know Today newsletter
A free daily digest of the biggest news stories of the day - and the best features from our website
Jeff Spross was the economics and business correspondent at TheWeek.com. He was previously a reporter at ThinkProgress.