The weird kabuki of Democrats and Republicans lying about the Middle East
It's time to talk about how absurdly dishonest both parties are being about American foreign policy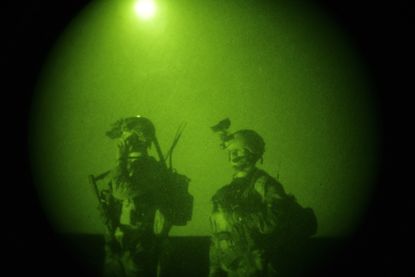 (Image credit: (AP Photo/Maya Alleruzzo, File))
This week the United States and United Kingdom suffered a major setback in their war against ISIS. One of the "moderate rebel" groups that the U.S. has been arming and supporting, the New Syrian Army, tried a daring attack to seize the al-Qaim border crossing from the Islamic State. They were crushed. The best available report on this, from Conflict News, reiterates that this campaign even received air support in the form of propaganda leaflets announcing this attempt at liberation from ISIS. Also, it seems that the rebel forces were dropped in behind ISIS positions by U.S. helicopters.
This small force seems to have been almost willed into existence by Western policy elites dreaming of a more competent version of the previous favorites, the Free Syrian Army. And ISIS seems to have utterly routed it, perhaps killing nearly all of its members.
You probably haven't heard much about it. Washington has discovered that Americans are tired of battle after the Iraq War. When Americans were polled and prodded in 2013 on whether the Obama administration should intervene directly to remove Bashar al-Assad's government from power in Syria, they came out against it so overwhelmingly that even hawkish Republicans who had been taunting Obama for his "inaction" in Syria decided to vote against formally joining the conflict. The continued chaos and fallout from the shorter intervention in Libya did not boost public confidence in the benefits that accrue from Washington's war making.
Subscribe to The Week
Escape your echo chamber. Get the facts behind the news, plus analysis from multiple perspectives.
SUBSCRIBE & SAVE
Sign up for The Week's Free Newsletters
From our morning news briefing to a weekly Good News Newsletter, get the best of The Week delivered directly to your inbox.
From our morning news briefing to a weekly Good News Newsletter, get the best of The Week delivered directly to your inbox.
And so what has happened is that Washington continues to participate in war; it just doesn't really involve or bother the public about it. And in fact, everyone — including President Obama and his Republican critics in Congress and the Senate — acts as if America isn't really involved in the Middle East at all anymore. And certainly not in Syria. They simply pretend that not much is happening, at all really. Obama takes the credit for his Solomonic husbanding of America's power. And Republicans scream that he is "doing nothing" in Syria until the paint peels off the walls of Congress.
For examples look at the legacy-polishing interview in The Atlantic, where Obama described how proud he was of resisting the urge to intervene directly and militarily in Syria in 2013. He said he was resisting the Washington playbook which says you have to deploy your military. Republican critics seem to take him at his word, as when last year Sen. Tom Cotton said that the the U.S. has "paralyzed in inaction over the past 4.5 years," and compared Obama's foreign policy to the neutrality and isolationism of the 1930s.
In truth, of course, Obama's administration recognized certain rebel groups as the legitimate government of Syria back in 2012. And then Washington began arming them. The CIA and the Department of Defense have been conducting ongoing training and arming operations there ever since. Sometimes their respective proxies even fought each other. U.S. anti-tank ground missiles started popping up on Syrian battlefields in 2014. Now we're using our own helicopters to deliver the doomed forces of the latest militia to the battlefield with ISIS. The U.S. also added more "special forces" onto the ground in Syria earlier this year.
The Obama administration now has special forces on the ground in four Middle Eastern countries: Libya, Syria, Iraq, and Yemen. All of these units are engaged in what amount to civil wars. These wars are carried out under the "authority" of a 2001 Authorization for Use of Military Force that was aimed at the Taliban in Afghanistan.
Our entire political class speaks as if it's a bizarro world. Republicans castigate the president for inaction in Syria, when they know that we have been acting in Syria and that, when given the chance, they voted against him taking action. Obama claims to be a man who pulled America back from the abyss of Middle East violence, even as he constantly increases the number of countries in which we are deployed. The same weird kabuki took place in the endless Benghazi hearings. Forgoing any real questions about what the CIA's mission was in that annex in Benghazi, Republican investigators tried to catch Clinton and Obama in impolitic lies. The more important and substantive lies surrounding Libya were, somehow, off limits.
The public fights in Washington over foreign policy are conducted for the consumption of a mostly ignorant public. They are divorced entirely from the material facts on the ground. If a foreign government conducted itself this way, Washington policy makers would probably begin bombing it while pretending that they weren't and, later explain that if they were bombing that country, surely that government's elaborate duplicitousness with their own people merits it.

Continue reading for free
We hope you're enjoying The Week's refreshingly open-minded journalism.
Subscribed to The Week? Register your account with the same email as your subscription.