How first-time novelist Lindsay Hatton expertly trolled John Steinbeck
The Monterey Bay author just fought one of America's most acclaimed authors — and won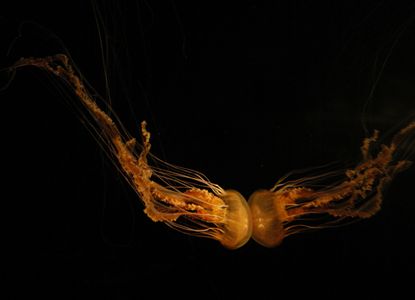 (Image credit: KIKE CALVO Visual&Written/Newscom)
Sign up to our 10 Things You Need to Know Today newsletter
A free daily digest of the biggest news stories of the day - and the best features from our website
Thank you for signing up to TheWeek. You will receive a verification email shortly.
There was a problem. Please refresh the page and try again.
There's a line that really stuck with Lindsay Hatton while reading John Steinbeck's novel East of Eden: "I believe a strong woman may be stronger than a man, particularly if she happens to have love in her heart." It's a sentence so patronizing it stings. And Hatton's new novel — Monterey Bay, out this week from Penguin Press — spanks Steinbeck back to life with it.
Monterey Bay jackknifes back and forth between 1940 and 1998, between the era when canneries were operative — when there were sardines and brothels and raucous parties thrown by Steinbeck and marine biologist-cum-philosopher Ed Ricketts in the latter's specimen-filled lab — and the era when both the men and the city had stiffened into hoary historical exhibits. In Hatton's prose, the Monterey of the '90s feels like it got stuck in one of Ed Ricketts' jars. Pickled into an expensively lifeless version of itself, the city's canneries conceal hokey restaurants. Monterey's only real vital spot is the aquarium, which, if it's arguably the biggest specimen jar in the world, is importantly different because it lets its contents grow and live.
Our lens into these transformations is Margot Fiske. Protagonist of Monterey Bay, and eventual founder of the Monterey Bay Aquarium, Margot is 15 when the novel begins in 1940. Unconventional, unschooled, and something of a resentful visionary, she's Thomas Sutpen if he were a woman who happened to have love in his heart. She's hired to sketch the lab's marine specimens and falls hard for Ed Ricketts. Literally: He seduces her after stitching up a cut in her forehead when she slips in a tidepool.
Subscribe to The Week
Escape your echo chamber. Get the facts behind the news, plus analysis from multiple perspectives.
SUBSCRIBE & SAVE
Sign up for The Week's Free Newsletters
From our morning news briefing to a weekly Good News Newsletter, get the best of The Week delivered directly to your inbox.
From our morning news briefing to a weekly Good News Newsletter, get the best of The Week delivered directly to your inbox.
Margot's love matters. It changes (maybe even defines) Monterey. It's a driving force with such momentous creative and destructive results that it unexpectedly launches Margot into that funny pantheon of literature's great lovers that now seems unspeakably old-fashioned. And male. Especially in the early pages, I noticed that Hatton's approach to Margot's inner life was forcing me to think of her as a Romeo figure, according her an intensity and depth of feeling I would never (unprompted) grant a 15-year-old girl. But there it is: Margot's love is never condescended to, and her complex relationship with the much older Ed Ricketts is not reducible to what we'd now call statutory rape.
It would be easy to say that Hatton elevates this early phase of their philosophical flirtations into art. What's perhaps more interesting is that Margot is the Shakespeare figure here. She's the sonnet-writer, the lovelorn swain, the artist. This is the story of the artist as a young woman, and Hatton's prose reflects the character's almost stream-of-consciousness confusion as her suspicion and contempt for Ricketts' clumsy caretaking turns to recognition and obsession. It's worth noting, too, that the path the romance takes is far from sentimental; in Hatton's hands, lust follows muddily aquatic currents that lead to (among other things) a 15-year-old girl creating a side business producing and selling pornographic sketches.
That Margot is a strong woman who happens to have love in her heart doesn't play especially well with Ricketts' pal Steinbeck, who resents her for it. "You're different and maybe even a little bit evil, and talent like yours is a lonely, sickening thing," he tells her. "You sound angry," she says. He denies it. "I'm in favor of sex. I like it. It's just that I expected a bit more from Ed. I thought he was too smart for small distractions."
Hatton's Steinbeck is melancholy and honest and vindictive. Sometimes he's even right. Still, Hatton's title, Monterey Bay, feels like an act of playful one-upmanship, a riff on the casual assumption of authority evident in a title like Cannery Row. You'll cover a street? I'll cover a city, she seems to say. This is not a timid text.
What Margot is technically distracting Ricketts from is the voyage he'd take with Steinbeck that would result in the publication of The Log from the Sea of Cortez, perhaps Steinbeck's most famous work of nonfiction. Monterey Bay is set in 1940 — just before the men are about to leave. Hatton riffs loudly on that literary and scientific history, and Monterey Bay sometimes reads like a tolerant but persistent counterpoint to Steinbeck's rather fraternal vision of embodied science as laid out in that book (which coincided with the end of his marriage to his first wife, Carol). Here's Steinbeck:
No doubt a magnificent evocation of what a fully-fleshed scientist ought to be, but it's not a definition he easily extends to moody and lecherous women. In East of Eden, Steinbeck's most ambitious novel, the very qualities that glorify the "tenors of the scientific world" make a woman implausibly evil. Remember Cathy? The villainous jezebel with a head wound who had sex too young and photographed people in a brothel? The one Steinbeck repeatedly called a monster? Hatton remembers her. The similarities between Steinbeck's Cathy and Hatton's Margot aren't a coincidence; Monterey Bay audaciously makes Margot Fiske Cathy's "real life" progenitor. Margot is the fully fleshed out, unpickled woman Steinbeck might have written: moody, sensitive, entrepreneurial, introverted, crafty, sometimes cruel. Cathy is the pickled specimen, Margot is the living organism, and Steinbeck is the dry-ball. "What would it look like," Hatton said to me in an interview, "if this two-dimensional woman was fleshed out and brought more compassionately to life?"
It looks riveting. Monterey Bay's Margot is brusque and strange and obsessive and thoughtful. The daughter of a chilly, globe-trotting entrepreneur, she's never gone to school, but she's a keen observer. She taught herself to sketch in a house filled with forged paintings, and there's something prophetic about that, about her talent for accuracy, for counterfeits that breathe. (When Fiske causes the Monterey Bay Aquarium to be built in her old age, she's technically copying her father's idea, but it's also a hostile love letter to Ricketts, a contrarian totem built in honor of the mind she tried to capture and a concession to his preference for describing the living over the dead.)
Margot has other ancestors too. Besides Julia Packard, who actually founded the aquarium, Hatton cites Julia Platt, a scientist who became mayor of Pacific Grove in 1931. "Much like the elder Margot, Julia was constantly stirring the pot, and with excellent results. She fought against private, members-only beaches and spearheaded the idea for what later became the Monterey Bay National Marine Sanctuary." Then there's Steinbeck's first wife. "She was perhaps my happiest and strangest discovery on the road to creating Margot," Hatton says:
Monterey Bay's animating philosophical concern is Steinbeck's and Ricketts' too. The novel is in conversation with them, and it expands on their frequent meditations on the problem of scientific accuracy: Is it better to precisely document the anatomy of the dead specimen? Or to capture the essence of the living organism? "The man with his pickled fish has set down one truth and has recorded in his experience many lies," writes Steinbeck. "The fish is not that color, that texture, that dead, nor does he smell that way."
It's a question that shaped the novel's construction. I asked Hatton why she started reading Ricketts and Steinbeck's private papers. Her reply: to find out how the fish smelled. "I was reading tons of biographies and dissertation-style nonfiction books about Steinbeck and Ricketts and Monterey and the aquarium," she said. Though helpful, she found them distracting.
Hatton started off the with the dead anatomies and moved on to the living organisms.
A Monterey native, Hatton handles her source material — Steinbeck's and Ricketts' work particularly — with the kind of deep admiration that breeds familiarity and contempt. This is the kind of rich engagement that decenters without anger, that recognizes Steinbeck's brilliance but unapologetically fills in his blind spots. (A strategy Steinbeck himself sanctions in his foreword to Ricketts' Between the Tides as he reflects on their disagreements: "Every new eye applied to the peephole which looks out at the world may fish in some new beauty and some new pattern, and the world of the human mind must be enriched by such fishing.")
And if Margot is a master at counterfeits that improve on the original, so is Hatton. Here's Margot as an old woman, thinking of Cannery Row:
"And she didn't get tired or sleepy, for the beauty burned in her like fire. Good old Steinbeck. She smiles, rising from her chair. Always so much better with a modified pronoun or two."
Continue reading for free
We hope you're enjoying The Week's refreshingly open-minded journalism.
Subscribed to The Week? Register your account with the same email as your subscription.
Sign up to our 10 Things You Need to Know Today newsletter
A free daily digest of the biggest news stories of the day - and the best features from our website
Lili Loofbourow is the culture critic at TheWeek.com. She's also a special correspondent for the Los Angeles Review of Books and an editor for Beyond Criticism, a Bloomsbury Academic series dedicated to formally experimental criticism. Her writing has appeared in a variety of venues including The Guardian, Salon, The New York Times Magazine, The New Republic, and Slate.