Bernie Sanders' devastating rebuke to 'Bernie or Bust'
No one could say it better than Bernie — and no one did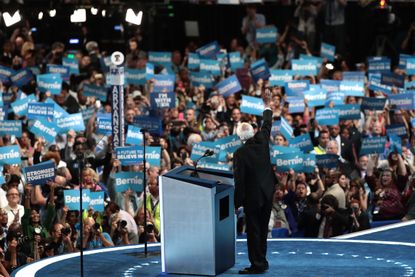 (Image credit: Drew Angerer/Getty Images)
Sign up to our 10 Things You Need to Know Today newsletter
A free daily digest of the biggest news stories of the day - and the best features from our website
Thank you for signing up to TheWeek. You will receive a verification email shortly.
There was a problem. Please refresh the page and try again.
Bernie Sanders seems to have realized something important. After 35 years as an independent, he reached the apex of his political renown and influence when he chose to become a member of the Democratic Party. That wasn't all it took, of course — Sanders ran a remarkable presidential campaign enabled in large part by excellent timing — but he could never have gotten nearly as far had he stayed an independent.
With his speech Monday night at the Democratic convention, Sanders' campaign finally came to an end, and it showed that he understands something else: If he is going to continue to have influence if and when Hillary Clinton becomes president, he's going to have to do it from within the party. So despite some initial hesitation over the last month, he's become a team player, not just endorsing Clinton but making an emphatic case for her election.
His followers, though? Not so much. Or to be more specific, a small portion of his most devout followers, since the overwhelming majority of people who voted for Sanders during the primaries are already backing Clinton. The Pew Research Center just released a poll showing that 90 percent of "consistent" Sanders voters — those who were behind him from the beginning — are now behind the Democratic ticket. But as the convention began, the "Bernie or Bust" folks were primed for battle, whether Bernie was with them or not.
Subscribe to The Week
Escape your echo chamber. Get the facts behind the news, plus analysis from multiple perspectives.
SUBSCRIBE & SAVE
Sign up for The Week's Free Newsletters
From our morning news briefing to a weekly Good News Newsletter, get the best of The Week delivered directly to your inbox.
From our morning news briefing to a weekly Good News Newsletter, get the best of The Week delivered directly to your inbox.
As the first day started, they filled the streets of Philadelphia to proclaim their loathing for Hillary Clinton, some even echoing the vile "Lock her up!" chant that Republicans used at their convention. They booed Sanders himself at a morning meeting when he told them that they had to stop Donald Trump, and that meant supporting Clinton. It was almost as if Sanders himself had become just one more establishment shill trying to stand in the way of the unstoppable march of Sandersism. When the convention itself began, they chanted and yelled over speaker after speaker.
But once the evening arrived, the Sanders dead-enders were subjected to an absolute blitzkrieg of unity. There was Sanders supporter Sarah Silverman doing a bit with Sen. Al Franken (D-Minn.) — and ad-libbing, "Can I just say to the Bernie or Bust people, you're being ridiculous." There was Michelle Obama, giving a speech so terrific and basking in such a tide of love from the audience that you almost expected her to ascend to the sky on a chariot made of pure light. Then came progressive hero Elizabeth Warren, and finally Sanders himself.
It didn't solve the problem entirely — throughout the evening there were periodic moments when a few people would begin some chant or other in an attempt to distract from what was going on up on the stage, and Warren in particular had to speak over persistent chanting. But it soon became clear that it was just a small number of Sanders dead-enders — according to some accounts, it was coming entirely from the California delegation and may have been fewer than a dozen people — even if they were able to make an unusual amount of noise. When they began chanting over Rep. Keith Ellison during his introduction of Sanders in an apparent attempt to drown out his praise of the Vermont senator, it took on a surreal cast.
But just as the Clinton campaign hoped, Sanders himself offered the most devastating rebuke to those who can't accept that he came in second. His speech started off as a retelling of all his campaign's successes and a restatement of its ideological pillars. But then came the key moment, when he issued his plea for Clinton's election: "By these measures, any objective observer will conclude that — based on her ideas and her leadership — Hillary Clinton must become the next president of the United States." If any Sanders supporters objected, you couldn't hear them over the roar of the crowd.
From there, Sanders gave a comprehensive endorsement of Clinton. Yes, most of it was about how Clinton agreed with him on various issues ("Hillary Clinton understands that if someone in America works 40 hours a week, that person should not be living in poverty...Hillary Clinton will nominate justices to the Supreme Court who are prepared to overturn Citizens United and end the movement toward oligarchy in this country...Hillary Clinton wants to see that all Americans have the right to choose a public option in their health care exchange"). But there may be no more compelling argument for his supporters.
There will surely be more protests and more booing from those last holdout Berniebros in the three remaining nights of this convention. Perhaps they realize that this will be the high point of their influence and visibility. Much of the Democratic Party and hundreds of journalists and TV cameras are all gathered in one place — and there are few things more irresistible to political reporters than intra-party strife, particularly if it comes served with a side sauce of desperation or outright nuttiness.
But as the convention goes on, their voices will probably get quieter and quieter. Their own champion has told them to get on board, as have all the party's prominent progressive voices like Warren and Ellison. They can't pretend that there's something in particular they're advocating for, other than the destruction of the Democratic Party and the election of Donald Trump.
Continue reading for free
We hope you're enjoying The Week's refreshingly open-minded journalism.
Subscribed to The Week? Register your account with the same email as your subscription.
Sign up to our 10 Things You Need to Know Today newsletter
A free daily digest of the biggest news stories of the day - and the best features from our website
Paul Waldman is a senior writer with The American Prospect magazine and a blogger for The Washington Post. His writing has appeared in dozens of newspapers, magazines, and web sites, and he is the author or co-author of four books on media and politics.