Hillary Clinton's speech didn't radiate optimism. That's a good thing.
Instead of peddling more gratuitous buoyancy, Clinton rightly acknowledged America's fears and struggles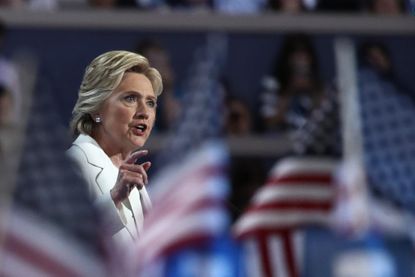 (Image credit: Jessica Kourkounis/Getty Images)
The best thing about Hillary Clinton's acceptance speech on Thursday night was that she distanced herself, if only modestly, from the expansive optimism of Barack Obama's rousing speech on the previous evening.
As commentators across the ideological spectrum pointed out, the president seemed to be making an overt effort to portray the Democratic Party as a party of optimism, patriotic uplift, and unabashed American exceptionalism. Taking a page from Ronald Reagan's playbook, Obama spoke in lofty tones about the idea of America and explicitly rejected Donald Trump's dystopian vision of a country suffering from a wide range of ills and in need of a strongman-savior to make the country "great again." For Obama, "America is already great. America is already strong."
Message: It's all good!
Subscribe to The Week
Escape your echo chamber. Get the facts behind the news, plus analysis from multiple perspectives.
SUBSCRIBE & SAVE
Sign up for The Week's Free Newsletters
From our morning news briefing to a weekly Good News Newsletter, get the best of The Week delivered directly to your inbox.
From our morning news briefing to a weekly Good News Newsletter, get the best of The Week delivered directly to your inbox.
That's exactly what we'd expect to hear from a man entering the final months of his presidency. What's he going to say? "Yeah, I tried, but I've got to admit I'm leaving America terribly divided, angry, anxious, fearful, even gloomy, about its future."
Clinton didn't go that far, of course. But she did acknowledge that, between the members of her own party who rallied around Bernie Sanders' candidacy and those who catapulted Donald Trump to the Republican nomination, a large segment of the country — most likely a solid majority — is deeply unhappy with the status quo. Clinton needed to take account of this, demonstrate that she understands it, use language to validate it, and promise that she will address it as president.
As recently as three days ago, I doubted she would do it.
She didn't go as far as I think she needed to go. But she made an important start. Whether she builds on it over the coming weeks may well determine the fate of her bid for the presidency.
Obama's Wednesday speech is pretty much the one I feared Clinton would give. It was a powerful, stirring speech brilliantly delivered, but it was crafted out of the good cheer that propelled the sunny reelection campaigns of Reagan in 1984 and Bill Clinton in 1996. A speech like that can be hugely effective, but only if it matches the mood of the country — which Obama's speech emphatically did not.
Ours is a volatile moment of populist disgust — not just at home but throughout the Western world — with established parties, politicians, policies, and even long-standing political and economic institutions. Yes, Donald Trump and Bernie Sanders each mobilized this disgust, but they didn't create it. To cite just three examples from domestic public opinion surveys, only 17 percent of Americans describe themselves as satisfied with how things are going in the country, roughly 69 percent believe the U.S. is generally on the wrong track, and our overall confidence in American institutions is near historic lows. Those numbers have been heading south for a lot longer than the 2016 presidential election cycle.
Any career politician would face strong headwinds at such a moment — but Hillary Clinton is no run-of-the-mill career politician. She's been a major player in the nation's politics for 24 years. An unprecedentedly powerful first lady for eight years. A senator for eight years. A close runner up for the Democratic presidential nomination. And most recently secretary of state for four years under the president she aims to succeed.
To say that large numbers of Americans are fed up with the status quo is to say that large numbers of Americans are fed up with people like Hillary Clinton. (And that's before adding in the self-inflicted wound of the email server scandal, or the obstacles that were bound to face any woman attempting to be the first to break the highest of all glass ceilings.)
On Thursday night Clinton needed, somehow, to separate herself from that status quo — including distancing herself both from the insouciant tone of Obama's speech and from some of the cheery self-congratulation of the progressive pep rally that's been beaming into America's living rooms for the past four days. She needed to show that she gets the anger, the fear, the anxiety, and the struggles of the many millions of Americans who don't feel like they've been thriving during the very years when Clinton's career in public service has reached its zenith.
For all the distrust that Bernie Sanders voters have showed for Clinton, it was always going to be easier for her to demonstrate a stronger commitment to progressive goals than it would be to reach out to those tempted by Donald Trump's hard-edged nationalism. And that expectation was borne out by her remarks. Progressives got much they had hoped for, including promises to fight for a higher federal minimum wage, free college tuition, tougher Wall Street regulations, increased gun control, subsidized child care, paid family and medical leave, an expansion of Social Security, and many more items on the Sanders wish list.
Much of the material on Trump, which was threaded through the speech from beginning to end, was aimed at demonstrating his unfitness to serve as president. But in certain key passages, Clinton addressed the distinctive anxieties of his supporters — above all when she spoke of fighting "to create more opportunity and more good jobs with rising wages right here in the United States," especially in "places that for too long have been left out and left behind," from "our inner cities to our small towns, Indian Country to Coal Country," including "communities ravaged by addiction" (a reference to the scourge of opiate abuse that's contributed to rising mortality rates among middle-aged white Americans).
In the foreign policy section of the speech, Clinton likewise acknowledged the fears that grip Americans whenever news breaks of a terrorist attack:
More, please.
As the campaign moves through the remainder of the summer and into the fall, Clinton needs to repeat and deepen this message: I hear your concerns, your worries. I understand and share your fears of violence, of terrorism, of a world that so often seems to be spinning out of control. I feel your anger, your sense of betrayal at having been left behind by an economy that exacts higher costs and rewards fewer people and communities than it should. I share your frustration at the uncompensated losses of those on the losing end of globalization. Let me work to keep you safe and fix our problems and mend the country we all love so much.
Trump will mock such sentiments, claiming or implying in a hundred ways that his unmodulated anger and ruthless drive (honed in a career as a real estate mogul) is a surer vehicle for protecting the American people from the threats encircling them, and a more formidable weapon for exacting revenge against those who would do us harm.
But Clinton can and should respond as she did in her acceptance speech, by reaffirming her resolution to fight just as hard for her fellow citizens — but to do so intelligently, knowledgeably, competently.
Squared off against Donald Trump, that's a contest she can never lose.

Continue reading for free
We hope you're enjoying The Week's refreshingly open-minded journalism.
Subscribed to The Week? Register your account with the same email as your subscription.