Hillary Clinton finally found the message she was looking for
At the Democratic convention, Hillary Clinton managed to tell a compelling story about America that places her right where she wants to be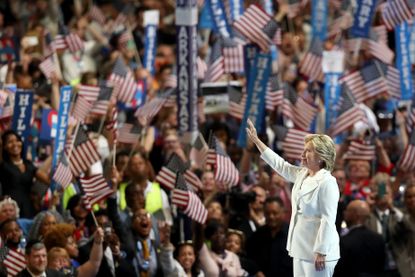 (Image credit: Joe Raedle/Getty Images)
Sign up to our 10 Things You Need to Know Today newsletter
A free daily digest of the biggest news stories of the day - and the best features from our website
Thank you for signing up to TheWeek. You will receive a verification email shortly.
There was a problem. Please refresh the page and try again.
Someone who has been a national figure for a quarter of a century may not be able to redefine herself in the course of a single speech, no matter how long it lasts and how many people are watching. But what she might be able to do is change the frame you see her through, change the context that surrounds her and the job she's seeking. If it's possible, then Hillary Clinton might have accomplished it Thursday night.
She did it not with anything entirely new, but with a relentless reinforcement of the central theme of her campaign, "Stronger Together." While it was criticized as a slogan with no punch (not to mention being the third or fourth her campaign had tried out), by the end of the Democratic convention it has actually come to be imbued with depth, meaning, and even emotion. And perhaps most strikingly, it moves Hillary Clinton a step or two back, even at the moment when all the spotlights and cameras are on her and her alone.
There was an implication buried just under the surface of the argument Clinton made in her speech, one that went something like this: I want you to like me and believe in me and invest in me, just as you have with other presidential candidates. But if you have your doubts, that's okay. You don't have to love me desperately and unreservedly. You don't have to think I'm perfect. You don't have to write songs about me, or paint pictures of me, or make up ironic memes about me. Because it's not really about me.
Subscribe to The Week
Escape your echo chamber. Get the facts behind the news, plus analysis from multiple perspectives.
SUBSCRIBE & SAVE
Sign up for The Week's Free Newsletters
From our morning news briefing to a weekly Good News Newsletter, get the best of The Week delivered directly to your inbox.
From our morning news briefing to a weekly Good News Newsletter, get the best of The Week delivered directly to your inbox.
She returned to this idea again and again, not just that progress requires common effort, but that a president is only a part of what's necessary to solve problems. Here's just one iteration:
If we all have to do our part, then Clinton herself becomes just a bit less important — necessary, but not sufficient. The contrast with Donald Trump's strongman vision couldn't be more stark, which is why she called out the most memorable line from his acceptance speech a week ago. "Don't believe anyone who says 'I alone can fix it,'" she said. "Americans don't say: 'I alone can fix it.' We say: 'We'll fix it together.' Remember: Our Founders fought a revolution and wrote a Constitution so America would never be a nation where one person had all the power. Two hundred and forty years later, we still put our faith in each other."
Maybe it's a commentary on the continuing challenges women face in politics that the first woman to be a major party's nominee has to subsume her own identity to a collectivity, to downplay her power and agency just enough to make it a little less threatening.
It's a fine line for her to walk — and it's also important to note that nevertheless, she has been much more open and confident this year in talking about the historic accomplishment electing the first woman president would be than she was in 2008 (though in the speech she found a way to universalize that landmark, saying that it was important to fathers and sons as well, because "When any barrier falls in America, it clears the way for everyone").
But confidence was in ample supply at the Democratic convention, confidence not only in who they are but in their communitarian message. As MSNBC's Chris Hayes said right after Clinton's speech, the Democrats have become "a majority coalition that sees itself as a majority coalition." The stunning diversity on display throughout the convention wasn't just an expression of their values, it was a strategy implemented by a party that knows it has a winning demographic hand.
And more than ever before, Democrats translated that diversity into a story about America. Who would have thought that it would be the Democratic convention, not the Republican one, that was saturated in patriotism? And not the apologetic patriotism so many of us got used to hearing from them in the last couple of decades, the kind that says, "Hey, we love our country, too! Really!" No, this time around Democrats claimed the America of today and tomorrow as their own, and celebrated it with absolute sincerity and joy. During the emotional highlight of Thursday night, the appearance by the parents of Capt. Humayun Khan, a Muslim-American immigrant who joined the Army and gave his life in Iraq, Rich Galen, a longtime Republican operative, tweeted, "How can it be that I am standing at my kitchen counter sobbing because of the messages being driven at the DNC? Where has the GOP gone?"
Republicans haven't lost their patriotic feeling, but when they nominated a man who talks about America only to describe it as a miserable pit of despair, and who paints himself as an all-powerful savior, they may have temporarily misplaced their ability to communicate their patriotism in a persuasive way.
Hillary Clinton and her party, in contrast, managed to tell a compelling story about America that places her right where she wants to fit, and where even Americans who won't love her unequivocally might be able to accept her. She won't promise to carry us to a glittering golden future, but she'll promise to work hard, to care, to be steady and dogged, and to play a part in an effort that requires the rest of us to succeed. That might finally be the message she was looking for.
Continue reading for free
We hope you're enjoying The Week's refreshingly open-minded journalism.
Subscribed to The Week? Register your account with the same email as your subscription.
Sign up to our 10 Things You Need to Know Today newsletter
A free daily digest of the biggest news stories of the day - and the best features from our website
Paul Waldman is a senior writer with The American Prospect magazine and a blogger for The Washington Post. His writing has appeared in dozens of newspapers, magazines, and web sites, and he is the author or co-author of four books on media and politics.