How Hillary can win Republicans
In the '80s, we he had Reagan Democrats. Will 2016 bring Clinton Republicans?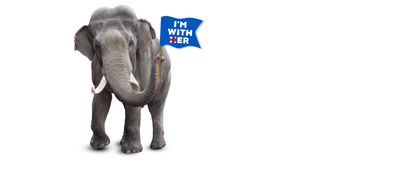 (Image credit: Illustrated by Lauren Hansen | Image courtesy iStock)
Sign up to our 10 Things You Need to Know Today newsletter
A free daily digest of the biggest news stories of the day - and the best features from our website
Thank you for signing up to TheWeek. You will receive a verification email shortly.
There was a problem. Please refresh the page and try again.
Blue-collar "Reagan Democrats" helped Ronald Reagan coast to landslide presidential victories in 1980 and 1984. More than three decades later, Hillary Clinton would love to see the 2016 presidential election turn in her favor thanks to "Clinton Republicans."
It's easy enough to imagine. In a new CBS poll, only 64 percent of conservatives said they support Donald Trump. Compare that to the roughly 80 percent of conservatives who supported George W. Bush in 2004, John McCain in 2008, and Mitt Romney in 2012. Many conservatives are clearly uneasy with Trump's brand of dark, authoritarian populism. This seems to present Democrats a real opportunity to slice off a chunk of the traditional GOP in 2016 — and maybe beyond.
But seeing an opportunity is much easier than actually seizing it. So how, exactly, can Team Clinton turn #NeverTrumpNeverHillary into #HillaryCurious, and then finally, into #SurpriseImWithHer.
Subscribe to The Week
Escape your echo chamber. Get the facts behind the news, plus analysis from multiple perspectives.
SUBSCRIBE & SAVE
Sign up for The Week's Free Newsletters
From our morning news briefing to a weekly Good News Newsletter, get the best of The Week delivered directly to your inbox.
From our morning news briefing to a weekly Good News Newsletter, get the best of The Week delivered directly to your inbox.
Step one is already complete: the upbeat Democratic National Convention. After a gloomy GOP gathering that painted the greatest nation on Earth as a failed state — basically The Walking Dead, but all the zombies are undocumented immigrants or Syrian refugees — the Democrats decided to go full Morning in America. And they tried to do it in a way that's appealing to Reagan Republicans. As National Review editor Rich Lowry tweeted during the DNC: "American exceptionalism and greatness, shining city on hill, founding documents, etc — they're trying to take all our stuff."
It worked, sort of. The sunny Democratic convention made 8 percent of Republican and Republican-leaning voters more positive about the Democrats, says Gallup, while the GOP convention made just 2 percent of Democrats and Democratic-leaners more positive about Republicans. That sounds good — until you note that Al Gore's 2000 Democratic convention appealed to 15 percent of Republicans, which was offset by the 22 percent of Dems who liked what W. had to say at his convention.
Clinton and the Democrats might have had better luck — and may still have better luck as the summer turns to fall — if they'd only offer shaky Republicans more than just sweet words about America. On policy substance, Team Hillary seemed more worried about firing up bummed-out Bernie Sanders voters than luring potential GOP defectors. Talk like this is not going to woo free-market conservatives: "If you believe that companies should share profits, not pad executive bonuses, join us."
Given the Democratic Party's clear leftward lurch since Bill Clinton was president — and even since Barack Obama was first elected — is it even possible for Hillary Clinton to talk about ideas Republicans might like without losing the liberal wing of her party? The answer is a cautious yes — so long as GOPers manage their expectations and don't wait for Clinton to call for Reagan's bust to be added to Mount Rushmore.
Take corporate tax reform, for instance. It's a standard part of modern GOP economic orthodoxy. But many Democrats also favor it, including President Obama. And while there are big differences among various GOP plans and the Obama plan, they're directionally similar: lower tax rates and close tax loopholes.
Imagine Clinton offering a plan that deeply slashed corporate tax rates, while paying for it by eliminating tax breaks and raising capital gains taxes on wealthier Americans. Or maybe help pay for it through a "too big to fail" tax on megabanks. Either way, such a proposal would appeal to pro-growth Republicans while shoring up support among progressives who think Clinton is too close to Big Money.
Regulation is another potential policy area where Clinton could build a bridge to Republicans. On her website, she promises as president "to cut red tape" for small businesses. Well why not further that deregulatory impulse by adopting the GOP idea to require congressional sign-off on pricey new regulations? Or maybe steal Canada's "one-for-one" law that forces the killing of one regulation for every new rule that's adopted.
Clinton could also build on recent Obama White House efforts to deregulate the jobs market — particularly in the areas of occupational licensing and non-compete agreements — and the housing market. And since Clinton has hinted at proposing a middle-class tax cut, why not borrow a Republican idea such as expanding the child tax credit?
Clinton obviously isn't going to give an "era of big government is over" speech. She's not going propose Paul Ryan-esque Medicare reform. She's not going to wake up one day and decide we ought to invest Social Security funds in the stock market. That's just not where the Democratic Party is today. But with a few more centrist ideas, Clinton might reassure conservatives and Republicans that a vote for her isn't a vote for putting America on the fast-track to democratic socialism.
If she does it right, Clinton won't just eke out a victory over Trump. She'll stomp him. And it'll be with the help of Republicans.
Continue reading for free
We hope you're enjoying The Week's refreshingly open-minded journalism.
Subscribed to The Week? Register your account with the same email as your subscription.
Sign up to our 10 Things You Need to Know Today newsletter
A free daily digest of the biggest news stories of the day - and the best features from our website
James Pethokoukis is the DeWitt Wallace Fellow at the American Enterprise Institute where he runs the AEIdeas blog. He has also written for The New York Times, National Review, Commentary, The Weekly Standard, and other places.