How conservatives out-intellectualized progressives
Progressivism is a powerful ideology. But it is pernicious in its dismissal of the past.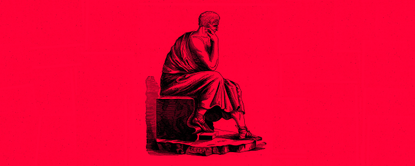 (Image credit: Illustration | Montagu Images / Alamy Stock Photo)
The vital center is imploding throughout the Western world. Liberal norms and institutions face a greater challenge than at any time since the end of the Second World War. And so defenders of the liberal order seek, often desperately, to remind themselves of what principles they stand for and the premises that underlie their deepest political and moral convictions.
That's what I take Molly Worthen to be doing in her recent, admirable essay in The New York Times. Worthen writes as a liberal who admires the way the American right has built an infrastructure of programs and institutes where young conservatives receive instruction in the history of political philosophy from Aristotle and Xenophon on down to James Madison, Adam Smith, and beyond.
Worthen thinks liberals should do something similar:
Subscribe to The Week
Escape your echo chamber. Get the facts behind the news, plus analysis from multiple perspectives.
SUBSCRIBE & SAVE
Sign up for The Week's Free Newsletters
From our morning news briefing to a weekly Good News Newsletter, get the best of The Week delivered directly to your inbox.
From our morning news briefing to a weekly Good News Newsletter, get the best of The Week delivered directly to your inbox.
Indeed. So why don't liberals follow the lead of their conservative counterparts in reading classic texts?
Though Worthen never says so explicitly, the germ of an explanation can be found in her essay when she writes, somewhat defensively, that liberals "can't afford to dismiss Great Books as tools of white supremacy." And why would they be tempted to do that? Because most so-called liberals today aren't liberals at all. They're progressives — and progressivism is an ideology that has little if any interest in learning from the greatest books, ideas, and thinkers of the past. And that's because, as the name implies, progressivism is a theory of historical progress. It doesn't see itself as an ideological project with premises and goals that had to be established against alternative views. Rather, at any given moment it identifies itself with empiricism, pragmatism, and the supposedly neutral, incontestable examination of facts and data, which it marshals for the sake of building a future that is always self-evidently superior (in a moral sense) to everything that came before.
The past, for a progressive, is something to be sloughed off, jettisoned, moved beyond, transcended. That doesn't mean progressive-minded scholars don't study the past. Many do. But when they do, it is often in a spirit of antiquarian curiosity about how the oppressor classes and benighted masses of past ages managed to defend the indefensible — the atavistic prejudices about race, gender, and other forms of identity that permeated the past and that "we" have now come to see as obviously, indisputably repulsive.
Whereas conservatives look to the past in search of wisdom, inclined as they are to presume that the greatest writers of past ages may well have been wiser than we are — and displayed greater understanding about morality and politics than we do — progressives tend to see that same past as a graveyard packed with justly dead ideas.
No wonder they don't spend time reading Great Books.
Like a physicist who is too busy pushing the boundaries of scientific knowledge to study the history of past errors and halting advances (now surpassed) within his own field, most progressives would rather continue their project of expanding the administrative-welfare state of which they consider themselves the rightful guardians (while stigmatizing its opponents) than turn back to examine the origins of and strongest case for their own most cherished ideas.
That's why conservatives are much better placed than progressives to do the work of examining the intellectual foundations of the liberal political order. But that doesn't mean liberals who are willing to distance themselves from progressive assumptions couldn't follow Worthen's advice and do something similar.
There are already tentative signs that some are doing just that. Liberal Bill Galston has recently gotten together with conservative Bill Kristol to encourage precisely this kind of rethinking and defense of liberal premises in the face of the populist challenge. Even more promising might be the efforts of classical liberal political theorist Jacob Levy and liberaltarian author Will Wilkinson, who will be pursuing their own similar projects through the libertarian Niskanen Center.
Maybe these efforts will even spawn the kind of Great Books programs for liberals that Worthen pines for. If they do, liberalism will be much the better for it — not least because it would be a sign that liberals had begun to separate themselves and their ideas from the powerful but pernicious ideology of progressivism.

Continue reading for free
We hope you're enjoying The Week's refreshingly open-minded journalism.
Subscribed to The Week? Register your account with the same email as your subscription.