Democrats must not cosign Republicans' horrible health care strategy
Deny them everything. It's not just smart politics. It's smart policy.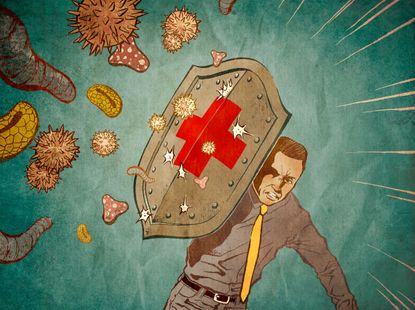 (Image credit: Fanatic Studio / Alamy Stock Phot)
Sign up to our 10 Things You Need to Know Today newsletter
A free daily digest of the biggest news stories of the day - and the best features from our website
Thank you for signing up to TheWeek. You will receive a verification email shortly.
There was a problem. Please refresh the page and try again.
For years, Democrats have accused Republicans of being "the party of no," alleged legislators who simply refuse to engage in good faith on issues or do anything apart from throw sand in government's gears and work to prevent Barack Obama from accomplishing anything. For their part, Republicans barely denied it, because it turned out to be a very effective strategy. During the Obama years they got back both houses of Congress and eventually saw Donald Trump get elected president, and while the public thinks pretty poorly of them, that didn't stop them from achieving their goals.
Now it's the Democrats' turn, and Republicans are imploring them to work with the majority on its top legislative goal, dismantling Obama's most important domestic achievement, the Affordable Care Act. So far, the Democrats haven't seemed particularly inclined to do so, and they're absolutely right. There are times when being the party of no is smart not just for political reasons, but for substantive ones as well. This is one of those times.
Republicans have been saying they want to "repeal and replace" the ACA pretty much since it was passed in 2010, yet the only thing they can agree on is the "repeal" part. So now some are advocating "repeal and delay," where they'd pass the repeal now but with a countdown clock, one that runs out after the 2018 midterm elections so they can't be punished by the voters for it quite yet. The idea is that with a catastrophe on its way, Democrats would be forced by their concern for the welfare of human beings to join with the GOP and work out a replacement plan. That plan could then be presented to the public as "bipartisan."
Subscribe to The Week
Escape your echo chamber. Get the facts behind the news, plus analysis from multiple perspectives.
SUBSCRIBE & SAVE
Sign up for The Week's Free Newsletters
From our morning news briefing to a weekly Good News Newsletter, get the best of The Week delivered directly to your inbox.
From our morning news briefing to a weekly Good News Newsletter, get the best of The Week delivered directly to your inbox.
Make no mistake, repeal would indeed be a disaster. It would mean the end of the individual mandate, which some people might like. But it would also bring on an absolute calamity for tens of millions of people. As a new report from the Urban Institute shows, when you add together the people being tossed off Medicaid (which was expanded under the ACA), those who'd lose the subsidies that now enable them to afford insurance, and those who would be left uncovered because insurance companies would flee a market that was soon to disappear, you get 30 million Americans losing their coverage.
The truth is that as a substantive matter, that wouldn't bother Republicans all that much. They've never claimed to be interested in universal coverage — that was the Democrats' goal, not theirs. It's much more important to them that the system be as free from government oversight and involvement as possible; they literally believe that it's better for a person to be uninsured than to get insurance from the government. Which is why the moment the ACA expanded Medicaid — offering states a bunch of free federal money they could use to insure their poor citizens — so many Republican governors said, "No thanks, we'd rather those people stay uninsured."
But it's one thing to not give people a benefit, and it's something else to snatch away a benefit they already enjoy. One of the warnings Democrats heard when they passed the ACA was that after this big reform, they'd "own" health care in its entirety. Any problem anywhere in the system, whether it was caused by the ACA or not, would get blamed on Barack Obama.
And so it was. The flip side is that even many people who enjoy the benefits of the law don't realize it. Nobody has an ObamaCare Card and nobody gets ObamaCare Insurance, so the fact that you can't be denied coverage because of a pre-existing condition or even the fact that you're getting subsidized coverage through an ACA exchange (which have names like "Kynect" and "Covered California," not "ObamaCare Exchange") keeps you from assigning credit where it's due.
But soon enough, Republicans will own health care. If and when they pass some form of repeal and some form of replacement, they'll be on the hook for everything anyone doesn't like about the American health care system. Premium increases? Republicans' fault. Narrow provider networks? Republicans' fault. High copays? Republicans' fault. Can't afford coverage? Republicans' fault. Had to wait 45 minutes and the doctor was rude to you? Republicans' fault. Now they'll see what Barack Obama has been dealing with.
Which is why they're so desperate to get Democrats to join with them in writing a replacement, so the blame can be shared across the aisle. And that's why Democrats should do no such thing.
To be clear, I'm not suggesting that Democrats should just stand back and watch people suffer with a smug smile on their faces. But if they make clear from the beginning that there will be no cooperation with Republicans on their project of destruction, then Republicans will have no illusions about the full weight of responsibility they'll bear and the chaos they're about to unleash. That makes it more likely that Republicans will pull back on their plans, leaving more of the ACA intact and mitigating the harm they'll do.
Fortunately, Democrats seem to understand that. "If they repeal without a replacement, they will own it," Chuck Schumer, the next Senate minority leader, told Greg Sargent at The Washington Post. "Democrats will not then step up to the plate and come up with a half-baked solution that we will partially own. It's all theirs."
What Democrats need to do now is stick to their guns, no matter what kind of threats or inducements Republicans offer. It's the only way to make the outcome anything less than catastrophic.
Continue reading for free
We hope you're enjoying The Week's refreshingly open-minded journalism.
Subscribed to The Week? Register your account with the same email as your subscription.
Sign up to our 10 Things You Need to Know Today newsletter
A free daily digest of the biggest news stories of the day - and the best features from our website
Paul Waldman is a senior writer with The American Prospect magazine and a blogger for The Washington Post. His writing has appeared in dozens of newspapers, magazines, and web sites, and he is the author or co-author of four books on media and politics.