President Trump is wasting your time
Don't fear Trump's creeping authoritarianism. Lament his time suck of a presidency.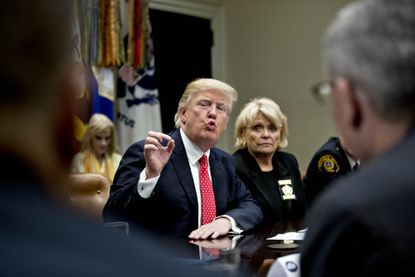 (Image credit: Andrew Harrer/CNP/AdMedia/Newscom)
Who among the anti-Trump resistance crowd hasn't darkly joked about answering a late-night door knock and waking up the next morning in a CIA "black site" prison? Probably not those reading 1984 or Fahrenheit 451 for the first time since freshman year, pushing these dystopian novels up the bestseller list. And even the merely Trump-skeptical might reasonably feel anxious after digesting David Frum's unsettling essay about how America might gently slide into soft authoritarianism. Indeed, the United States was recently downgraded to the ignominious label of "flawed democracy" by the respected Economist Intelligence Unit.
Still, America remains a democracy, at least, and the world's oldest. America's founding documents are still held sacred, their authors revered. And one recent poll found two-thirds of Americans say they value "freedom and democracy" over "security and prosperity." Maybe, just maybe, these aren't the final days of the Republic.
A more likely outcome to the Trump Show is probably something far more prosaic. Maybe we'll look back on his presidency not as a dystopian nightmare, but instead as a total and complete waste of our valuable time.
Subscribe to The Week
Escape your echo chamber. Get the facts behind the news, plus analysis from multiple perspectives.
SUBSCRIBE & SAVE
Sign up for The Week's Free Newsletters
From our morning news briefing to a weekly Good News Newsletter, get the best of The Week delivered directly to your inbox.
From our morning news briefing to a weekly Good News Newsletter, get the best of The Week delivered directly to your inbox.
I don't just mean the way President Trump triggers outrage after emotion-draining outrage with his Twitter account. The larger time-waster is this: Trumpism is built around unworkable solutions in search of actual problems. And the opening weeks of his administration suggest President Trump has no better grip on the real-world challenges facing America than candidate Trump did.
His immigration ban is perhaps the most obvious example. Banning tourists, immigrants, and refugees from some Muslim countries from entering the United States addresses what pressing issue, exactly? Refugees already undergo extreme vetting. And you have a much greater chance of getting killed by lightning strike than refugee terror attacks. This overhyped policy is a total waste of time.
Then there's his core of Trumponomics: risking a global trade war to "bring back" manufacturing jobs long lost to automation, not offshoring. Waste of time.
Or how about building his expensive megawall — even though the undocumented immigrant population has stabilized, and maybe 40 percent or so are visa overstays, not border-crossers? Waste of time.
A wonkier Trump policy distraction, one shared by many congressional Republicans, is to repeal and replace the Dodd-Frank financial reform law. Opponents claim it is supposedly suffocating business lending and thus economic growth. After signing an executive order to review the law last week, Trump told reporters how "so many people, friends of mine, with nice businesses, they can't borrow money, because the banks just won't let them borrow because of the rules and regulations and Dodd-Frank."
Anecdotes aren't data, something Trump's economic council could tell him if he had one. Commercial lending has been expanding three times as fast as the economy since 2013. And during an analyst conference call last month, Bloomberg noted, a top JPMorgan executive described loan growth as "robust." Another waste of time.
Of course with these time wasters come massive opportunity costs. We are missing the opportunity to make America more attractive to the world's best and brightest. We are missing the opportunity to revamp our education and training system so more of us can prosper from technological advances. And while Dodd-Frank probably needs to be tweaked to help smaller lenders, the law's big problem is that it might not solve the "too big to fail" problem. The U.S. economy may still be hostage to the big banks. This could be a missed opportunity of catastrophic magnitude.
And there are more. Repealing and replacing rather than reforming ObamaCare. Ignoring middle-class entitlement reform. Dismissing climate change.
But at least we'll have fewer scientists, more troubled banks, and the wall. And of course, a whole lot of wasted time.

Continue reading for free
We hope you're enjoying The Week's refreshingly open-minded journalism.
Subscribed to The Week? Register your account with the same email as your subscription.