Does Geert Wilders' wipeout mean Trump-style populism is toast?
Or is the right-wing leader's loss just a byproduct of the peculiarities of Dutch politics?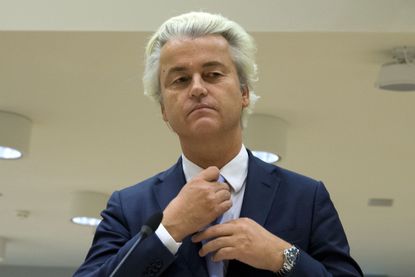 (Image credit: AP Photo/Peter Dejong)
Sign up to our 10 Things You Need to Know Today newsletter
A free daily digest of the biggest news stories of the day - and the best features from our website
Thank you for signing up to TheWeek. You will receive a verification email shortly.
There was a problem. Please refresh the page and try again.
The Netherlands just held its closely watched national election, and unlike their friends across the Atlantic, managed not to condemn themselves to years of political misery.
Dutch voters returned the center-right government of Prime Minister Mark Rutte to power. The country's young voters are likely to be disappointed — just a week ago the Green Left, led by a charismatic young Trudeau-like figure named Jesse Klaver — had an outside shot at leading the government. But overall, there is widespread relief with Rutte's win.
Why? Because of the looming presence of a Trump-like figure named Geert Wilders — replete with anti-Muslim animus and bouffant hair right out of Fascist Central Casting. Wilders' presence ensured that the results of the Dutch election would be used to determine whether the global wave of establishment-trashing populism is ongoing or receding. And with Rutte's win, it seems that the liberal international order made a stand of sorts.
Subscribe to The Week
Escape your echo chamber. Get the facts behind the news, plus analysis from multiple perspectives.
SUBSCRIBE & SAVE
Sign up for The Week's Free Newsletters
From our morning news briefing to a weekly Good News Newsletter, get the best of The Week delivered directly to your inbox.
From our morning news briefing to a weekly Good News Newsletter, get the best of The Week delivered directly to your inbox.
Earlier this winter, Wilders and his Party For Freedom were set to win as many as 33 seats in the Dutch parliament, giving them the first chance to form a government, serving as a rebuke to Rutte, and implicitly indicting the EU's handling of the twin crises of the Eurozone and Syrian refugees. But it looks like Wilders' party, while gaining a handful of seats, will be held to a distant second. This is fortunate, since his organization is less a party, as many Dutch voters told me during my visit here, than a hollow vehicle for the grandstanding and ambitions of its leader. It has no trace of the kind of grassroots party organization common in Europe. Like Nigel Farage of the U.K. Independence Party, Wilders seemed more intent on making a point rather than grappling seriously with the challenges facing his society.
While parties normally have detailed policy proposals online, Wilders and his group do not. Instead, they offer a chilling one-page document that endorses this radical closure of Dutch society. The platform, inasmuch as it exists, calls for closing down mosques, banning all immigrants and asylum-seekers, and preventively detaining Muslims deemed to be radical. Unlike Trump though, Wilders supports the relatively generous Dutch welfare state, because staking out a position any further to the right in this country would be tantamount to deliberately drowning yourself in one of its thousands of picturesque canals. He even calls for the retirement age to be lowered.
Despite his acknowledgment of the benefits of the welfare state, a Wilders government would have been, at the least, profoundly destabilizing. Still, Dutch voters seemed not to be as worried in the run-up to the contest as you might think. Unlike the U.S., which was gripped with foreboding and panic in the run-up to November's presidential election, the Netherlands remained stubbornly calm. Why? Well, to understand what made a Wilders' victory so improbable, you need look no further than the country's electoral system.
The Netherlands uses a system of proportional representation that is quite common in continental Europe. Parties forward lists of potential members of parliament to voters, and those seats are awarded roughly according to the percentage of the vote that a party wins in the election. It produces a very different kind of competition than the stable, two-party soap opera we've been watching in the United States since the Civil War.
So why were the Dutch nonplussed even when it seemed like the Party For Freedom would come in first? Unlike most countries that use proportional representation, the Netherlands' 150-member House of Representatives has no meaningful threshold for the percentage of votes needed to win seats, and its elections are therefore contested and won by a bewildering number of parties. Twenty-eight of them jockeyed for seats yesterday, and 13 appear to have won representation. The standard for seat winning is so low that an organization called the Party For Animals held two seats in the outgoing parliament, which it won with just 1.9 percent of the vote in the last national election. (As far as we know, no dogs voted illegally.) Riding the anti-establishment wave, they appear to have doubled their seats to four this time around.
This is why the country had a failsafe ahead of yesterday's election: No other political party had been willing to go on record saying it would form a government with Wilders.
Because every Dutch parliament for over 100 years has been some kind of coalition between various parties who hold fewer than 50 percent of the seats in parliament, no one can go it alone in politics here. And while in America we generally know on election night who will hold the presidency and both houses of Congress, in the Netherlands the precise shape of the government is subject to a dizzying post-election period of negotiations that literally requires a trained state employee called the formateur to broker. (If you're curious about how this works in practice, watch the first several episodes of the Danish political thriller Borgen.)
Still, the Dutch should perhaps have been more concerned than they were. If Wilders' party had won more than its expected share of the vote, then the temptation to form a coalition could have proven to be irresistible. If all parties had won around 15 or 20 seats, then it might have been easy for Wilders' opponents to move around him and form a coalition. But what if the Party For Freedom had come in first with more than 30 seats, as seemed likely not long ago? Under such circumstances it would have been much harder for a new government to claim legitimacy without him. And such an arrangement might not have been especially long lasting in a system where the government can collapse by a simple vote of no confidence. One prominent constitutional lawyer told me on the eve of the election that a Wilders-led government would have lasted two years at most.
Ultimately, we will never know what would have happened after a resounding Wilders victory. The results suggest that enough Dutch voters have soured on handing power to a cartoonish outsider that Rutte's government was returned after all, albeit with a diminished seat count in parliament.
The turmoil roiling American politics — as the Trump administration's reverse Midas touch turns every issue and initiative into controversy and scandal — surely made an experiment in rule-by-provocateur look like something to be avoided. And Rutte's government — for better or worse — appears to have outflanked Wilders on the immigration issue, cutting a campaign ad in January which called for Muslim immigrants to "be normal or be gone." His forceful handling of last week's diplomatic row with Turkey also seems to have boosted his results.
Yet the results also suggest that the things that gave rise to Wilders will be with the Dutch for a long time regardless of his party's defeat. The leading parties of the previous parliament lost a total of 38 seats, and the left here remains fragmented into competing parties with minor differences. As in so many European countries, voters in the Netherlands are uneasy with the seemingly sudden influx of migrants and refugees from the Middle East and North Africa. The social solidarity that underwrites the welfare state here stops at the mosque's edge, despite the fact that the Netherlands has been more successful than other European states at integrating its newcomers.
Today, though, might just be the beginning of the end for the ugly populist wave — and an opportunity for Europe to take a breath and find a way to balance the trepidation of its traditionalist voters and the moral obligations the continent has to parts of the world whose violent troubles cannot be completely separated from the horrors of a colonialism whose aftershocks are still roiling societies from Syria to Indonesia. That middle ground is there to be seized, and no one seems better suited to occupy and fortify it than a people accustomed to keeping their head above water while well below sea level.
Continue reading for free
We hope you're enjoying The Week's refreshingly open-minded journalism.
Subscribed to The Week? Register your account with the same email as your subscription.
Sign up to our 10 Things You Need to Know Today newsletter
A free daily digest of the biggest news stories of the day - and the best features from our website
David Faris is an associate professor of political science at Roosevelt University and the author of It's Time to Fight Dirty: How Democrats Can Build a Lasting Majority in American Politics. He is a frequent contributor to Informed Comment, and his work has appeared in the Chicago Sun-Times, The Christian Science Monitor, and Indy Week.