If you didn't like the Christian right, you'll really hate the post-Christian right
The secularization of the GOP did not turn out the way progressives wanted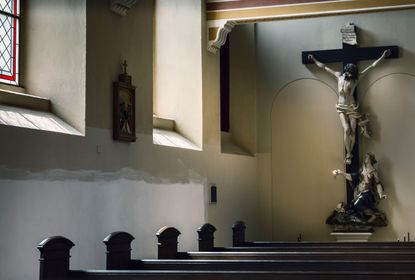 (Image credit: CHROMORANGE / Karl-Heinz Spremberg / Alamy Stock Photo)
The world is still digesting what the Trump phenomenon means. One common way to understand President Trump's rise is as the Europeanization of the American right. Trump's economic nationalism, blood-and-soil patriotism, and authoritarianism had more to do with Marine Le Pen than with Ronald Reagan.
But Trump's rise heralds a deeper and, I believe, more significant way in which the American right — indeed, American society at large — has become more "European": secularism.
The rise of religious disaffiliation among Americans has been marked by pollsters for well over a decade now. The United States might not be completely secularizing in the European sense — more Americans report a belief in God than almost ever, for example — but religious affiliation among Americans is declining. Belief in God combined with the decline of institutional forms of religion means that Americans increasingly come up with their own, do-it-yourself styles of spirituality, in ways both good and bad. The rise of this DIY spirituality was best analyzed by New York Times columnist Ross Douthat in his book Bad Religion: How We Became A Nation of Heretics.
Subscribe to The Week
Escape your echo chamber. Get the facts behind the news, plus analysis from multiple perspectives.
SUBSCRIBE & SAVE
Sign up for The Week's Free Newsletters
From our morning news briefing to a weekly Good News Newsletter, get the best of The Week delivered directly to your inbox.
From our morning news briefing to a weekly Good News Newsletter, get the best of The Week delivered directly to your inbox.
Indeed, many commentators were stunned that Donald Trump, whose private life embodies pretty much everything Christianity is supposed to despise, could so woo the primary voters of the supposed party of the Christian right. Many commentators put this up to simple hypocrisy, and certainly there was much of that among Christian right leaders. But more profoundly, the rise also had to do with the secularization of the American right. It was noteworthy that the religious leaders who most readily endorsed Trump were representatives of two of the Christian "heresies" that Douthat flags as overtaking traditional Christianity in America: the Prosperity Gospel, which says that God wants Christians to get rich, and what Douthat calls the religion of American nationalism, which identifies America with the promised land of scripture. One consistent finding of the Republican primary was that Trump did much better among self-identified Christians who don't go to church, and much worse among those Christians who go to church regularly.
And as Peter Beinart noted in an important article for The Atlantic, the secularization of the American right might not portend the sorts of changes that progressive commentators who so disliked the Christian right might have wanted.
Writes Beinart:
Of course, we are all moved by our interests. And we all find ways to lie to ourselves that we base our actions on our values, not naked self-interest. That being said, ideas and values do shape the world. Deep within the human psyche is a strong identitarian impulse, the impulse to self-identify with an in-group and to vilify, and perhaps even destroy, an out-group. Blame Darwin.
A cursory glance at history shows that Christianity is certainly no antidote against this tendency, but the Christian gospel's relentless focus on the intrinsic dignity of every human being, and on Christ's focus on the outcast and the outsider, at least can put a brake on this tendency. For Trump-voting working-class whites, post-Christianity means that the less one's identity is based on the gospel, the more it is based on identity politics, whether nationalist or ethnicist. For Trump-supporting business elites, the Christian gospel might be replaced by the cruel gospel of the proud atheist Ayn Rand.
The progressive dream of secularism entailed the right turning into, essentially, the center-left. Instead, all over Europe, and increasingly America, we see the post-Christian right turning into a nationalist, or even ethno-nationalist, movement.
The secularization of America can have another effect. When America was a majority Christian nation, it was also a less polarized nation. It's hard not to see that Christianity played a role by providing a common language that helped bridge partisan differences. A secularized America is going to have a much more extreme right wing, but also a much more extreme left wing, and fewer ways for them to interact and talk. Welcome to the future.

Continue reading for free
We hope you're enjoying The Week's refreshingly open-minded journalism.
Subscribed to The Week? Register your account with the same email as your subscription.