Republicans just faceplanted on the biggest stage there is
Republicans have been play-acting their ObamaCare repeal for seven years. They still succumbed to flop sweat.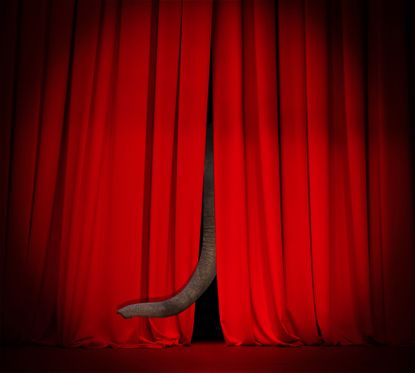 (Image credit: Illustration by Lauren Hansen | Images courtesy iStock, Andrey Kuzmin / Alamy Stock Photo)
Republican lawmakers have voted to repeal ObamaCare on dozens of occasions — by some counts, more than 60 times — since the Affordable Care Act was signed into law almost exactly seven years ago. It was the longest table-reading and dress rehearsal in modern political history. And yet, at the moment when the stage lights snapped on with a great buzz, and Republicans were finally about to debut their act before a paying audience, they froze up with stage fright. Now they are nervously rewriting the script in the wings, while the audience laughs at the farce of it all.
Yes, after all their talk, and after all these years, Republicans finally achieved real power in Washington — and promptly failed to repeal and replace ObamaCare. They couldn't even vote on it. Congressional leaders abruptly canceled their planned vote on the American Health Care Act at the last minute on Friday afternoon, when it became embarrassingly clear that Speaker Paul Ryan had failed to corral conservative members of the House Freedom Caucus, plus no small number of moderate congressmen who refused to go along.
You can tell how much of a political loser Republicans think the American Health Care Act is in the way everyone is trying to spread the credit. Hence the Trump administration has all but expressly forbidden people to call the bill "TrumpCare." And Speaker Paul Ryan insists that it isn't his bill but "our bill," roping in the reluctant White House.
Subscribe to The Week
Escape your echo chamber. Get the facts behind the news, plus analysis from multiple perspectives.
SUBSCRIBE & SAVE
Sign up for The Week's Free Newsletters
From our morning news briefing to a weekly Good News Newsletter, get the best of The Week delivered directly to your inbox.
From our morning news briefing to a weekly Good News Newsletter, get the best of The Week delivered directly to your inbox.
Looking beyond the Republican backrooms in which it was being furiously revised, the only support for this bill seems to come from talk-radio studios (Sean Hannity is a fan) and anti-tax groups. Of course. The biggest feature of the bill as it was originally drafted is that it was not so much a health-care reform as a series of tax cuts aimed at reversing all the increases the previous administration had tacked onto its own health-care bill to make the numbers work at the bean counters' office. Would the Republican plan improve health-care coverage by making it cheaper or simpler to obtain? No. It was a fiscal bill.
But late in the week it became clear that the House Freedom Caucus — the hardcore conservative group known for making principled stands, even when they seem quixotic — wasn't on board with merely repealing the taxes while leaving in place "Obamacare Lite." And those freedom-lovers began stripping all the popular elements of ObamaCare that the House leadership had tried to preserve, such as the regulations that allow 26-year-olds to stay on mom and dad's insurance plan, or that bar insurers from discriminating against the already ill. If the conservatives get their way in the end, the Republican bill would actually look something like the "repeal" promised. But the politics of that solution are awful. Such a repeal would be DOA in the Senate, and would have given every Democratic House challenger in 2018 a small armory of attack ads.
What's so amazing is the way that Republicans managed to score so many own goals in this process. Eight years ago, conservatives made Nancy Pelosi's quote about the Affordable Care Act into a kind of legend of high-handedness and anti-democratic maneuvering. "We have to pass the bill," she said, "so that you can find out what's in it." And now Republicans are saying the exact same thing: You'll find out what's so great after we vote. Rep. Chris Collins (R-N.Y.) said that there was a "lot of misunderstanding about what it is we're doing and once we get it done, and then we can have the chance to really explain it."
While President Trump did try to whip up support for this bill, he has also kept a certain amount of distance, and leaked to the press that if the House can't get themselves together, he'd like to move on. Why wouldn't he? The plan to repeal ObamaCare was one he borrowed from Republicans, a tie that he put on to fit in before he bought the whole club and changed the dress code to something more suitable for him. Trump ran on infrastructure spending, immigration control, and revisions of American trade and foreign policy. Does anyone really think he cares about replacing ObamCare with something that makes the House Freedom Caucus and Paul Ryan happy? Before the dust began to settle on Friday, Trump called The Washington Post and let it drop that he'd be willing to cut a deal with Democrats on health care.
Republicans need to figure out who they must prioritize while they have a working majority: talk-radio hosts and big donors, or the swing voters who made Trump president.
Which group do you think is more likely to bail on the party if Republicans let them down?

Continue reading for free
We hope you're enjoying The Week's refreshingly open-minded journalism.
Subscribed to The Week? Register your account with the same email as your subscription.