Inside the mind of Stephen Bannon
The former Breitbart boss wields huge influence in the White House. How does he see the world?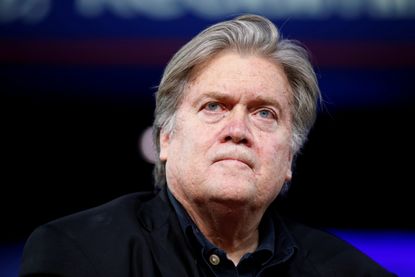 (Image credit: Joshua Roberts/Reuters)
Sign up to our 10 Things You Need to Know Today newsletter
A free daily digest of the biggest news stories of the day - and the best features from our website
Thank you for signing up to TheWeek. You will receive a verification email shortly.
There was a problem. Please refresh the page and try again.
Former Breitbart boss Stephen Bannon wields huge influence in the White House. How does he see the world? Here's everything you need to know:
What is Bannon's job?
As President Trump's chief strategist, he plays a dominant role in crafting and driving the administration's agenda. Bannon co-wrote Trump's startlingly aggressive inauguration speech portraying America as an economically broken, crime-laden dystopia forsaken by its leaders; helped draw up the controversial travel bans that have been struck down by federal courts; and has become the first-ever political appointee to take a permanent seat on the National Security Council. His influence on Trump's thinking is so great that many critics sarcastically refer to him as "President Bannon." A self-proclaimed "economic nationalist," Bannon, 63, sees himself as a defender of the "forgotten" white working class, and believes the Judeo-Christian values of the U.S. and the West are under attack from secularists, Islam, and other cultures. "There is a major war brewing," he says, "a war that's already global."
Subscribe to The Week
Escape your echo chamber. Get the facts behind the news, plus analysis from multiple perspectives.
SUBSCRIBE & SAVE
Sign up for The Week's Free Newsletters
From our morning news briefing to a weekly Good News Newsletter, get the best of The Week delivered directly to your inbox.
From our morning news briefing to a weekly Good News Newsletter, get the best of The Week delivered directly to your inbox.
What's his background?
Brought up in a pro-union, Democratic Catholic middle-class family in Richmond, Virginia, Bannon joined the Navy after college. It was during his seven years of service that he first became interested in conservative politics; he saw President Jimmy Carter as weak and ineffective, and greatly admired President Ronald Reagan. After a spell at the Pentagon — when he also studied international relations at Georgetown — Bannon left the Navy, earned an MBA from Harvard Business School, and joined Goldman Sachs. He thrived in the intense world of corporate finance, and after four years set up his own investment firm specializing in media financing. One deal gave him a share of royalties from Seinfeld — a move that proved hugely lucrative when the comedy show became a massive hit. After selling his company, Bannon shifted from financing TV shows to making conservative-focused documentaries such as In the Face of Evil: Reagan's War in Word and Deed. Friends say his outlook grew darker and more Manichaean after the 2001 terrorist attacks — and darker still after the 2008 financial crisis.
Why?
When the markets plunged, Bannon's father, Marty, panicked and sold his entire life savings of AT&T stocks — losing $100,000. Bannon claims that his father's crushing loss, and the fact that no banking executives faced any punishment after the crash, cemented his anti-establishment outlook. "In the ascendant economy — Silicon Valley, Wall Street, Hollywood — the Marty Bannons of the world were getting washed out to sea," he says. "Nobody was paying attention to them." Bannon made documentaries blasting Wall Street banks and Washington, latched onto political insurgents such as Tea Party icon Michele Bachmann and 2008 vice presidential candidate Sarah Palin, and took over the right-wing, anti-establishment website Breitbart.com. A voracious reader, he adopted the generational theory outlined by authors William Strauss and Neil Howe, who argued that history is divided into four recurring 20-year cycles: "highs," "awakenings," "unravelings," and then, every 80 years or so, "crises" like the Civil War and World War II. Bannon thinks the 2008 crash was an unraveling — and that a major global crisis is next.
What sort of crisis?
Bannon outlined his worldview most clearly in a 2014 Vatican conference. He said "enlightened capitalism" governed by Judeo-Christian values had been replaced by a "disturbing" form of "libertarian conservatism," which had turned people into "commodities" exploited by global elites. At the same time, he said, secularism had "sapped the strength" of the West, leaving it unable or unwilling to fight the rising danger of radical Islam and terrorism. Bannon predicted that these purported societal failures would lead to a global "populist revolt" against the elites and the political establishment of both major U.S. parties. "We're at the very beginning stages of a very brutal and bloody conflict," he said. In describing that struggle, Bannon has cited Jean Raspail's Camp of the Saints, a virulently racist 1973 book in which the "white world" is overrun by an invasion of desperately poor, dark-skinned immigrants. Bannon recently said the influx of Muslim refugees in Europe was "almost a Camp of the Saints–type invasion."
What does Bannon propose doing?
Bannon believes the only viable path forward is to overthrow the political establishment, undo globalization and restrict immigration, and create a new system based on Judeo-Christian values and economic nationalism. One of his goals in the White House, he said recently, is to "deconstruct the administrative state." Even though Bannon transformed Breitbart into an "alt-right" site peddling overt racism, misogyny, and anti-Semitism, his friends — and even former colleagues who have turned against him — insist he's personally no bigot. They say he simply uses whatever and whoever he can — Breitbart, the Tea Party, Trump — to pursue his revolutionary goals. Indeed, Bannon last year described Trump as "an imperfect vessel" for his own views. And Bannon doesn't shy away from his image as a shadowy figure pulling strings. "Darkness is good," he says. "Dick Cheney. Darth Vader. Satan. That's power."
Bannon's military obsession
There's one part of society Bannon doesn't want to tear down: the military. Former colleagues and associates say the ex–naval officer is obsessed with war. Sun Tzu's legendary military treatise, The Art of War, is among his favorite books. Staffers at Breitbart say he liked to use military terms around the office — describing underlings as "grunts," for example. Bannon is particularly fond of tales of underdogs defeating bigger opponents. One of the very few Breitbart pieces carrying his byline was an obituary for Gen. Vo Nguyen Giap, the "Red Napoleon" of the Vietnam War. Julia Jones, who worked closely with Bannon in Hollywood for 20 years, says he was obsessed with Sparta's victory over Athens in the prolonged Peloponnesian War. "He's studied [military history] down through the ages, from Greece, through Rome, every battle, every war," she told The Daily Beast. The lesson he has drawn from all this, Jones says, is "Never back down, never apologize, never show weakness. He lives in a world where it's always high noon at the O.K. Corral."
Continue reading for free
We hope you're enjoying The Week's refreshingly open-minded journalism.
Subscribed to The Week? Register your account with the same email as your subscription.
Sign up to our 10 Things You Need to Know Today newsletter
A free daily digest of the biggest news stories of the day - and the best features from our website