Is the GOP really as divided as it looks?
It sure looks like a civil war is coming ...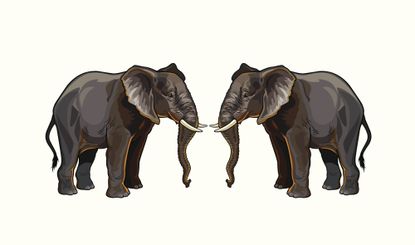 (Image credit: Illustrated | iStock)
Sign up to our 10 Things You Need to Know Today newsletter
A free daily digest of the biggest news stories of the day - and the best features from our website
Thank you for signing up to TheWeek. You will receive a verification email shortly.
There was a problem. Please refresh the page and try again.
For years, "Dems Divided!" was such a common headline that it became a running joke, not only about the media's eagerness to find intra-party disagreement on the left whether it was there or not, but about the underlying truth that much of the time, Democrats were indeed divided.
Republicans, on the other hand, understood the power of unity. They had plenty of internal disagreements, but they also understood that at key moments — when there was an election looming, or a vote on a critical bill — those differences had to be put aside. If they could move in lockstep they could win and hold power, which would make it more likely that all their factions, whether the national security hawks or the supply-siders or the pro-lifers or the gun advocates, would get what they want.
But in the last decade or so, divisions within the GOP festered. There were intense disagreements on tactics (should we shut down the government to strike a blow at ObamaCare?), and a mutual contempt grew up between the "establishment" that had been around for a while and the relative newcomers in the Tea Party. Sometimes it got downright vicious. But despite all the predictions of a party at war with itself, when the general election arrived in 2016, the entire GOP coalesced around Donald Trump. Not only did just a few elected Republicans refuse to endorse him, but nine in 10 Republican voters cast their ballots for Trump. That's roughly what previous nominees had gotten.
Subscribe to The Week
Escape your echo chamber. Get the facts behind the news, plus analysis from multiple perspectives.
SUBSCRIBE & SAVE
Sign up for The Week's Free Newsletters
From our morning news briefing to a weekly Good News Newsletter, get the best of The Week delivered directly to your inbox.
From our morning news briefing to a weekly Good News Newsletter, get the best of The Week delivered directly to your inbox.
Republicans were confident about the future. Once they had complete control of government, the infighting would melt away. Who'd want to squabble when they'd be getting everything they ever wanted?
Just a few months later, things aren't looking so friendly. Almost a week after the Republican effort to repeal and replace the Affordable Care Act went down to a miserable defeat, the president is still angry at the Freedom Caucus members who refused to support it. Just look what he tweeted Thursday morning:
"We must fight them"? Yowza.
As it happens, it wasn't just the Freedom Caucus that didn't like that health-care bill — moderate Republicans didn't, either. But if President Trump suspects that the hard-right conservatives are the ones most likely to give him trouble in the future, he's probably right. That isn't just because of their ideology, it's also because they've made a fetish out of making noble stands against the powerful. They see themselves as rebels, and without Barack Obama to rebel against, that leaves Trump and Paul Ryan.
Obama's absence is felt throughout the Republican Party, because despite whatever disagreements they might have had in the past, they all knew they hated him, and that common belief created a shared purpose. As long as Obama was the focus, they didn't have to worry about exactly what kind of health-care plan they wanted, or whether they agreed on a border adjustment tax, or which legislative goals should be the highest priority. But now those substantive questions have to be asked, and not every Republican has the same answers.
They may decide that they never want to go through anything like the health-care debacle again, and so they'll be willing to come to compromises on the other big issues they're tackling. In some cases, it will be relatively straightforward because they all want the same things: conservative judges, restrictions on abortion, cutbacks in environmental protections and workers' rights, an immigration crackdown. But the bigger and more complex the goal, the more chance there is for differences to emerge. Tax reform could be particularly thorny; while all Republicans want to cut taxes, a genuine overhaul of the tax code will bring special interests descending on Capitol Hill like a swarm of locusts, and there won't be clearly conservative answers for every conflict.
We live in a time when what unites parties and voters is less their devotion to their own party than their dislike for the ideas and people they're against; political scientists call it "negative partisanship." Right now it's the force keeping Democrats together and spurring them to activism; they can bicker a little about whether they'd prefer a single-payer health-care system or a modified version of the ACA, but they're not going to go to war over that internal disagreement when the other side is trying to toss 24 million people off their health coverage.
That unity may not seem to Democrats like much of a luxury when they're watching the government attack everything they believe in. But Republicans are learning that being in charge doesn't mean you won't risk tearing yourself apart from the inside.
Continue reading for free
We hope you're enjoying The Week's refreshingly open-minded journalism.
Subscribed to The Week? Register your account with the same email as your subscription.
Sign up to our 10 Things You Need to Know Today newsletter
A free daily digest of the biggest news stories of the day - and the best features from our website
Paul Waldman is a senior writer with The American Prospect magazine and a blogger for The Washington Post. His writing has appeared in dozens of newspapers, magazines, and web sites, and he is the author or co-author of four books on media and politics.