Kill the filibuster!
Just die already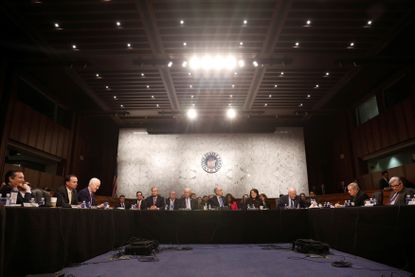 (Image credit: REUTERS/Aaron P. Bernstein)
Sign up to our 10 Things You Need to Know Today newsletter
A free daily digest of the biggest news stories of the day - and the best features from our website
Thank you for signing up to TheWeek. You will receive a verification email shortly.
There was a problem. Please refresh the page and try again.
Is the filibuster at death's door? I hope so!
Because the Senate's 52 Republicans almost certainly won't get eight Democrats to join them in a filibuster-proof supermajority for Neil Gorsuch's confirmation vote, the GOP is all set to employ the "nuclear option" — a procedural change to Senate rules that would eliminate the filibuster for Supreme Court nominees, and allow the GOP to confirm Gorsuch with a simple 51-vote majority.
The whole thing is really bumming out Senate stalwarts.
Subscribe to The Week
Escape your echo chamber. Get the facts behind the news, plus analysis from multiple perspectives.
SUBSCRIBE & SAVE
Sign up for The Week's Free Newsletters
From our morning news briefing to a weekly Good News Newsletter, get the best of The Week delivered directly to your inbox.
From our morning news briefing to a weekly Good News Newsletter, get the best of The Week delivered directly to your inbox.
But the filibuster should die. And not just for judicial nominees. It's time to kill the filibuster for all legislation. I daresay America's ability to make functional economic policy depends on it.
Requiring 60 votes to break a filibuster allows any determined 41-member minority to control and stymie the Senate. This was never the Founders' plan. The filibuster appears nowhere in the Constitution. It was created by a fluke accident in 1805, when the Senate tried to clean up its rulebook. Senators only discovered bills could be talked to death three decades later, and reform has proved incredibly difficult since. The supermajority requirement to cut off debate was added in the early 1900s, but only thanks to the political momentum to enter World War I.
In less polarized times, it wasn't so impossible for bills to pull votes from both Republicans and Democrats and achieve supermajorities. And use of the filibuster remained rare. But increasing partisanship drove the parties into an arms race, and today the filibuster is just taken as routine. The Democratic Senate rolled back use for executive branch nominations in 2013, but that's it.
Most Americans do not carefully follow lawmakers' speeches, press conferences, and policy platforms. They have lives, after all. So one of the main ways Americans decide how to vote is by judging whether they're better or worse off economically than they were in the recent past, and throwing the bums out if the results are bad.
But thanks to the filibuster, voters rarely get to experience the full force of what either party would actually like to do when in power.
For example, many voters blamed President Obama and the Democrats for ObamaCare's numerous problems, like spiking premiums and lack of choice. But remember, many (if not most) of ObamaCare's biggest problems were a result of trying to win over conservative Democratic holdouts threatening to join a GOP filibuster. If Democrats could have passed ObamaCare with 51 Senate votes, America would probably have a public health insurance option today — and maybe even one single national insurance exchange for everyone. But the filibuster required Democrats to make huge concessions to win that last senator or two — inevitably a centrist grandstanding squish — to get to 60 votes. Many of ObamaCare's most salutary aspects were bartered away.
This is hardly the only time the filibuster has helped prevent economic policymaking that's ambitious enough to actually deal with the country's problems. It happens to both parties. They sacrifice what they would truly like to do to scrap and scrabble their way to 60 votes.
Filibuster defenders might say this is to the good. Both parties are kept from flying off the deep end, and are forced to make incremental reforms. (It helped stop the GOP's disastrous health-care bill, after all.) But America is the only advanced Western democracy with the filibuster. Indeed, it's the only advanced democracy with anything like our list of bottlenecks and veto points in the legislative process. Other countries don't rocket drunkenly between socialism and small-government neoliberalism every few years.
When parties and coalitions actually pass what they want, the populace gets to experience intended economic policies, feel the results, and then reward or punish its leaders. Importantly, the voters also know who to punish or reward — a key point the filibuster hopelessly muddles in U.S. politics. In a functional system without a filibuster, you still get relative policy stability and gradual evolution. But in the case of European parliaments, that's because the feedback loop between lawmakers and voters actually works, rather than because it broke down into confusion and stasis.
The filibuster does not promote sobriety and stability. It promotes sclerosis, cowardice, and incrementalism in the face of crisis. And it makes it virtually impossible for voters to figure out what the parties stand for and react accordingly. The sooner it dies, the better.
Continue reading for free
We hope you're enjoying The Week's refreshingly open-minded journalism.
Subscribed to The Week? Register your account with the same email as your subscription.
Sign up to our 10 Things You Need to Know Today newsletter
A free daily digest of the biggest news stories of the day - and the best features from our website
Jeff Spross was the economics and business correspondent at TheWeek.com. He was previously a reporter at ThinkProgress.