Trump has discovered the awesome powers of the presidency. Be afraid.
The president's aggressive military strike in Syria endangers his presidency — and all of us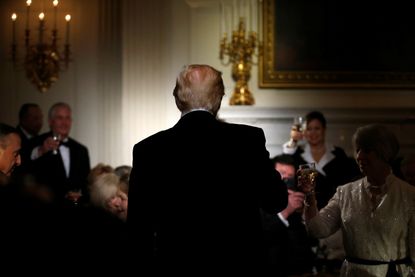 (Image credit: REUTERS/Joshua Roberts)
Donald Trump has done something presidential. And what a shame it came so soon. The president has no idea what he is getting himself, or his country, into.
In punishing Bashar al-Assad for the alleged use of chemical weapons in Syria, Trump has found what his presidency has lacked from the start: the praise that he craves from the Washington establishment, its think tankers, and prestige journalists. He's also found the excitement of asking for something to be done and seeing it done immediately.
But there are great dangers for his presidency in making regime change in Syria his policy.
Subscribe to The Week
Escape your echo chamber. Get the facts behind the news, plus analysis from multiple perspectives.
SUBSCRIBE & SAVE
Sign up for The Week's Free Newsletters
From our morning news briefing to a weekly Good News Newsletter, get the best of The Week delivered directly to your inbox.
From our morning news briefing to a weekly Good News Newsletter, get the best of The Week delivered directly to your inbox.
There is a sense of deja vu about the Syrian strike and its attendant developments. So much of it harkens back to 2002 and 2003. All the machinery of America's security apparatus suddenly clacks into motion in anticipation of the president's order to attack. The personnel shifts on the National Security Council, now that grave matters are at stake. Television anchors invoke the "beauty" of munitions firing from a naval ship into a dark night. PR gurus spring forth to deliver to the American people considered messages about the considered messages the American government is sending to the world through the considerable bombing of some godforsaken part of it. There's the American official, one who might be president someday, being congratulated for maintaining a tone of defiant moral purpose when talking about weapons of mass destruction at the U.N. It was Nikki Haley this time, not Colin Powell, and the cheers are coming in, as if her words were the hard-rock riff kicking off the dazzling third act of a comic-book movie.
You see all this and realize this is the third American president in a row, and one of countless others before him (Eisenhower, Roosevelt, Wilson), who won the office in part by promising Americans peace, and then immediately finding some new uses for our men in uniform, often in a war already long underway.
For those who voted for Trump trusting that his peace-making rhetoric and the hatred he received for it would insulate him from a decision like this, this policy change is a serious betrayal. But anyone who believed Trump was impervious to this presidential temptation placed far too much faith in a select few campaign promises or in the dissenting intellectuals who championed him. What temptation has Trump proven himself able to master?
And in some way, you want to grant Trump both his humanity and absurd impulsivity here. The decision to bomb assets of the Assad regime seems to have occurred to Trump in the same way that the decision to rant about Joe Scarborough on Twitter does: from watching cable news. But instead of being moved to vengeance by his vanity, this time Trump was moved by a manful and fully appropriate rage at the footage of children's bodies reacting to a deadly nerve agent. Even the White House statement had the Trumpian phrase about innocent lives being "choked out."
If it hasn't sunk in already, contemplate the following sentence: Donald Trump is one of the only men on Earth who enjoys the privilege of looking over a menu of place names and being able to give an executable order to blow them to smithereens.
There are serious dangers ahead. The U.S. strike on Assad came quickly and without much information to the public. It came while GOP senators and other Congress critters were impotently whimpering that they should have their Constitutional say on the matter. Were we in contact with the Russians before we let fly American bombs? Or was this us blowing up relations with them, contrary to Trump's promise of another reset?
The problems with Trump's new action movie script are obvious. We still have no idea who the good guys are in Syria. We have been bombing ISIS, now Assad. That latter action makes us de facto allies of al Qaeda. As in Libya, we seem to be sliding from the idea of protecting one population group to regime change without a day's deliberation. Who is going to govern from Damascus if the United States forces Assad out?
Trump should know that the satisfactions of doing something must be measured against the likelihood that his whole presidency will be upended by the Middle East. The commentators cheering him now will not be loyal to him if the mission in Syria turns into an even greater fiasco. They weren't loyal to Obama.
There are dangers of the distorting effect on Trump. Trump may be enjoying too much the sudden surge of popularity among the establishment with this strike. What would it look like if Trump began to relish the thought of overturning the idea that he is a stooge of Vladimir Putin? Does anyone capable of reflection really prefer that a man as impulsive and belligerent as Trump get into a scrape with a nuclear superpower? Do we really want a man who flatters himself as capable of achieving great results trying to redraw the Middle East?
Trump has now discovered the awesome power of the presidency, and the effect of war on the minds of the press and the public. The dangers ahead aren't just to his presidency. They are for all of us.

Continue reading for free
We hope you're enjoying The Week's refreshingly open-minded journalism.
Subscribed to The Week? Register your account with the same email as your subscription.