There's never been a better time to fire Bill O'Reilly
The Fox News host might be fired at the very moment the toxic ideology he represents has taken up residence in the White House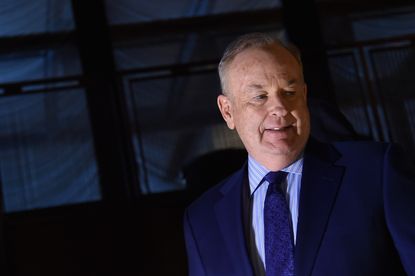 (Image credit: Ilya S. Savenok/Getty Images)
Sign up to our 10 Things You Need to Know Today newsletter
A free daily digest of the biggest news stories of the day - and the best features from our website
Thank you for signing up to TheWeek. You will receive a verification email shortly.
There was a problem. Please refresh the page and try again.
BIll O'Reilly, the king of cable news, is currently "on vacation," which may be a prelude to "spending more time with his family." After The New York Times reported that he and Fox News have paid out settlements totalling $13 million to at least five women who said O'Reilly harassed them, advertisers began to flee; after dozens pulled their spots, the total ad time on the show was cut in half. That, of course, means that for the moment O'Reilly is not bringing in the money he used to, and no TV personality can survive that for long. As Gabriel Sherman of New York reports, "Two highly placed Fox News sources say 21st Century Fox CEO James Murdoch would like O'Reilly to be permanently taken off the air, while his father, Rupert, and older brother, Lachlan, are more inclined to keep him."
So O'Reilly's future is in doubt, at the very moment that the ideology he represents has taken up residence in the White House. But that's precisely the problem: O'Reilly's is a rhetoric of anger, of righteous victimhood, of resentment and recrimination. It doesn't do nearly as well with someone as sympatico as Donald Trump in the presidency.
Trump and O'Reilly share much more than their habit of being sued by women for sexual harassment (or the fact that Alec Baldwin played them both in a single skit). Both New Yorkers from outside the city's center (Trump from Queens, O'Reilly from Long Island), they burn with resentment of the cosmopolitan Manhattanites who supposedly look down on them no matter how rich they get. But while Trump only discovered the political power of that resentment relatively recently, O'Reilly made a whole career out of it.
Subscribe to The Week
Escape your echo chamber. Get the facts behind the news, plus analysis from multiple perspectives.
SUBSCRIBE & SAVE
Sign up for The Week's Free Newsletters
From our morning news briefing to a weekly Good News Newsletter, get the best of The Week delivered directly to your inbox.
From our morning news briefing to a weekly Good News Newsletter, get the best of The Week delivered directly to your inbox.
The O'Reilly Factor debuted way back in 1996, and you have to acknowledge O'Reilly's talent as a performer. How many people can be a belligerent jerk on the air night after night for over two decades? Bill can, and he quickly made himself the media's foremost purveyor of Blue Collar Chic, in which the performer poses as a regular Joe taking on the swells, getting right in their faces, and even giving them a good smack if that's what it takes to do right by the common man, or as O'Reilly calls them, "the folks." Sure, Fox gives him an $18 million a year salary, but he's no elitist and neither are his fellow Republicans burning with a desire for top-end tax cuts — the elitists on whom he tells viewers to pour their contempt are college professors, Hollywood liberals, anyone who thinks they're better 'n you.
And like Trump, O'Reilly has always centered his appeal on race, as this Archie Bunker of the cable dial told his audiences that the real problem in America is that the white man can't catch a break. Criminal black punks, affirmative action, politically correct ninnies telling you not to say what you think, no-good gang-bangers who won't pull up their pants — it's all part of the scheme to keep people like you down.
The problem is that it becomes a lot harder to say that the country is going to hell because liberals and the minorities they serve are ruining everything when someone who believes the exact same things is the most powerful man on Earth. O'Reilly's is a rhetoric of opposition, one that depends on getting you riled up at how awful everything is. But when Donald Trump becomes president, you have to strain harder and harder to say that everything is a disaster and you have to tune in tomorrow to find out who to be enraged at and who to fear.
That doesn't mean O'Reilly's oeuvre depends entirely on Republicans being out of power, though. He didn't mind so much when George W. Bush was president, because he could still present "real" Americans as being under siege by no-good liberals, oppressed and afflicted. It was in those years that O'Reilly became the George Patton of the War on Christmas, mounting a yearly campaign against the human rights violation of "Happy Holidays" signs in department store windows and defending Christians against the unfair treatment of people telling them that they ought to treat those who don't share their faith with respect. And of course, Barack Obama provided endless opportunities for fist-shaking and umbrage-taking.
But now the world, or at least the right, doesn't seem to need O'Reilly so much. It's the liberals who are marching against the powers-that-be, and in the ultimate insult, O'Reilly has actually been beaten in the ratings lately by Rachel Maddow, his opposite in almost every way (a friendly liberal lesbian with a Ph.D. who never raises her voice). O'Reilly's viewers may stay loyal — given their median age of around 72 and how long he's been on the air, it's not like they're going to rush to find someone new to watch at 9 p.m. every night.
If he does lose his show, O'Reilly will lament that the all-powerful lefties wielding their PC club finally took him down, in the ultimate betrayal of "the folks." But should that happen, it'll be capitalism that does Bill O'Reilly in. Fox News may try to advance the interests of the GOP, but it's first and foremost a business. If no one wants to advertise on The O'Reilly Factor, he won't make the network money and his usefulness will be at an end.
Continue reading for free
We hope you're enjoying The Week's refreshingly open-minded journalism.
Subscribed to The Week? Register your account with the same email as your subscription.
Sign up to our 10 Things You Need to Know Today newsletter
A free daily digest of the biggest news stories of the day - and the best features from our website
Paul Waldman is a senior writer with The American Prospect magazine and a blogger for The Washington Post. His writing has appeared in dozens of newspapers, magazines, and web sites, and he is the author or co-author of four books on media and politics.