Feel le Bern: How an aging leftist upended the French election
The alt-right isn't the only energetic new global movement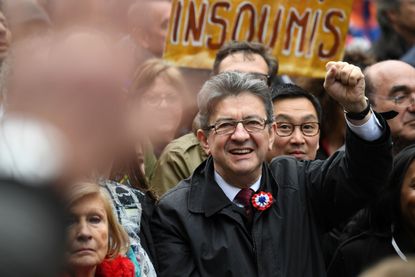 (Image credit: ERIC FEFERBERG/AFP/Getty Images)
Like so many recent elections, France's presidential vote this Sunday has been upended by an aging leftist.
Until recently it seemed as though the two top contenders would be the former investment banker Emmanuel Macron of the centrist En Marche!, and Marine Le Pen of the far-right National Front — with scandal-plagued François Fillon, of the center-right Republicans, as an outside possibility. If nobody gets a majority, then there will be a runoff between the top two on May 7.
But 65-year-old Jean-Luc Mélenchon, of the leftist Unsubmissive France, has surged to within striking distance, throwing the race into turmoil. The most recent polls have all four within a couple points of one another. He is one more representative of an international left that is, slowly and haltingly, finding its feet once more.
Subscribe to The Week
Escape your echo chamber. Get the facts behind the news, plus analysis from multiple perspectives.
SUBSCRIBE & SAVE
Sign up for The Week's Free Newsletters
From our morning news briefing to a weekly Good News Newsletter, get the best of The Week delivered directly to your inbox.
From our morning news briefing to a weekly Good News Newsletter, get the best of The Week delivered directly to your inbox.
Many aspects of this election are highly unusual. Most notably, it seems quite likely that neither of the parties that have ruled France since the 1950s are going to make it to the runoff. Fillon — whose Republicans are descended from the traditional center-right party — is in last place among the top four. And dogged by the staggering unpopularity of the current president, François Hollande, the traditional center-left Socialist Party candidate has slid to fifth place and is considered well out of contention.
Second, both En Marche! and Unsubmissive France were only formed last year — the former for the express purpose of advancing Macron's career, while the latter wants to dissolve France's Fifth Republic. They would call a constituent assembly to create a Sixth Republic — this one a proper proportional parliamentary democracy, without the powerful presidency that Charles de Gaulle put into the French constitution. (That means Mélenchon is running in part so he might abolish his own job.)
Now, I have no special expertise in French history or politics. But it's pretty clear that this immense political upheaval is largely the long-delayed fallout from the financial crisis of 2008, and the ongoing eurozone disaster.
No Western nation has recovered properly from the 2008 crisis — and while the United States' post-2008 performance has been weak at best, the eurozone has done far, far worse. That currency area is an economic dictatorship, ruled with an iron fist by a handful of technocrats at the European core.
Ireland, Greece, Portugal, and Spain had a knock-on debt crisis after 2008. But instead of negotiating an orderly debt writedown and a return to economic health, eurozone elites forced massive austerity down their throats — which made the debt problem worse, while strangling growth and causing mass unemployment. The political center crumbled in southern Europe. But when left-wing Syriza won the Greek elections in 2015 and tried to negotiate a halt to austerity, the European Central Bank deliberately caused a bank run there as punishment. Syriza capitulated.
Over the past several years, France has gotten a much smaller taste of the eurocrat truncheon. Hollande came to power promising an end to austerity, but he did not want confrontation with financial markets, eurozone elites, or Germany. That necessitated quite a lot of up-front austerity in 2012 to meet utterly bananas eurozone budget targets. When neither fast growth nor full employment resulted, Hollande fully embraced austerity and neoliberalism, proposing a package of spending cuts and deregulation called the Macron bill — after the very same candidate Macron, who was then the Socialist economic minister. The Socialist leadership rammed the bill through parliament without a vote in 2015, over the loud objections of half their own party.
That didn't work either. France has still grown, but less than Germany or the United States. Since the Macron bill, things have gotten markedly worse, with unemployment failing to fall in line with other eurozone nations — and increasing to over 10 percent in late 2016, where it remains as of the latest data.
Naturally, eurocrats continue to blame France's employment problem on excessive worker protections and social spending. But the abysmal failure of the Macron bill suggests that further neoliberal policy will have the opposite of the advertised effect. No doubt there are some other structural problems holding down employment it could address, but as Thomas Piketty explains, France's economy is not in bad shape overall — indeed, it is among the most productive in the world. Its biggest problem, without question, is the claws of the eurozone elite around its throat.
The eurozone works for Germany alone, and not even that well. France needs to be able to set economic policy according to her own needs; what it will get from eurocrats is austerity and neoliberal assault on workers and social programs with absolutely complete disregard to the ensuing effects.
French politics is experiencing the same basic process that happened in Greece. Capitulation to eurozone madness has cracked apart the ruling Socialist Party, and opened up space for the far right and far left. Le Pen has gotten tremendous mileage out of a detailed and frankly rather convincing argument against the eurozone dictatorship, coupled to flagrant anti-Muslim and anti-immigrant bigotry stoked by the Syrian refugee crisis and several recent terrorist attacks. Until recently, the political terrain of eurozone abuses was left entirely to her. One famous National Front slogan goes: "Austerity: Brussels wants, Hollande does."
But Mélenchon has seized some of that ground. He is a eurozone critic who wishes to renegotiate France's terms of eurozone membership, or failing that, leave altogether. He shows that there is political potential in running against the eurozone without indulging heinous bigotry.
Recently the international far right has been the subject of intense media interest, and with Brexit and the election of Trump, pundits are terrified of a potential Le Pen victory. But the rise of the international left is at least as significant a story.
Mélenchon is a bit of an odd duck who has campaigned with holograms and video games. But in this he bears a marked personal similarity to Bernie Sanders and Jeremy Corbyn, two other rather weird old-time lefties who were about the only people standing when the clanking democratic process found a sudden space opened up for a genuine left-wing voice. His brand-new party immediately calls to mind Greece's Syriza and Spain's Podemos. Years after it would have made immediate tactical sense for leftists to challenge centrist eurocrat lapdogs, they have finally built up enough political steam in many countries to seriously contest an election. France likely won't be the last one.
If elected, it remains to be seen whether Mélenchon and his party will have the competence and courage to successfully challenge the eurozone elite. Syriza failed, while Corbyn's leadership of the U.K. Labour Party has led mainly to internecine squabbling. On the other hand, the France-Germany partnership is the very core of the European Union and the eurozone. The eurocrats will not have nearly the political space to hand down diktats at economic knifepoint.
Only one thing is for sure: The eurozone elite almost could not have failed Europe more profoundly. Without serious change, both leftist and rightist rebellion will continue to boil up.

Continue reading for free
We hope you're enjoying The Week's refreshingly open-minded journalism.
Subscribed to The Week? Register your account with the same email as your subscription.